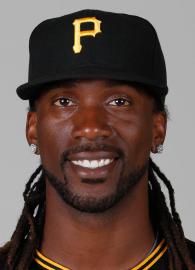 Andrew McCutchen was 2 for 3 in the win over Detroit on Tuesday. McCutchen also scored a run and had a RBI. McCutchen is looking like his mid-season self with the way he is hitting and playing defense. The Pirates begin their season Monday, April 6th, at Cincinnati.
Fantasy Impact: Andrew McCutchen was more than likely the No. 2 overall pick in your fantasy draft this season, and rightfully so. McCutchen and the Pirates are seeking a division crown in 2015, so the Pirates as a whole will come out firing every night this season. McCutchen will be the key to the Pirates' success in 2015.
Category: Game Recaps
---
Andrew McCutchen had an RBI single in the third inning today in a 7-5 loss to the Atlanta Braves. What has made more headlines, however, has been McCutchen's new look after cutting off his signature dreadlocks. (Source: MLB.com)
Fantasy Impact: Perhaps this new haircut will be a spark for McCutchen, who is batting just .143 this spring. While we take spring training numbers with a grain of salt, just maybe his new look combined with a productive day at the plate, will be the right formula to get him back on track as he continues to prepare for opening day.
Category: , Game Recaps
---
According to Manager Clint Hurdle, Andrew McCutchen will be ready for opening day and will likely play in a Spring Training game this week. (Source: Rob Biertempfel via Twitter)
Fantasy Impact: This is good news for those who have invested a top round pick in McCutchen, as when he is on the field there are few who are more productive.
Category: , Injury Updates
---
Andrew McCutchen was scratched from the lineup Friday and is not expected to play today either with lower back soreness. McCutchen has no timetable, but is not concerned and said if it was a regular season game he would be on the field. (Source: Pittsburgh Tribune Live)
Fantasy Impact: This is not concerning when drafting McCutchen. Unless word comes out that the injury is more serious than currently believed, there is no reason to drop McCutchen down your draft board.
Category: , Injury Updates
---
The Pirates' star centerfielder Andrew McCutchen made his spring training debut against the Twins on Monday afternoon.
Fantasy Impact: Andrew McCutchen is the 2nd ranked fantasy player coming into this season and rightfully so. McCutchen has power, speed, and a gold glove in centerfield and he showed all of those things on Monday. McCutchen went to work early with a double in the first inning. He scored the Pirates first and only run on a Neil Walker double. McCutchen is going to play fewer games this season because Clint Hurdle wants to rest his core players this season, but McCutchen is still worth every penny in your league's fantasy draft. (For more info about the Pirates resting players read about it at http://wp.me/p5F5x6-5d)
Category: , Game Recaps
---
According to an MLB.com article, Pittsburgh Pirates' center fielder Andrew McCutchen is the best player at his position going into the 2015 season. The now perennial MVP candidate beat out Angels' star Mike Trout for the No. 1 spot. (Source: MLB.com)
Fantasy Impact: McCutchen's 2014 season was another phenomenal one, posting a .300 average for the third consecutive year while blasting 25 home runs and driving in 83. His combination of power and speed makes him a must-have on your fantasy roster. McCutchen is poised for another dominating campaign in 2015, so do not hesitate to take him, even with your first overall pick.
---