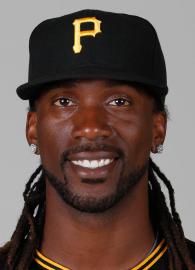 Andrew McCutchen News & Advice
MLB.com
| Oct 1st, 12:00am
With the Bucs' Andrew McCutchen (the reigning National League MVP) squaring off against Buster Posey (the 2012 NL MVP) of the Giants on Wednesday in the NL Wild Card Game, it will mark the first time two previous NL MVPs squared off in the playoffs since 1992.
MLB.com
| Sep 30th, 11:17pm
"Another day, another guy." That could be the subhead to another headline Pirates season. It is definitely how the Bucs see themselves, individuals blended into a team. In support of that image, no one player is deemed more vital than another. That might play around the apocryphal campfire, but don't you believe it. Andrew McCutchen is still the engine under this hood.
ESPN
| Sep 27th, 3:08am
Travis Snider and Andrew McCutchen hit consecutive run-scoring doubles in the eighth inning, and the Pittsburgh Pirates beat the Cincinnati Reds 3-1 on Friday night to keep the pressure on NL Central-leading St. Louis.
KFFL
| Sep 26th, 1:00am
Pittsburgh Pirates OF Andrew McCutchen went 1-for-2 with three RBIs, two runs scored, two walks ...