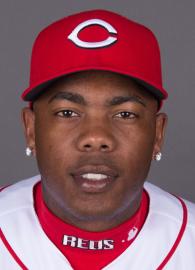 Aroldis Chapman has converted six of his last seven saves spanning back into August, but won the game where he blew a save on September 15. Chapman has a 1-0 record with four saves in September, striking out 11 batters in 5 2/3 innings.
Fantasy Impact: Chapman is over 100 strikeouts once again, 107, and has 30 saves and a 1.80 ERA this season. He is only the 10th-ranked RP, mainly because of his low save total, but also because his 4.5 walks per nine have his WHIP at 1.22. The young fireballer has 12 saves in 14 opportunities in the second half, posting a 1.99 ERA, .226 batting average against, and 1-1 record.
---
Reds closer Aroldis Chapman pitched just once in the span of 12 days because of shoulder soreness, but he was on back on the mound Monday. (Source: NBC Sports)
Fantasy Impact: Aroldis Chapman did not look back to 100% on Monday, walking two of the five batters he faced. Owners of Chapman need to show patience before putting the shaky fireballer back in your lineups.
Category: Injury Updates
---
The Diamondbacks are waiting to hear back from the Reds on their offer for closer Aroldis Chapman. According to CBSSports, Arizona General Manager Dave Stewart has continuously voiced his desire to acquire the closer from the Reds, and has put an offer on the table. (Source: CBSSports)
Fantasy Impact: Currently holding a 1.65 ERA and 21 saves this season, Chapman will make an immediate impact for the Diamondbacks if Stewart is able to put the pieces in place.
Category: , Rumors
---
According to a report by Jeff Passan, the Diamondbacks and Reds are talking about the transfer of pitcher Aroldis Chapman. The Reds are aiming high for an asking price, but according to several of Passan's sources, there is interest between the two squads. (Source: Jeff Passan)
Fantasy Impact: The Diamondbacks are eight games out of the division and 7.5 outside of the wild card. Adding Chapman, who currently sports a 1.73 ERA over 42 appearances and 74 strikeouts during an All-Star season, would be a huge pickup for the D-Backs, and for fantasy owners would essentially guarantee that Chapman would see immense amounts of game time down the stretch.
Category: , Rumors
---
The Reds defeated the Phillies on Wednesday by the score of 5-2. The win improved the Reds to 27-31 on the season. Aroldis Chapman retired the Phillies in order in the ninth on 12 pitches to record his 12th save of the season.
Fantasy Impact: Chapman has struck out seven and not allowed a hit over his last four appearances. He's struck out 45 in 27 1/3 innings. While he's walked 17 and has a relative high 1.35 WHIP, Chapman remains a dominant fantasy closer.
Category: , Game Recaps
---
The Cincinnati Reds fell to the Colorado Rockies on Monday, 5-4. Aroldis Chapman took the loss, allowing a run on a hit and a walk in an inning of work. He struck out two, but struggled for the second straight day.
Fantasy Impact: Despite his recent poor outings, Chapman is still one of the top closers in the league with an ERA of 1.86. He's 31 in 19 1/3 innings, walked 10 and allowed 17 hits. Owners should expect Chapman to bounce back and be dominant for much of the rest of the season.
Category: , Game Recaps
---
The Cincinnati Reds fell to the Cleveland Indians on Sunday, 5-2. Aroldis Chapman got some work and struggled a bit in a non-save situation. He allowed two hits, two walks and a run. Of the 26 pitches he threw, only 13 were for strikes.
Fantasy Impact: Chapman has seen saves and a 1.47 ERA for the season. He's struck out 29 in just 18 1/3 innings, while walking nine. Unlike previous seasons, he's allowed nearly a hit per inning pitched. Chapman is still one of the top fantasy closers in the league.
Category: , Game Recaps
---
Reds' closer threw two Cactus League innings against the Athletics. He conceded 3 earned runs including a big home run by catcher Josh Phegley.
Fantasy Impact: Aroldis Chapman is a safe pick as one of the first three closers off the board. In 2014 he led the majors in strikeout rate with 52.5%. By comparison the next highest was Andrew Miller with 42.6%.
Category: , Game Recaps
---
Chapman and Reds agree to 1 year deal. (Source: AP Sports)
Fantasy Impact: The Reds and flame throwing closer Aroldis Chapman came to terms on a 1 year 8.05 million dollar deal late last week. The move will keep the Cuban missile launcher in Cincinnati for at least one more season, Chapman will be arbitration eligible again next offseason. While a 1 year deal may not provide Reds fans much assurance for the future, the 2015 fantasy outlook is quite promising. Chapman completed his 2014 campaign 36/38 in save opportunities, held opponents to a batting average of .119, and posted an astounding strikeout percentage of 52.5%. With only a 1 year contract in place and free agency looming following the 2016 season, expect 2015 to be a career year for the most dominant closer in baseball.
---
Chapman is projected by Steamer to continue his success in 2015 as the Reds closer. (Source: Sports Illustrated)
Fantasy Impact: Expect Chapman to be his usual self out of the bullpen. I wouldn't expect a lot of innings out of him as Bryan Price likes to limit his outings.
---