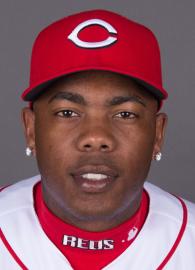 Reds' closer threw two Cactus League innings against the Athletics. He conceded 3 earned runs including a big home run by catcher Josh Phegley.
Fantasy Impact: Aroldis Chapman is a safe pick as one of the first three closers off the board. In 2014 he led the majors in strikeout rate with 52.5%. By comparison the next highest was Andrew Miller with 42.6%.
Category: Game Recaps
---
Chapman and Reds agree to 1 year deal. (Source: AP Sports)
Fantasy Impact: The Reds and flame throwing closer Aroldis Chapman came to terms on a 1 year 8.05 million dollar deal late last week. The move will keep the Cuban missile launcher in Cincinnati for at least one more season, Chapman will be arbitration eligible again next offseason. While a 1 year deal may not provide Reds fans much assurance for the future, the 2015 fantasy outlook is quite promising. Chapman completed his 2014 campaign 36/38 in save opportunities, held opponents to a batting average of .119, and posted an astounding strikeout percentage of 52.5%. With only a 1 year contract in place and free agency looming following the 2016 season, expect 2015 to be a career year for the most dominant closer in baseball.
---
Chapman is projected by Steamer to continue his success in 2015 as the Reds closer. (Source: Sports Illustrated)
Fantasy Impact: Expect Chapman to be his usual self out of the bullpen. I wouldn't expect a lot of innings out of him as Bryan Price likes to limit his outings.
---