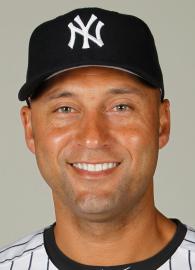 Derek Jeter News & Advice
MLB.com
| Feb 26th, 9:43pm
As the Yankees went through their drills Thursday, Joe Girardi wandered around the lip of the outfield grass, exchanging pleasantries with the infielders. When he reached the shortstop position, he had to remember why Derek Jeter was absent.
RotoBaller
| Feb 24th, 9:42pm
With spring training in full bloom the main interest circus at the Yankees camp in Tampa is none other than Alex Rodriguez. Even coming off his year-long suspension for violating MLB's PED policy, Rodriguez is really the only box-office draw the Yankees have right now with the retirement of Derek Jeter last season. Other than […]
ESPN
| Feb 22nd, 6:51am
The glove Jeffrey Maier used to pull Derek Jeter's famous home run over the wall during the 1996 AL Championship Series against Baltimore has been sold at auction for $22,705.