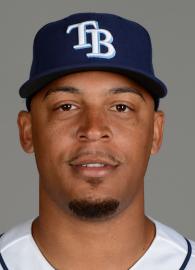 Desmond Jennings missed Wednesday's game due to a bruised knee suffered in Tuesday's contest. At this point it's not clear if the team will send Jennings back to the DL. (Source: Tampa Bay Times)
Fantasy Impact: Jennings missed three months following knee surgery earlier this year, so there's speculation the team could just shut him down for the remainder of the season. He's largely disappointed since joining the majors as a top prospect.
Category: Injury Updates
---
Rays outfielder Desmond Jennings (knee) will begin a rehab assignment Friday with Triple-A Durham, according to The Tampa Tribune. He is expected to receive around 30 at-bats before his activation from the disabled list. I don't like to say anybody's starting over, but we need to get his timing (back) and get him out there," manager Kevin Cash said. (Source: Tampa Tribune)
Fantasy Impact: With such a young crowded outfield, I can't see the Rays rushing back Jennings anytime soon. When healthy Jennings can add a spark to the top of the Rays lineup. But its tough to tell until he comes back especially since he is coming back from a knee injury.
Category: , Injury Updates
---
Desmond Jennings underwent arthroscopic surgery on Wednesday to clean up the inflammation he sustained in the plica band that surrounds the left knee cap. The Rays are giving an eight-week timetable for Jennings return at this current time. (Source: Roger Mooney on Twitter)
Fantasy Impact: Well, at least the exploratory surgery completed a few days ago found what the problem was here. Along with the procedure today, it puts Jennings in a position to finally get healthy. The eight week timetable puts Jennings on track to return sometime in the beginning of August, at which point we as a fantasy community will have to monitor how he's running, since his main source of value is relying on his legs. The Rays will continue to trot out a combination of Brandon Guyer, Joey Butler, David DeJesus, and possibly even John Jaso (once he returns) in left field. Owners should continue to stash in AL-Only formats, but mixed leaguers can leave him on the wire.
Category: , Injury Updates
---
Rays outfielder Desmond Jennings will have an exploratory knee scope on Wednesday. The hope is that the procedure will discover what is truly going on in the knee, as Jennings has only played 18 games thus far due to what has been called knee bursitis. (Source: Marc Topkin on Twitter)
Fantasy Impact: The timetable for Jenning's return was already a fluid situation, but Rays manager Kevin Cash expressed pessimism in the situation, saying that if there wasn't anything new found, the best case scenario for a return would be 3-4 weeks. He would also say that even that wasn't likely. All in all, it's best to leave Jennings on the waiver wire in just about any league besides AL-Only's at this point. We'd have to see tangible progress in Jenning's left knee before we even make a case to stash him, and the situation is extremely ominous at the moment. Joey Butler and David DeJesus owners should feel pretty safe for at least a month longer.
Category: , Injury Updates
---
Desmond Jennings has been sent to see a knee specialist in Colorado. (Source: Marc Topkin on Twitter)
Fantasy Impact: It's not clear at this time why he's seeing the specialist, but it's not a good sign. He still felt soreness the other day in extended spring training, and has made very slow progress from his knee bursitis that he suffered in April. We'll have an update when the Rays announce Jenning's status in the coming day or two.
Category: , Injury Updates
---
Rays outfielder Desmond Jennings had a few at-bats in an extended spring training game on Monday, his first game action since going down with left knee bursitis in late April. (Source: Marc Topkin on Twitter)
Fantasy Impact: While this is great news, it quickly turned a bit gloomy when Rays manager Kevin Cash said that Jennings "still felt something" in his knee during the game. From a fantasy perspective, it's about the same situation as it was a few weeks ago. Jennings return is still indefinite and without any clear indication of how the Rays will proceed with his rehab, it's best to leave him on waivers until further notice.
Category: , Injury Updates
---
Rays manager Kevin Cash indicated Tuesday that Rays outfielder Desmond Jennings is "getting closer" to baseball activity. He started playing catch and taking dry swings on Tuesday, but there's still no firm timetable for his return from left knee bursitis. Jennings has been nursing the injury since late April. (Source: Marc Topkin on Twitter)
Fantasy Impact: The Rays are desperate for bodies at this point, with Jennings representing one of many injuries that the club has endured in 2015. He figures to be moved around in the lineup upon his arrival, and we'll have to keep an eye on how he looks while running. Jennings legs are what make him a fantasy asset as he's averaged 22 stolen bases the last three seasons. He should make it back by mid-to-late June at the latest.
Category: , Injury Updates
---
Rays outfielder Desmond Jennings ran for the first time since landing on the disabled list on Sunday. He ran on a strip of grass outside Tropicana Field as opposed to the stadiums AstroTurf. Jennings has been on the shelf since April 26th with a knee problem, and should be nearing rehab assignment. (Source: Tampa Tribune )
Fantasy Impact: Jennings will certainly need some at-bats prior to coming back so he can establish timing. Rays manager Kevin Cash has said he wants Desmond to get plenty of repetitions as well, leaving a firm timetable seemingly non-existent. Jennings has never quite lived up to expectations, and his checkered injury history is certainly cause for concern. He should come back sometime in the next couple weeks and play regularly, while hitting around sixth in the lineup. Double digit home runs could be in play, but it'd be wise to monitor how much he's running once he returns.
Category: , Injury Updates
---
Jennings hits fist home run of the spring against the Yankees.
Fantasy Impact: Desmond Jennings has been hot this spring batting .500 in a Tampa Bay line up that is not expected to compete. Now that Wil Myers has been traded, Jennings is a clear fantasy leader for the Rays with an average of 503 at-bats per season over the last three years. Last year his production took a dip, but there is no reason to believe he shouldn't bounce back as he is playing in his prime. Look to Jennings as a solid fourth OF option or waiver wire pick up with steals potential and steady run production.
Category: , Game Recaps
---
Rays OF Desmond Jennings collected 2 hits and a stolen base against the Yankees in Monday's spring game.
Fantasy Impact: Jennings has looked good so far this spring and could be a nice sleeper in fantasy leagues. Manager Kevin Cash has stated he will likely bat in the middle of the lineup, which could be more RBI's. If healthy, his SB totals could rise as well.
Category: , Game Recaps
---
The Rays' Desmond Jennings reports in recent off season workouts at the Trop that his lingering left knee issue last year has fully healed. (Source: Marc Topkin, Tampa Bay Times)
Fantasy Impact: Jennings offense last season produced career lows, with a stat line of .244/10/15. A healthly Jennings should see his totals increase to 15 HR and 20-25 SB. While not a top OF option in most drafts, he could be a solid second tier OF.
---