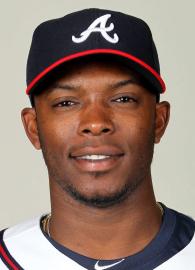 Justin Upton News & Advice
MLB.com
| Nov 25th, 8:13pm
While evaluating trade options involving Justin Upton, the Braves have continued to aggressively pursue Yasmany Tomas, the Cuban sensation who could immediately fill one of the corner-outfield positions in Atlanta.
ESPN
| Nov 24th, 2:17pm
The Texas Rangers have inquired about the possibility of trading for Atlanta Braves left fielder Justin Upton, according to a source.
MLB.com
| Nov 24th, 12:41am
Because the Braves dealt Jason Heyward to the Cardinals this offseason, there has been talk that Atlanta also might consider parting ways with fellow outfielder Justin Upton. As the Hot Stove season continues to heat up, multiple reports Sunday said the Rangers have spoken with the Braves regarding Upton.
Rotoworld
| Nov 23rd, 6:49pm
Fox Sports' Ken Rosenthal tweeted that the Rangers have been in contact with the Braves regarding OF Justin Upton.
Rotoworld
| Nov 21st, 4:30pm
Joel Sherman of the New York Post was told by an executive that Justin Upton "will be moved" this offseason.