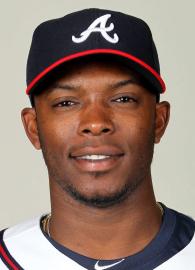 By Jeff Krisko, Padres Correspondent, Wed, Jan 7th 9:26pm EST
Upton was traded to San Diego in mid-December, and was officially made available by the team for the first time in a press conference Tuesday (Source:
MLB.com
)
Fantasy Impact: Upton, 27, is one of three acquisitions that make up a completely revamped Padres outfield. The others are declining superstar Matt Kemp and 2013 Rookie of the Year Wil Myers. Over his last three years, Upton has posted a .271/.350/.462 slash line overall, and .255/.345/.412 slash line at Petco Park. The move to a notorious pitchers park will slightly erode Upton's fantasy value, but Turner Field wasn't exactly a bandbox, so it should not crater his value. It will be hard to project his production based on the lineup around him in San Diego, as the Padres are barely recognizable compared to last season's version.
By Steve Painter, Padres Correspondent, Fri, Dec 19th 3:07pm EST
John Hart, Braves president of baseball operations, has neared the finish line in his grand scheme to make the Braves relevant in 2016 and beyond. 2015 will be a rebuilding year. The Braves will get Max Fried, Jace Peterson, Dustin Peterson, and Mallex Smith while giving up Upton and a low-level prospect. (Source:
Ken Rosenthal on Twitter
)
Fantasy Impact: Petco is more pitcher-friendly than most parks so it's interesting that San Diego is loading up with power. This move, regardless of the park, will help Upton's numbers, as he will have good hitters around him in the lineup.
Justin Upton News & Advice
Rotoworld
| Mar 4th, 1:05am
Justin Upton or Hunter Pence? Two Rotoworld writers take sides and debate.
Baseball Professor
| Feb 26th, 4:00pm
Justin Upton is one of A.J. Preller's key acquisitions for the Padres, and the outfielder is now set to enter the all-import age-27 season with free agency no the horizon.