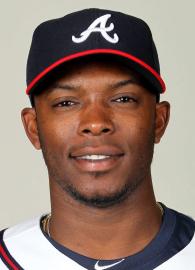 | ECR | Best | Worst | Auction | Alerts |
| --- | --- | --- | --- | --- |
| #34 | #16 | #111 | $23 | - |
Justin Upton News & Advice
MLB.com
| Jul 22nd, 4:38am
Braves manager Fredi Gonzalez said he will talk to Justin Upton, who was not running hard down the line when Marlins second baseman Yordany Valdespin bobbled his grounder in the eighth inning of Monday's 3-1 loss
Rotoworld
| Jul 21st, 6:49pm
Justin Upton (triceps) is in the Braves' starting lineup on Monday night versus the Marlins.
KFFL
| Jul 21st, 1:41am
Atlanta Braves OF Justin Upton (triceps) exited in the sixth inning Sunday, July 20, after ...
MLB.com
| Jul 20th, 11:13pm
Justin Upton exited Sunday's game with left triceps soreness after Kyle Kendrick plunked him with an 88-mph sinker in the third. Braves manager Fredi Gonzalez is hopeful, but uncertain if Upton will be available to start on Monday.