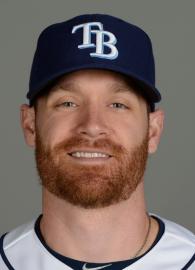 Logan Forsythe (1B,2B,DH)
Rays second baseman Logan Forsythe extended his hitting streak to six games, including his 10th homer of the season in a 5-4 loss to the Phillies on Wednesday. It was a solo shot in the seventh and added a double in the fifth as he went 2 for 4 on the day. Forsythe is now hitting .283 on the year with 10 home runs and 40 RBI.
Fantasy Impact: Forsythe continues to impress and takes away any doubt that he would cool off at some point in the season. He ranks 4th among all second basemen in home runs and 5th in RBI. He has become a must start in all fantasy aspects and has been one of the few bright points in the Rays offense.
Category: Game Recaps
---
Logan Forsythe went 1-for-4 with an inside-the-park home run as the Rays lost 9-7 to the Royals on Wednesday.
Fantasy Impact: The home run came in the fourth inning when Forsythe smacked a Jeremy Guthrie offering into left field. Alex Gordon missed the catch and fell to the ground, eventually resulting in a severe groin injury, but Forsythe took advantage and came around to earn his ninth home run of the season. Forsythe has been a key piece to the Rays even being competitive this season, and should be able to maintain a high level of production in the second half as he'll continue to get everyday at-bats. Forsythe has a .277/.362/.427 line with nine homers, 34 runs scored, 35 RBI, and seven stolen bases.
Category: , Game Recaps
---
Logan Forsythe went 2-for-3 with a home run, two walks, and two stolen bases in the Rays 8-5 loss to the Blue Jays Monday night.
Fantasy Impact: Without Forsythe, who knows where the Rays would be this season. Surely not anywhere close to first place, which is where they currently reside. He's also been a revelation to fantasy owners, amassing a .293/.371/.455 line with eight home runs, 28 runs, 32 RBI, and seven stolen bases to this point. He's finally been given a chance to play, and is in the midst of a break-out season. Ride the good times while they roll.
Category: , Game Recaps
---
Logan Forsythe was brilliant on Monday, going 3-for-5 with two runs batted in and a stolen base, sparking the Rays to a 6-1 win over the Nationals.
Fantasy Impact: With the Yankees losing to the Marlins on Monday night, the Rays now have sole possession of first place in the AL East. One of the main reasons they're in that spot is because of the great production they've received from Forsythe all season. After having two fairly poor seasons in a row between the Rays and the Padres, he's finally producing at the level the Rays always hoped when they nabbed him via trade prior to last season. Forsythe is hitting .271/.351/.434 with seven home runs, 30 RBI, 26 runs scored, and five stolen bases, while getting everyday at-bats for the first time in his career. He may be the Rays All-Star game representative.
Category: , Game Recaps
---
Hitting clean up against southpaw C.C. Sabathia, Logan Forsythe delivered three hits in four at-bats with a homerun and three RBI.
Fantasy Impact: The Rays were clobbered in this one, but Forsythe tried his best to keep it competitive. He should've had four RBI on the night but rookie Steven Souza misjudged a first inning double that resulted in a late start off of second base and getting thrown out at home plate. This was Forsythe's third bomb of the year to go along with 15 RBI and a .303 average.
Category: , Game Recaps
---
Rays IF Logan Forsythe homered and went 3-for-4 in Friday night's loss to the Yankees. He has raised his average to .297 on the season.
Fantasy Impact: The Rays are getting good production between Forsythe and Tim Beckham. Given his higher upside though, Beckham will get more at bats as the season goes on.
Category: , Game Recaps
---
With Nick Franklin headed to the DL for the Rays, Logan Forythe will get the bulk of the playing time at 2B. (Source: Marc Topkin)
Fantasy Impact: Forsythe has had a decent spring with 3 HR's and a .240 average. He can be a streaky hitter, so if he is hitting well to start the season, he mave have value in deep leagues.
---