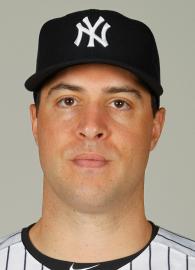 Mark Teixeira was dealing with trying to rebuild strength during the 2014 season and never got to full strength. He posted his worst season, a .711 OPS, and saw his batting average slump all the way down to .216. Teixeira says that a full offseason of working out, rather than rehabilitating, should make the 2015 season a bounce back season for the Yankees 1B. (Source: New York Post)
Fantasy Impact: Teixeira started his Yankee career with three consecutive 30 home run seasons and an .877 OPS from 2009-2011. Since then, though, he has struggled with injuries and has seen his OPS drop in each season since 2007. Simply put, the Yankees need Teixeira to at least post his 2012 statistics, where he hit .250 with 24 home runs and an .804 OPS. On the other hand, Teixeira is one of the most productive 1B of the past decade, posting an .881 OPS over his career, and the Yankees know that a healthy Teixeira is good for 30 or more home runs. A comfortable projection for a healthy Teixeira is a slash of .255/.340/.490 with 90 or more RBI; those statistics should compare favorably with Lucas Duda or Brandon Moss, both players going higher than Mark Teixiera in drafts.
---
Even though Teixeira is 34 years old and has seen his OPS drop in seven consecutive full seasons, the Yankees GM thinks that he can be a huge part of the Yankees lineup. He was awful in 2014, a .216 BA, but Cashman attributed that to a lack of health after wrist surgery. (Source: New York Post)
Fantasy Impact: Teixeira missed the first two months of 2013 and then from June 15th on and only played 123 games in 2014 as well; after averaging 153 games played over the first eight years of his career, he has only averaged 87 games played in the past three seasons. Even though his batting average is awful over the past three seasons, .229, he is still averaging 31 home runs and 99 RBI per-162 games since 2012. If Teixeira is able to play 140-150 games in 2015, he should be good for 50-55 extra base hits and will continue to use the short porch in right field of Yankee Stadium to his advantage. Also keep in mind that Teixeira has had eight 100-RBI seasons in his career and the last was only in 2011. He may not be a .900+ OPS player again, but if he stays healthy, he can be a productive enough player to have as a utility player, with CI upside.
---
New hitting coach Jeff Pentland wants the Yankees to change their approach at the plate, a change that could help Teixeira more than any Yankee. (Source: Nj.com)
Fantasy Impact: Teixeira struggled through his worst season in the MLB in 2014 and was injured for most of 2013 so any change would be great for the Yankees' 1B. Teixeira posted 10 consecutive seasons with an OPS over .800 from 2003-2012, .896 average overall, but only had a .700 OPS over 138 games in 2013 and 2014 and has not had 100 RBI since 2011. Although injuries are a key factor in Teixeira's issues, his inability to hit to the right side of the field around the shift has also damaged his BA; his career average has dropped from .290 to .273 since the beginning of 2010. New hitting coach Jeff Pentland will work with Teixeira, Carlos Beltran, and Brian McCann to fix their pull happy ways and Teixeira should see his numbers improve.
---