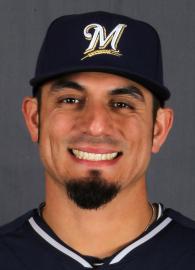 Garza pitched 4.2 innings Sunday against the White Sox, giving up four hits and two runs along with three strikeouts in Milwaukee's 13-4 win. His spring ERA is now 5.40.
Fantasy Impact: Garza has always been a talented pitcher but has been hampered by injuries over his career. His average draft position is 347. He will be available in the later portions of your draft but is more suited for NL-only leagues or as an injury replacement waiver wire pickup.
Category: Game Recaps
---
Making his second start of the spring, Garza pitched three innings allowing two hits and giving up two earned runs against the Giants on Wednesday. Working on his new mechanics, Garza did settle down and threw a perfect third inning.
Fantasy Impact: Garza is hoping to have a healthy 2015 as durability has hampered his career over the past 10 seasons. Last year Garza missed almost a month with a left oblique strain he suffered in August. Garza did manage to pitch 163 innings last season striking out 126 batters. He has always been a talented pitcher just keep monitoring his progress in the early portions of the season and see how his health holds up.
Category: , Game Recaps
---
Garza allowed five hits and five runs in two innings pitched Friday against the Dodgers. He allowed a two-run home run to the Dodgers A.J. Ellis in the second inning.
Fantasy Impact: One spring start does not make or break a persons fantasy fortunes. Garza's average draft position according to FantasyPros is 360. Last season he won eight games with 126 strikeouts, an ERA of 3.64 and a WHIP of 1.18.
Category: , Game Recaps
---