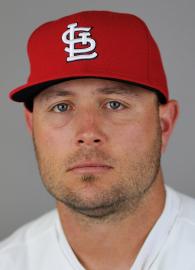 Matt Holliday News & Advice
Rotoworld
| Aug 31st, 11:14pm
Matt Holliday went 3-for-4 with a home run and four RBI as the Cardinals came back to beat the Cubs 9-6 on Sunday.
MLB.com
| Aug 31st, 9:45pm
The Cardinals' offense emerged from its typical station-to-station ways to catapult past the Cubs and closer to the Brewers with a flurry of extra-base hits and by riding the back (and bat) of Matt Holliday. The Cardinals, poised to open a key series against Pittsburgh on Monday, gave themselves a chance to enter September as co-leaders in the National League Central by stealing a 9-6 win over the...
Rotoworld
| Aug 31st, 3:43am
Matt Holliday slugged two homers and tallied five total RBI as the Cardinals won the second half of Saturday's doubleheader against the Cubs by a score of 13-2.
MLB.com
| Aug 31st, 3:40am
Having watched the Cubs bash their way to victories in the first two games of the series, the Cardinals joined in the home-run fun with two mighty swings from Matt Holliday in the nightcap of Saturday's doubleheader to secure a 13-2 win.
MLB.com
| Aug 26th, 2:10am
John Lackey fired seven solid innings after yielding an early homer, while Matt Holliday's single capped a three-run seventh that lifted the Cardinals to a 3-2 win over the Pirates on Monday night.