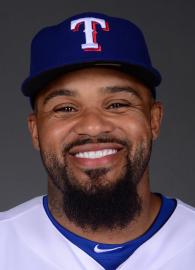 Prince Fielder continued his incredible pace on Monday, picking up another two hits. So far this season he is hitting; .394/.444/.899 with four RBI.
Fantasy Impact: Fielder is making a lot of drafters regret not believing in him on draft day. He is seeing the ball really well and despite the fact he is still without a homer, owners are not complaining. He will come back to Earth at some point but this looks like the start of another great season. Your window to snag him is closing quickly.
Category: Game Recaps
---
Prince Fielder racked up 3 hits in Sunday's extra innings loss to The Astros. So far this season he is hitting .379/.438/.886 with 0 home runs and 3 RBI.
Fantasy Impact: Fielder has been on a tear of late and he is currently one of the hottest players in the league. He is still without a home run but I have a feeling we won't have to wait much longer. He is hitting the ball better than we have seen in a long time and if he can return to his production levels of the past he will once again be a top first baseman.
Category: , Game Recaps
---
Prince Fielder picked up another 3 hits on Friday. He now has 4 straight games with a hit and is batting .421 for the season.
Fantasy Impact: He has been the best player for the Rangers so far in this young season, although he hasn't been getting much help from his teammates. The power has yet to show up but it is certainly on it's way. His other counting stats will also get going when those around him start to wake up. Fielder's value has been the highest it has been in more than a year, yet it's still a great time to buy in.
Category: , Game Recaps
---
Fielder's bat showed up once again in Thursday's win against The Athletics. He smacked 2 hits for the second time in this series.
Fantasy Impact: Thus far in the season The Rangers' offense has been pretty all or nothing but the one guy that has been consistently getting hits is Prince Fielder. He has yet to hit a home run but he has been getting on base at a great clip and the power will come. He has been showing that the faith drafters have in him had not been misplaced.
Category: , Game Recaps
---
The Texas Rangers got their first win Tuesday on the back of slugger Prince Fielder. He collected his first 2 hits of the season as well as his first 2 RBI.
Fantasy Impact: This is the side of Fielder that we have been dying to see. It's still very early but we didn't see much of this from him last year. He had a great Spring and this is looking more and more like a bounce back year. Buy in while you can.
Category: , Game Recaps
---
Prince Fielder is looking to have a major bounce-back after his first season with the Rangers. That season was cut short due to injury but he looks healthy this spring. Fielder is batting .294 with one home run and six RBI.
Fantasy Impact: The biggest piece of news here is that Fielder is healthy. He is expected to be a huge piece to the Rangers offense this season and as long as he remains healthy, he should put up elite power numbers. Fielder will be a steal on draft day because of his injury-shortened 2014.
---
Texas Rangers' first baseman Prince Fielder is fully recovered from mid-season neck surgery and he is conducting his normal off-season regime. He will be ready to go when Spring Training rolls around. (Source: MLB.com)
Fantasy Impact: After a very disappointing 2014 season, Fielder makes an excellent draft target in the coming season. Many fantasy owners will be scared away by last year's performance, causing him to slip in drafts and could create an opportunity to get a premier power hitter for a discounted price. He has a very good chance to become 2015's top bounce back performer; draft accordingly.
---