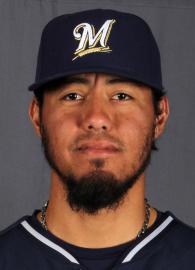 Yovani Gallardo allowed one run and four hits over four innings of work today in the Rangers 11-11 tie with the Los Angeles Dodgers. Gallardo struck out three and walked two in his second start of the spring. (Source: www.mlb.com)
Fantasy Impact: Today's performance was a far cry from Gallardo's Rangers debut when he gave up six hits and four runs in just 1 2/3 innings against the Royals. With Yu Darvish out for the season, the Rangers will be counting on Gallardo to be a solid No. 2 in the rotation.
Category: Game Recaps
---
After a rough first start, Yovani Gallardo will get his second start of the spring on Tuesday against the Los Angeles Dodgers. (Source: www.mlb.com)
Fantasy Impact: Gallardo had a rough go of it in his Rangers debut, allowing six hits and four runs to the Kansas City Royals in just 1 2/3 innings. With Yu Darvish out for the season, Gallardo becomes the No. 2 guy in the rotation so it's important that he starts performing like one.
---
In 1.2 innings Yovani Gallardo gave up 6 hits and 4 runs while striking out 1. (Source: Jeff Wilson on Twitter)
Fantasy Impact: Jeff Wilson described the defensive situation as "dicey." Some of the runs can be chalked up to the poor defense but you shouldn't worry about it too much. In his career he has been good for a 3.50 ERA, and he should be good for about the same in 2015.
Category: , Game Recaps
---
Yovani Gallardo was traded to the Texas Rangers on Monday for right-handers Corey Knebel, Marcus Diplan, and shortstop Luis Sardinas. Gallardo, originally from the DFW area, went 8-11 last season with a 3.51 ERA, his lowest since 2008. Gallardo joins a Rangers staff that was decimated by injuries last season. Matt Harrison, Martin Perez, Holland, and Darvish all spent extended time on the disabled list in 2014. Gallardo will make $13 million this season, with the Brewers on the hook for $4 of it. (Source: ESPN)
Fantasy Impact: Gallardo had a nice season in Milwaukee last year where he tossed 192.1 innings. His strikeout numbers have steadily decreased since 2009, but so have his walks. In fact, Gallardo had a 2.70 strikeout to walk ratio last season, his highest since 2011. The Rangers are landing a solid top-of-the-rotation starter, but are fantasy owners? Texas is well-known for being a hitter's park, but if Gallardo can keep the ball in the park, he should be due for another stellar season. Since 2009, Gallardo hasn't thrown fewer than 180 innings, and if the Rangers plan on getting back to the playoffs, they will be depending on him to toss that many again.
---
This time the rumors were true as the Texas Rangers made their first big move of the off-season, acquiring Brewers right-hander Yovani Gallardo for three prospects. (Source: www.mlb.com)
Fantasy Impact: Gallardo is a workhorse who will fit nicely into the Rangers rotation behind Yu Darvish and Derek Holland. The soon-to-be 29 year-old has hurled at least 180 innings over each of the last six seasons and enters the 2015 campaign with a career mark of 89-64. Gallardo was just 8-11 last year, but posted a career-low 3.51 ERA. No longer the power pitcher he once was, Gallardo still averaged nearly seven strikeouts per nine innings last year. The move to the American League, and to Rangers Ballpark, might inflate some of his numbers, but he should be a solid 3-4 starter for your fantasy team.
---
According to The Dallas Morning News, Fox Sports News and mlbtraderumors.com, the Texas Rangers are on the verge of completing a deal to acquire Milwaukee Brewers right-hander Yovani Gallardo in exchange for prospects. (Source: rangersblog.dallasnews.com)
Fantasy Impact: Rangers GM Jon Daniels has said that acquiring another starting pitcher was a priority, and Gallardo fits the bill better than a Cole Hamels or Max Scherzer financially. Gallardo, 29, is due $13 million this year and will become a free agent at the end of the season. That would give him strong incentive to have a solid season, and would give the Rangers the chance to evaluate him at a fairly reasonable price tag. Gallardo has thrown 180+ innings in each of six consecutive seasons, posting an 8-11 mark with a career-best 3.51 ERA in 2014. His strikeout ratio was down to a career-low 6.8 per nine innings last season, however, so his value to the team might be greater in reality than in fantasy.
---