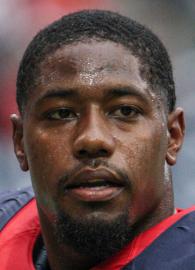 | Overall | RB | ADP | Auction Value | Alerts |
| --- | --- | --- | --- | --- |
| #58 | #26 | RB #24 | - | |
By Matthew Terelle, Browns Correspondent, Fri, Jul 25th 5:34pm EDT
Longtime Browns beat reporter Tony Grossi believes that Ben Tate is primed for a breakout year as the team's lead running back. He cites that Tate fits the Kyle Shanahan zone-blocking running scheme very well and that he has been running with an attitude and edge. Grossi considers him to be one of the most important Browns players this season. (Source:
Tony Grossi
)
Fantasy Impact: There has been some speculation over how many of Tate's carries would be cut into by rookie Terrance West. It Tate holds on to the job as lead back he should post low RB1 or high RB2 numbers as the Browns are expected to run the ball a lot this season. Injuries have been a concern throughout his career, but at his current ADP, Tate is shaping up to be a draft day value.
The New York Times
| Jul 31st
Tough sledding in store with a passing attack in disarray. Durability concerns as well.
Breaking Football
| Jul 31st
There is real upside here, but Tate has an injury history and there's actually some fine talent behind him.
FFLockerRoom
| Jul 30th
Ben Tate is now a Cleveland Brown. But I'm not sure if this hurts or helps him. In Houston he had a great system and knew how to run with it. In Cleveland he has to deal with... well... Cleveland. Not to bash the fans, who are some of the most die-hard, but that entire team struggles. Tate has a chance to prove himself just don't bit on him early.
Win My Fantasy League
| Jul 26th
Ben Tate when healthy has RB1 skills but as has become the case with other talented yet oft injured running backs he gets knocked down a couple of tiers until he can prove he can handle 250 plus touches; he also has ideal schematic fit Terrance West and fellow rookie Isaiah Crowell to contend with for snaps and may see himself Arian FosterÂ'd once again.
Hatty Waiver Wire Guru
| Jul 21st
He will find a new home and more than likely be made the starter. The Browns are the most likely landing point for Tate and he is going to be a nice pickup for 2014.
Fantasy Football Maniax
| Jul 15th
The worst kept secret in free agency was Tate ending up in Cleveland. Tate tallied only 771 yards and four touchdowns last year, but the Browns are in desperate need of a starting running back. He is a monster upgrade over the backs they started there last year. Keep an eye on third-round pick, RB Terrance West. He could eat in to Tate's carries.
KFFL
| Jun 12th
Some Cleveland notes, including a recent fantasy draft, and tight end news from two potent offenses.