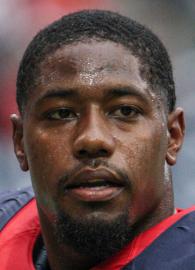 | Overall | RB | ADP | Auction Value | Alerts |
| --- | --- | --- | --- | --- |
| #56 | #25 | RB #26 | - | |
By Matthew Dorfman, Browns Correspondent, Tue, Aug 19th 4:32pm EDT
Ben Tate had 10 carries for 51 yards, and looked ready to lead the Browns backfield.
Fantasy Impact: Tate was one of the only bright spots for the browns offense Monday night. This is his first time as the number one back in an offense, and it looks like he is ready to take on the load. If Tate can stay healthy he has a shot at a breakout year especially with the Browns passing game struggling they will need to lean on him often.
By Matthew Terelle, Browns Correspondent, Sun, Aug 10th 9:55am EDT
Ben Tate ran 6 times for 25 yards in the Browns preseason debut against the Detroit Lions. He did fumble once but it was recovered before Detroit could pick it up.
Fantasy Impact: Tate had a solid showing from a yards per carry standpoint, but he showed ball security issues which have followed him at times throughout his career. With rookie Terrance West playing well behind him, Tate didn't do himself any favors by putting the ball on the ground. West makes for a very solid handcuff who could post RB2 numbers should Tate lose the starting job due to injury or turnovers.
By Matthew Terelle, Browns Correspondent, Fri, Jul 25th 5:34pm EDT
Longtime Browns beat reporter Tony Grossi believes that Ben Tate is primed for a breakout year as the team's lead running back. He cites that Tate fits the Kyle Shanahan zone-blocking running scheme very well and that he has been running with an attitude and edge. Grossi considers him to be one of the most important Browns players this season. (Source:
ESPN
)
Fantasy Impact: There has been some speculation over how many of Tate's carries would be cut into by rookie Terrance West. It Tate holds on to the job as lead back he should post low RB1 or high RB2 numbers as the Browns are expected to run the ball a lot this season. Injuries have been a concern throughout his career, but at his current ADP, Tate is shaping up to be a draft day value.
The Fake Football
| Aug 20th
There's been much hype for Terrence West and Isaiah Crowell, but Tate is still the lead back and as long as he's healthy should remain. Running QBs help running backs, so if Manziel wins the job I like Tate to be helped by him.
FFLockerRoom
| Aug 20th
Ben Tate is now a Cleveland Brown. But I'm not sure if this hurts or helps him. In Houston he had a great system and knew how to run with it. In Cleveland he has to deal with... well... Cleveland. Not to bash the fans, who are some of the most die-hard, but that entire team struggles. Tate has a chance to prove himself just don't bit on him early.
The Football Girl
| Aug 19th
Yes, injury-prone, but fits Browns' new scheme perfectly and will get good blocking.
Hatty Waiver Wire Guru
| Aug 19th
Tate will lose carries to West so if you do draft Tate you have to target West as a backup as Tate has been known to be injured.
Breaking Football
| Aug 19th
There is real upside here, but Tate has an injury history and there's actually some fine talent behind him.
Fantasy Football Maniax
| Aug 19th
The worst kept secret in free agency was Tate ending up in Cleveland. Tate tallied only 771 yards and four touchdowns last year, but the Browns are in desperate need of a starting running back. He is a monster upgrade over the backs they started there last year. Keep an eye on third-round pick, RB Terrance West. He could eat into Tate's carries.
The New York Times
| Aug 19th
Has performed well enough this summer to distance himself from West.
Rotoworld
| Aug 19th
Ben Tate rushed for 51 yards on ten carries in Cleveland's second preseason game against the Redskins on Monday night.
Legion Report
| Aug 16th
Browns.com's Vic Carucci considers Ben Tate "at least a slight favorite" at RB, but expects third-round pick Terrance West to pose serious competition. Ben Tate was recently quoted saying, "I'm not worried about that because I know when I'm on my game, there's no one that can really touch me or that's close to what I do." Tate has had a colorful injury history that make many hesitant including us. Cleveland will employ a heavy rushing attack in 2014 and Terrance West will pose as a serious threat to Tate. If you decide to draft Tate, surround yourself with the handcuff and additional backs to support this pick. Regardless, Cleveland will be implementing a heavy rushing attack. The Browns play 8 teams that ranked in the bottom half against the run in 2013.
Win My Fantasy League
| Aug 9th
Ben Tate when healthy has RB1 skills but as has become the case with other talented yet oft injured running backs he gets knocked down a couple of tiers until he can prove he can handle 250 plus touches; he also has ideal schematic fit Terrance West and fellow rookie Isaiah Crowell to contend with for snaps and may see himself Arian Foster'd once again.
ESPN
| Aug 4th
Christopher Harris and Eric Karabell discuss whether Ben Tate is a top-40 overall pick in 2014.