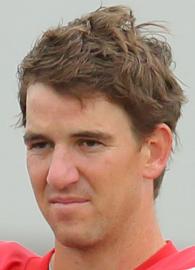 | QB | Matchup | Alerts |
| --- | --- | --- |
| #22 | at DET | |
By Nick Tapas, Giants Correspondent, Fri, Aug 29th 9:22am EDT
In the last pre-season game of the 2014 season, the Giants first team offense continued its struggles. Eli Manning completed just 1-of-4 passes against the Patriots backups for zero yards, including a horrible miscommunication between Manning and WR Rueben Randle.
Fantasy Impact: In two drives, the Giants first team offense managed just one first down, one three-and-out and two punts against the NE backups. Because of the Giants' issues on offense, Eli Manning is, at this point, a low end QB2 for fantasy purposes. The Giants open the season Week 1 on Monday night at the Lions.
By Nick Tapas, Giants Correspondent, Sun, Aug 24th 11:34am EDT
Left guard Geoff Schwartz, the top OL target signed by the Giants this past offseason, suffered a dislocated toe injury during Friday's game against the Jets and may be out for a long while/could be season ending. (Source:
Newark Star-Ledger/NJ.com
)
Fantasy Impact: The injury to Schwartz is a blow to an offensive line which has looked horrible this pre-season. The Giants may opt to use rookie Weston Richburg, who performed well on the Giants' first team scoring drive Friday, at left guard. With an OL already struggling prior to the injury, the loss of Schwartz may further negatively impact the productivity (and fantasy value) of Eli Manning and the Giants' passing game.
By Tim Pilleri, Giants Correspondent, Sat, Aug 23rd 2:55pm EDT
Eli Manning was 12 of 21 with a touchdown in the Giants's 4th preseason game vs the Jets on Friday. He also fumbled twice (recovered both), and threw a couple of close call non-interceptions. The Giants offense did not score until the Jets 2nd team defense was on the field. (Source:
NJ.com
)
Fantasy Impact: Eli's box score doesn't look as bad as it was against the Jets first team defense. The offensive line has been woeful and last night they lost lineman Geoff Schwartz to a dislocated toe. On the bright site, Manning did toss a very nice 15 yard touchdown pass to Rueben Randle. That connection has some promise this season.
By Ilya Keygen, Giants Correspondent, Sun, Aug 17th 8:43pm EDT
Manning was an abysmal 1-for-7 for six yards in the Giants third preseason game against the Colts. He played a total of four drives.
Fantasy Impact: Manning didn't show much in this game for fantasy owners to move him up the draft board. Coming off a career high 27 interceptions, he should not be owned in one QB leagues.
By Tim Pilleri, Giants Correspondent, Mon, Aug 4th 6:28pm EDT
Eli Manning completed 6 of his 7 pass attempts for 43 and no touchdowns on Sunday. Eli also took a sack and lost a fumble on the play.
Fantasy Impact: Manning might be completing a lot of passes to Rashad Jennings this season. Jennings caught 3 of Eli's 7 attempts. Manning performed pretty well getting the ball out of his hands quickly in new offensive coordinator Ben McAdoo's system. With the offensive line underperforming, Eli's quick passing could benefit Rashad Jennings most of all.
Breaking Football
| Sep 2nd
Detroit isn't the worst matchup but Eli is on the road and he's looked dreadful. If he suddenly turns it on, few will have seen it coming.
Breaking Football
| Aug 11th
Peyton Manning sand Eli Manning going viral is nothing new. The two brothers share four trips to the Super Bowl and three combined Super Bowl rings. Peyton Manning might end up putting the best stats the game has ever seen at the quarterback position, and might even go down as the greatest quarterback to ever play the game. Eli Manning won't, but at least he's won some titles and was i...
Gridiron Experts
| Jul 14th
Eli Manning co-hosted his family's annual passing academy the past two days and despite catering up to 1,200 teenagers on passing tips, release points and escape routes, he found time to toss the ball around and bond with his newest target, first round pick Odell Beckham. Mike Rigz | Eli Manning Re-energized in New Giants Scheme - Gridiron Experts [[ This is a content summary only. Visit my...