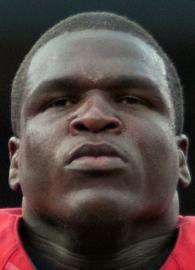 | Overall | RB | ADP | Auction Value | Alerts |
| --- | --- | --- | --- | --- |
| #47 | #21 | RB #19 | - | |
The New York Times
| Jul 23rd
Age 31 season should bring in more of a shared workload this year.
Breaking Football
| Jul 22nd
Gore is still the main man until he gets driven into the ground.
Hatty Waiver Wire Guru
| Jul 21st
Always good for 1,000 yards and near double digit TDs. If you have Gore as your bench RB for bye-weeks you are going to be a happy owner.
FFLockerRoom
| Jul 20th
The 49ers learned early on last season that the game hinges on getting Frank Gore the ball early and often. I think he has one more good season before turning the reigns over to one of the young bucks.
Win My Fantasy League
| Jul 20th
Frank Gore is still a solid RB2 option despite his waning involvement in the passing game and the addition of Carlos Hyde and a healthy Marcus Lattimore. The 49ers will ride Gore until the wheels fall off or until Hyde passes him on the depth chart.
NFL.com
| Jul 17th
In today's Three and Out: The Niners could begin using less of Frank Gore; the Packers want to use more of Eddie Lacy.
Fantasy Football Maniax
| Jul 15th
Gore was the 13th ranked fantasy running back in 2013, but he turns 31 years old and has 2,187 career carries. I am interested to see if his role is scaled down this year, the 49ers have both second year RB Marcus Lattimore and rookie RB Carlos Hyde competing for carries.
Breaking Football
| Jul 10th
Frank Gore has been one of the most consistent fantasy football running backs in the game for the past 8 seasons. Since getting regular playing time in 2006, he hasn't had a season with fewer than 249 touches, and has easily surpassed 1000 total yards each year. At 31 years old, however, Gore appears to be entering the twilight of his career. He compiled just 1,269 total yards last year, his...
Fantasy Sports LR
| Jul 10th
If you listened to my cliff year proclamations on Gore last year, I'll understand if you don't buy this but at 31 with both Lattimore and Hyde clamoring for touches...