Tale of the Tape: Week 1 (Fantasy Football)
Welcome to Tale of the Tape! Now a weekly event, this article will break down a handful of highlights from the NFL and translate them into fantasy football relevance. If you see a highlight worth analyzing in the future, feel free to hit me up on Twitter @FantasySensei and I may fold it into that week's lineup!
For now, let's finally get into Week 1 of the NFL season!
Get free start/sit and waiver wire advice for your fantasy team >>
Amendola is the Edelman Now … If Healthy

Currently, Danny Amendola has a concussion, so don't get too excited. But if he can get healthy, the Thursday night game proved he is indeed the nearest thing to an Edelman replacement in New England (six catches for 100 yards through two and a half quarters). Amendola, Gronk, and James White form Brady's go-to crew on third down, and Amendola specifically plays with the same grit, quickness, and reliable hands that Edelman does. If he recovers quickly, Amendola could be a low-end WR2 in PPR. If he can't, get your hands on James White immediately, as he will likely become the entire short-yardage receiving game for the Patriots.
Wentz's Best Rodgers Impression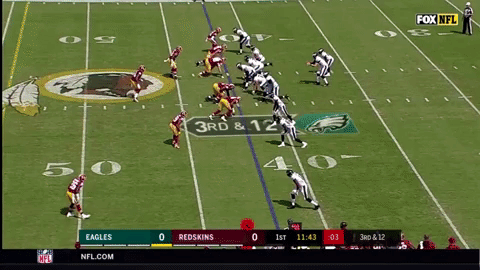 In the first game of his second year in the NFL, Wentz looks an awful lot like a top-tier quarterback. He was 26-of-39 (67%) for 307 yards, two touchdowns, and an interception against the Redskins, including this doozy of an escape and bomb to Nelson Agholor. Wentz was the No. 2 overall pick last year behind Jared Goff, and many projected him to be the more NFL-ready QB (more on Goff below). With a season under his belt, Wentz is not just ready to play, he's ready to perform at a high level. The 24-year-old should be considered streamable at the least, but may just be a reliable QB1 on a team with virtually no run game.
Ravens Runners Without Woodhead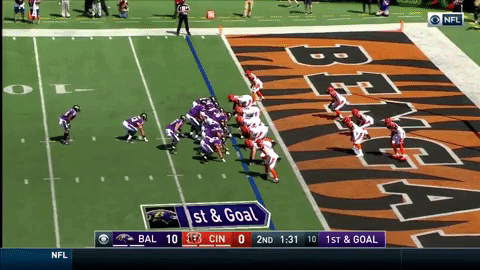 Danny Woodhead was dominating the Ravens offense (as expected) until he went down with a hamstring injury. With Woody out, Terrance West and Buck Allen evenly split 40 carries for 151 yards and a score. The Ravens defense is very strong and their receiving corps is thin. That could make this commitment to the run game a weekly expectation in Baltimore, which will translate to value for West, Allen, or both. West is the likely goal line back and Allen is the better receiver, so it's actually possible they do both hold value moving forward. In any case, they're certainly both worth owning, especially considering the inexpensive price points.
Fournette is the Ultimate Bell Cow Back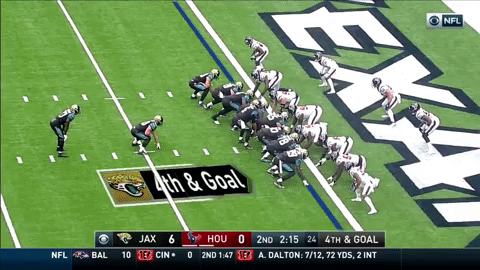 With David Johnson potentially due to miss considerable time, the unofficial NFL Bell-Cow rankings might be Ezekiel Elliott, Le'Veon Bell, and then Leonard Fournette. We knew coming into the season that Tom Coughlin and the Jaguars intended to run the ball with impunity, but Week 1 exceeded expectations. Fournette racked up 26 carries for 100 yards against an elite Texans defense, including this fourth-down goal line score late in the second quarter. He also added three receptions for 24 yards, adding fuel to his fantasy fire. It's not outside the realm of possibility that Fournette could lead the league in touches. Along with guaranteed goal line work and an elite defense handing him surprisingly good game scripts, Fournette will remain in the RB1 conversation for the near future.
The Watson Effect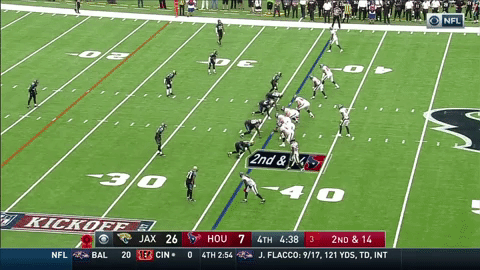 In classic Bill O'Brien fashion, it took a single half for Tom Savage to hit the pine and rookie quarterback, DeShaun Watson, to hit the field. While he didn't light up the scoreboard, Watson did provide a spark to the offense. DeAndre Hopkins could benefit from having Watson at the helm, as he managed to snag a touchdown with the rookie in the game. But the biggest beneficiary should be Lamar Miller. Watson's ability to extend plays and threaten the run will open up opportunities for Miller, who also flashed in the receiving game on two catches after Watson took over. Watson should improve over the course of the season and if he can get Houston offense moving more than it did under Savage, Miller could be in line for improved fantasy production.
Kizer-Coleman Connection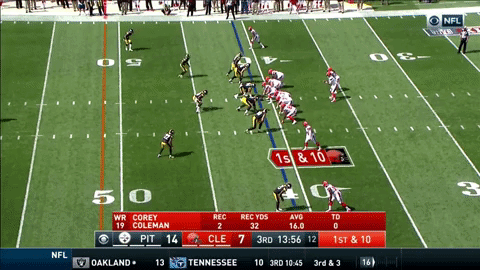 We saw DeShone Kizer and Corey Coleman's chemistry in the preseason, and it remained strong through the Week 1 contest. The stat line wasn't particularly explosive (53 yards and a TD on five catches), but Kizer clearly trust Coleman where it counts – like on the goal line in crunch time – and both have the talent to form a productive fantasy connection as the season progresses. Remember, Coleman was the highest-drafted receiver in the 2016 NFL Draft (15th overall) and is the clear-cut No. 1 receiving option on this team. He has a decent floor, thanks to his role in this offense, and a high ceiling at the receiving end of Kizer's big arm.
Tarik the Freak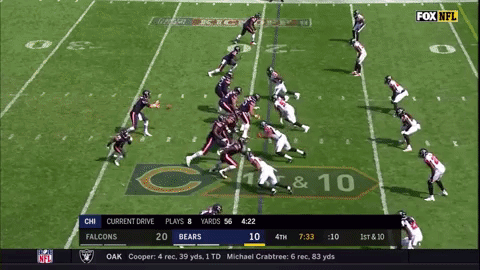 You've heard of Tyreek "The Freak" Hill (who also went off in Week 1), but you may not have heard of rookie running back, Tarik Cohen. Cohen was drafted in the fourth round by the Chicago Bears and is already paying dividends through one game. The diminutive back called up Darren Sproles comparisons on the merits of 113 total yards on five carries and eight receptions, including this incredible touchdown straight through Desmond Trufant. Perhaps more importantly, Kevin White sustained a fractured scapula in the game and is headed to IR, which further shrinks an already minuscule WR depth chart. With the Bears likely to see negative game scripts often, and little beyond Kendall Wright in the receiving game, Cohen could easily see five-plus receptions per game, on top of his handful of carries. With the explosiveness he's shown so far, that could translate to legitimate fantasy value for the new "Freak."
The Rams Revelation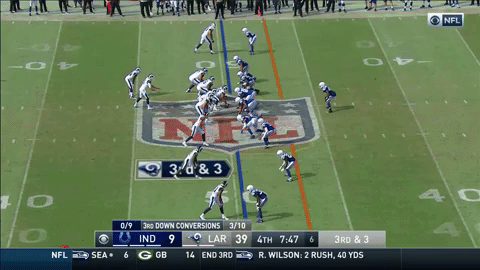 Well. It's probably fair to say this is not the same Rams offense we saw at the bottom of the NFL last year. Granted, 14 of their 46 points against the Colts came through pick-sixes, but that doesn't reduce the magnitude of Jared Goff's 306 passing yards on 21 of 29 attempts. Goff looked excellent against the admittedly bad Colts defense, hitting five different receivers for 23 yards or more. The Rams moved the ball extremely well and their defense under new coordinator Wade Phillips consistently stymied the Colts to give Goff and the offense additional opportunities. Where last year's Rams were a fantasy sinkhole, this year's version could feature several relevant players, including Cooper Kupp. The rookie continues to flash incredible ability and a killer rapport with his quarterback, making a strong case for WR3 contention with big PPR upside.
Cam Not Quite Super
This is obviously more of a lowlight than a highlight, as Cam Newton managed to turn good protection and a wide open receiver into a hideous incompletion. Newton's measly 6.8 yards per attempt and three – yes, three – total rushing yards were a bad sign for the former fantasy superstar. News out of Carolina over the offseason hinted that Newton's rushing and downfield throws would be curtailed to keep him healthy, and Week 1 confirmed both those reports. Newton failed to do much with either Kelvin Benjamin or Greg Olsen in this game, though both should be better over the course of the season. All in all, Newton will have his share of better games, but this was not an elite defense and the new offensive plan in Carolina may spell the end of his days as a QB1.
The Best of the Bad in SEA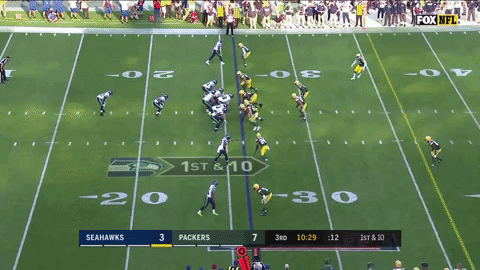 The Seattle running back situation was muddy coming into Week 1 and it's muddy coming out. The most productive runner by far was Russell Wilson, as the actual RBs managed a total of 50 yards on 16 combined carries. That said, rookie Chris Carson was easily the best on tape and in the box score, as he managed 39 yards on only six carries. Carson was the only back who showed the ability to make things happen behind this poor offensive line, as evidenced by this three-yard gain on a completely busted play. Thomas Rawls should return to the lineup soon (he missed Week 1 with an ankle issue), so it's still tough to say who has value on this depth chart. But Pete Carroll has shown a tendency to reward production, so if these trends continue (Rawls banged up, Lacy and Prosise ineffective), there's a chance Carson actually grabs a hold of the job. He's well worth a stash until we learn more.
Vikings Best in the NFC?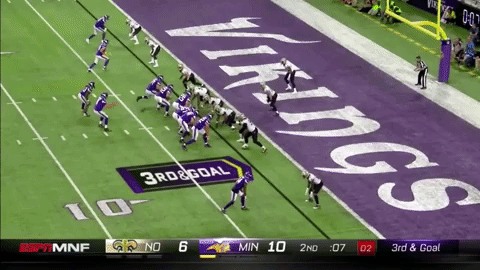 Once upon a time, Sam Bradford was the No. 1 overall pick in the 2010 NFL Draft. Since then, he dealt with numerous serious injuries and was labeled a game-manager at best. Not so on Monday night. Bradford was an incredible 27-of-32 passing for 346 yards and three touchdowns, thanks in large part to a beastly effort from Stefon Diggs. Diggs flashed Randy Moss-like skills on this touchdown and hauled in another one earlier, along with 93 total yards. Dalvin Cook kept the rookie-RB hype going at full steam with 127 rushing yards, and Adam Thielen threw in 157 yards to boot. Of course, this is all against the Saints defense, so don't expect all of the above every week from Minnesota. But with an elite defense and this slew of offensive weapons, they could be a force in the NFL and in fantasy.

Subscribe: iTunes | Stitcher | SoundCloud | Google Play | TuneIn | RSS
Matt Okada is a featured writer at FantasyPros. For more from Matt, check out his archive and follow him @FantasySensei.