Fantasy Football Trade Values: Week 6
Alright guys and gals, I owe you an apology. No, it's not for my insistence on repeatedly using gifs to get a point across – they remain absolutely hilarious. When I set out to do these trade values back in Week 1, I laid out how I envisioned this trade chart going:
"[L]ike most analysts, I have my own personal rankings. The fact that I'm much lower on Marshawn Lynch or higher on Pierre Garcon than the industry really should not force you to evaluate all players as I do. So I thought that the fairest way to create this chart was to go into my own leagues and get into some major trading activity to see what the market looks like. Yes, of course, my personal feelings on players inevitably impact the values to a degree, but for the most part, you're basically getting a market-tested formula to show trade values. Also, I got kicked out of six leagues for going overboard with proposing and trying to get others to get involved in trades. Whatever, I didn't like those leagues anyway (Stands up, walks away from computer, wipes away tears, regroups, continues writing article)."
But that approach isn't working for me anymore. First, I've been kicked out of every remaining league for incessant trading activity. I protested, but frankly, it was more than warranted. Second, and more importantly, I did a deep dive into the trade values this past week and they just weren't up to snuff. In trying to gauge the market, I lost sight of what you're really looking for – advice.
So, with that in mind, we're switching gears here. Rather than me risk losing more friends by repeatedly asking them to grade random trades to determine if they are fair, I'm going to provide a roadmap for trades using my own feelings on players and base the trade charts largely on my rest of season rankings (Note: you can find consensus rest of season rankings here or, if you so prefer, the consensus of my, Bobby Sylvester's, and Mike Tagliere's rankings here.).
That means a lot of changes are coming up below. The process not only allowed me to better reflect my personal recommendations, but also to go through and weed out some of the players who I just flat out did not appreciate that had declined significantly in value (I'm talking to you, Jamison Crowder).
Ok, I feel better. Do you feel better? No? Well, hopefully you will after this read. Let's get to it. Here are your fantasy football trade values for Week 6. (Note: usual disclaimer – these are values for standard leagues)
Analyze any potential deal with our Trade Analyzer >>
Quarterbacks

Aside from just some reordering, let's talk about some of the big movers. First, Deshaun Watson. This past week was Watson's first real test against Kansas City, and boy did he answer the call. After looking relatively mortal through most of the first half, the kid finished with five touchdown passes, giving him 10 total touchdowns over his previous two games. The Texans have clearly changed their offensive game plan to fit Watson's talents, using his mobility and play-action passes to his advantage. There's no reason to doubt him anymore, and it's hard to make the case for him residing outside the top-five going forward.
Cam Newton, who was legitimately droppable a couple of weeks ago after laying a stinker against the Saints, also takes a rise in value. Newton is second in fantasy points over his last two games (behind only Watson), and he's doing a ton of damage with downfield passes (6-for-7 with a touchdown on throws traveling more than 15 yards in the air against the Lions). Newton isn't a runner anymore, but it seems like his struggles early on were due to his slow recovery from a shoulder injury. Now healthy, it's time to consider him a solid QB1.
And yes, that's Alex Smith's name you see. It's time to just accept that this is happening. Smith has 12 total touchdowns this season with zero turnovers. He's completing 76.6 percent of his passes (career rate of 62.3 percent) and is on pace to pass for 4,451 yards (career-high of 3,502). Few quarterbacks are giving you a combination of both his high floor and his high ceiling. Time to stop doubting him.
Our only faller of significance is Matt Ryan, who has just five touchdowns and five interceptions this year. Ryan has been mostly fine this year from a real-life perspective, as he's exceeding his career marks for completion percentage and yards per attempt. But with a banged up receiving group and the Falcons looking perfectly happy to just run the ball close to the goal line, Ryan isn't quite the stud he was before.
Running Backs

As you can see, pretty much EVERYONE gets a little bit of movement this week. There's a ridiculous amount to explain, so back by popular demand – and by that I mean my wife who is yelling at me to finish this article so we can watch This Is Us (all the feelings, you guys. All. The. Feelings) – we're going into hyperdrive. So buckle up.
Leonard Fournette has yet to play in an NFL game and not score a touchdown. If you were the coach of the Jaguars, would you let Blake Bortles throw?
Lamar Miller isn't special. But he's got a relatively high floor and out-snapped D'Onta Foreman 56-9 in Sunday night's game, which wasn't really competitive. Accept that a dude getting pretty much all the touches in a dynamic offense is worth a heck of a lot, and don't @ me. Or do – I'll usually answer you. We cool.
Jay Ajayi is awesome. But when you have to break four tackles to gain three yards, it's hard to be as bullish on you as I'd like to be. Kudos to Smokin' Jay Cutler for convincing Adam Gase that despite all evidence to the contrary, he could still play football.
We knew at some point Carlos Hyde would lose snaps to Matt Breida because of injury. We did not know that he would lose snaps because he wasn't the "hot hand." Stop these shenanigans, Kyle Shanahan. Seriously.
Mark Ingram and Alvin Kamara should both benefit somewhat from Adrian Peterson's departure. It's not an earth-shattering change in value, but it helps. And Peterson will likely see significant carries in Arizona. He'll need a REALLY significant number to have any meaningful fantasy value, since the guy hasn't sniffed three yards per carry in almost a full season's worth of games.
It's hard to see Aaron Jones not having an important role in the running game even when Ty Montgomery is healthy. Best guess is that when Montgomery returns, it's closer to an even split. But there's also no reason to rush Montgomery back at this point.
James White is a fine player. But he's seeing just 45 percent of the snaps now with Dion Lewis getting more in the mix, and has almost no chance to score a touchdown. Meh.
Per Pro Football Focus, Tarik Cohen's percentage of snaps by week:
41.8%
62.5%
43.1%
26.5%
27.9%
This is  . . . not good. Also, Benny Cunningham is a better pass protector, and with a rookie QB, I'm not sure that number is going to rebound. Still tons of potential, but yuck.
Wide Receivers

Should DeAndre Hopkins be even higher? Dude has seen 61 targets this season and has five touchdown catches. Throw out last year when Brock Osweiler was throwing Hopkins the ball. Deshaun Watson knows where his bread is buttered. Will Fuller takes a similar leap in value.
Jordy Nelson is still elite. But I don't love all the injuries or the general lack of targets. He's not going to score 20 touchdowns, ya know?
I still think if I was trading for a Patriots wide receiver, it would be Brandin Cooks over Chris Hogan. Maybe. I think? Maybe I'd just try to trade for both of them. Might as well throw in Danny Amendola, who also gets a bump in value until his next injury.
I believe Doug Baldwin is going to be fine. But every time I watch the Seattle offense, my face looks like this: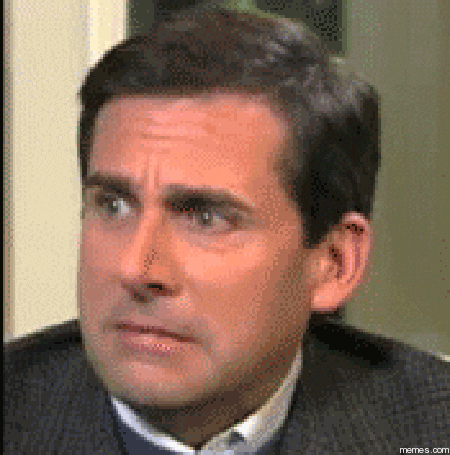 I'd still be a buyer on Baldwin to an extent, but I wouldn't trade close to WR1 prices.
I can't quit Amari Cooper. Yes, he's dropped in trade value and yes, he's been awful. But this doesn't really just happen. Guys in their third year don't just forget how to play football. I have to believe that he'll bounce back some, but, as with Baldwin, you can't pay quite that much to find out.
Let's assume Sterling Shepard is healthy going forward. What's a reasonable number of targets per game? Because 20 sounds like a pretty good number at this point, considering the Giants legitimately do not have any other healthy wide receiver on their roster. With Odell Beckham Jr. and Brandon Marshall done for the season, Shepard is going to get a ton of looks by default. He should fall into enough production to be worth starting most weeks.
Part of Sammy Watkins' problem is that he clearly still doesn't know the playbook perfectly. A bigger part of Sammy Watkins' problem is that Jared Goff does not like to throw to him when he's covered. Don't drop him. But you probably can't start him right now.
Jamison Crowder is entirely droppable. I would still hold him as a bench piece with the hope that the Redskins start to use him more out of their bye, but his value is appropriately that of a mild sweetener. I am sorry for glossing over his trade value for weeks and not correcting it. Bad job.
Tight Ends

The biggest change here is just that we're recalibrating the tight end values a bit. Outside the top three, and particularly outside the top six or seven, we're not talking about any significant value. So, even though Kyle Rudolph and Hunter Henry had good games, they drop in value. It's not personal, Sonny. It's strictly business.
Austin-Seferian Jenkins, Ed Dickson, and Zach Miller all join our trade chart. Yes, it was the Browns, but ASJ is for real. He cleaned up his life and the Jets' scheme favors him. Dickson had a fluky game, but he was solid against the Patriots and the Carolina offense is humming. And Mitchell Trubisky clearly liked targeting Miller. The first two especially, but all three can be set 'em and forget 'em guys if you're tired of playing the streaming game and just want a decent floor that won't usually bury you.

Subscribe: iTunes | Stitcher | SoundCloud | Google Play | TuneIn | RSS
Dan Harris is a featured writer for FantasyPros. For more from Dan, check out his archive or follow him on Twitter at @danharris80.
What's your take? Leave a comment