Tale of the Tape: Week 5 (Fantasy Football)
Welcome to Tale of the Tape, where we break down a handful of highlight GIFs from the week's slate of NFL games and translate them into fantasy football relevance. If you see a highlight worth analyzing in the future, feel free to hit me up on Twitter @FantasySensei!
For now, let's get into Week 5 of the NFL season!
Get free start/sit and waiver wire advice for your fantasy team >>
Hogan is the Do-It-All Receiver for Brady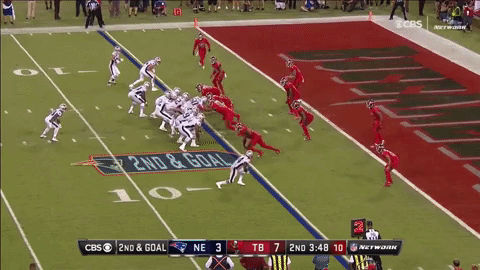 Earlier in the year, we reviewed some tape of Danny Amendola and noted his role as the third-down trustee in place of Julian Edelman. While that remains true, Chris Hogan has quickly blossomed into everything else in the New England passing game. Tom Brady trusts the former Bills receiver all over the field, especially in the red zone (as seen above). Hogan is second in the NFL in red zone targets (9), receptions (5), and touchdowns (4). He also sports the sixth-best WR rating in the NFL (QB rating when targeting said receiver, per Pro Football Focus). While the TD rate should regress – especially when Gronk gets healthy – Hogan could easily remain the top fantasy option in the league's top passing attack.
Aaron Jones Earns a Role in the Offense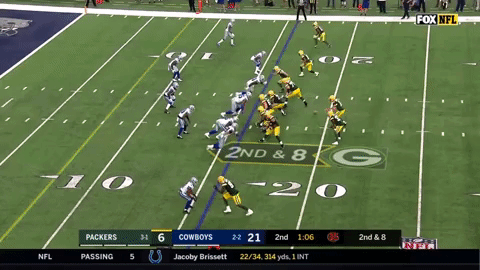 Last week, we highlighted Aaron Jones' use after the injuries to Ty Montgomery and Jamaal Williams. He spent Week 5 earning more than just a speculative waiver add. Jones rushed 19 times for 125 yards and this seven-yard touchdown (adding the one great catch for 9 yards). His performance was better than any of Ty Montgomery's in the preceding weeks, as Jones averaged 6.6 yards per carry and more than doubled Montgomery's best single-game rushing total this year. While he may not take control of the feature back role, it's possible he earns split-duties with Montgomery, who still needs to recover from two broken ribs. Either way, he must be rostered in fantasy.
What's Watkins Doing?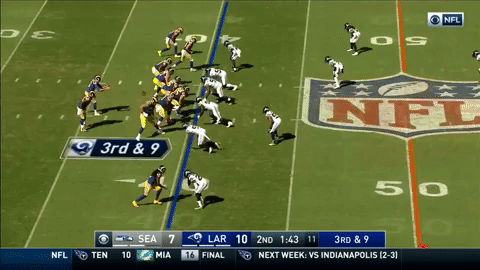 It's hard to say why, but Jared Goff and Sammy Watkins were way off in Sunday's game against the Seahawks. Watkins was unable to bring in any of his four targets, ending the game with a goose egg in fantasy. Both of the plays highlighted above were utter failures, as Watkins appeared to give up on a well-thrown ball down the right sideline and Goff massively overthrew him later in the game. Aside from his big performance against the soft 49ers secondary in Week 3, Watkins has done next to nothing, despite the Rams' offensive success through five weeks. Goff has much better chemistry with Cooper Kupp, Robert Woods, Todd Gurley, and his tight ends, leaving Watkins as a benchable fantasy asset for the immediate future.
Crabtree Closes the Coffin on Cooper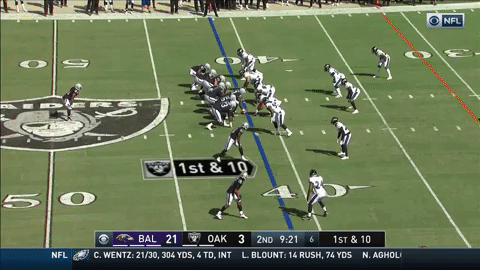 Okay, that alliteration may have been a bit forced … and a bit dramatic. But regardless of what all the dynasty-truthers may say in defense of Cooper, he now has 13 catches for 118 yards and one TD over five games. With a solid game featuring this 41-yard TD grab, Crabtree has 19-for-252 and four touchdowns … in one less game. Cooper has traded in receiver's gloves for bricks, dropping seven of 20 catchable targets (per Pro Football Focus), while Crabtree has snagged six catches for around 80 yards in three of four weeks (struggled against Denver, as did the entire offense). Unless there is a massive shift sometime soon, Crabtree looks like the WR2 we sought in drafting Cooper, who in turn is hardly startable until we see some production.
Fournette With the "Bring It" Wave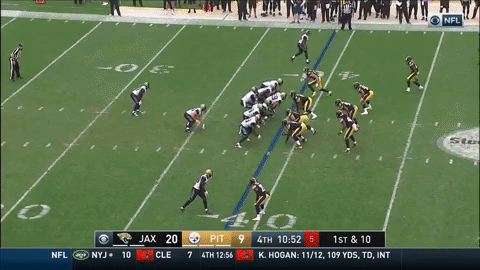 If you haven't seen this clip already, you're welcome. Late into the fourth quarter of Jacksonville's surprise creaming of the Steelers, Leonard Fournette broke a big run with a nasty stiff-arm, proceeded to signal Steelers safety Mike Mitchell with a "come at me, bro" wave, then pounded him at the end of the play. It was a microcosm of what Fournette has been and will continue to be: a tough, unrelenting runner, who will consistently rack up yardage by beating defenses down. Fournette also had a leaping goal line touchdown and a 90-yard TD run at the end of the game to boot. He leads the league in attempts and rushing TDs after five weeks (109 and five, respectively). Fournettte is the definition of a bell-cow back and has made fantasty owners proud to start the season.
Big Ben's Demise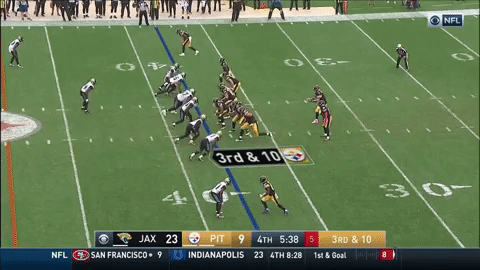 Ben Roethlisberger threw five interceptions on Sunday, something he's never done in 13 seasons. This particular INT – his fifth and basically the end of the Steelers' chances of a comeback – was absolutely horrendous, traveling a good 10-yards short of his intended target, Antonio Brown. After the game, Ben's comments were equally surprising, as he topped several "I'm not playing well enough" comments with a "maybe I don't have it anymore." For a guy who reportedly considered retiring in the offseason, this lack of confidence is especially concerning. Big Ben is currently the 24th QB in fantasy (behind five guys with only four games played). Until he rights the ship (if he does), both Big Ben and touted WR Martavis Bryant are disappointing bench fodder.
Melvin Gordon Silences Doubters (For Now)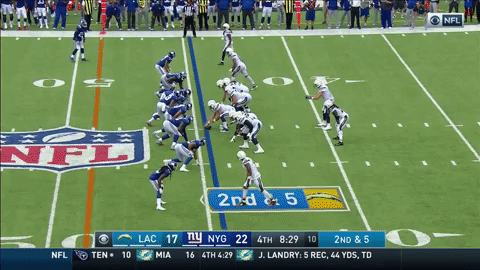 After a lackluster start to the season, Melvin Gordon finally rushed his way to high-level RB1 yardage against the Giants. He took 20 carries for 105 yards, including this excellent scamper, where he weaved his way for 16 yards. The Chargers' offense is still a little lackluster, limiting Gordon to only nine red zone carries on the year (16th-most in the league) and two touchdowns. He rode those short TDs to RB1 status last year, so LAC will need to get the gears churning for Gordon to return value on his draft capital. For now, his strong running should quiet doubters until next week's tasty matchup with the Raiders.
The Last Man Standing – Roger Lewis Who?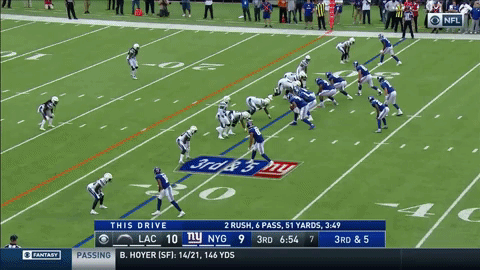 It's not often a guy with one catch will make it into Tale of the Tape, or any fantasy article for that matter. But Roger Lewis Jr. does just that as he finished Week 5 as the only healthy receiver on the Giants. Seriously. Odell Beckham Jr., Brandon Marshall, and Dwayne Harris suffered season-enders, while Sterling Shephard is considered day-to-day. Lewis was an undrafted free agent signed by New York in 2016 and was actually a semi-finalist for the Fred Biletnikoff award (outstanding college football receiver). That's about all we have on the guy. Unfortunately, the Giants are headed for the Broncos, Seahawks, and a BYE, which makes Lewis a risky add even if he is guaranteed 10-plus targets. Still, add him to your watchlist and consider acquiring him after the Week 8 BYE.
Ed Dickson Doing His Best Gronk Impression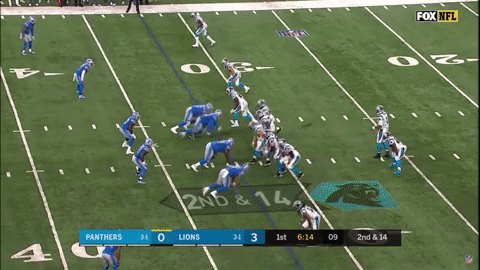 It took Ed Dickson a few week, but he has now posted two decent performances filling in for the injured Greg Olsen. With 62 yards last week and 175 this week on five catches (including this 64-yarder), Dickson appears to be a streamable fantasy asset until Olsen's projected return later this year. Dickson has yet to find the end zone, but the utter wasteland at the TE position in fantasy makes him a starter regardless. Dickson is relatively fast for a tight end and Cam Newton appears to be improving over a dismal start. It's not pretty, I'll admit, but we have to work with what we've got, people.
Matt Breida Flashes the "Hot Hand"
Matt Breida has been a handcuff-worth-having through the first quarter of the season, but that changed dramatically in Week 5. Breida outsnapped, outcarried, and vastly outperformed Carlos Hyde on Sunday, turning 13 touches into 61 total yards. He looked explosive and apparently impressed, as Mike Shanahan later commented that the Niners would use a "hot hand" approach moving forward. Hyde owners are likely to join their former-RB2 in expressing distaste for the situation but this is potential gold for Breida stashers. Grab Breida if he's still available, and thank your lucky stars if you have him already.

Subscribe: iTunes | Stitcher | SoundCloud | Google Play | TuneIn | RSS
Matt Okada is a featured writer at FantasyPros. For more from Matt, check out his archive and follow him @FantasySensei.