Tale of the Tape (Week 6) Fantasy Football
Welcome to Tale of the Tape, where we break down a handful of highlight GIFs from the week's slate of NFL games and translate them into fantasy football relevance. If you see a highlight worth analyzing in the future, feel free to hit me up on Twitter @FantasySensei!
For now, let's get into Week 6 of the NFL season!
Import your team to My Playbook for instant Lineup & Trade advice >>
Dion Lewis Vulturing Gillislee's Value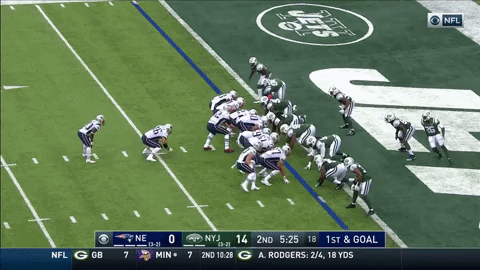 We all knew coming into the year that Bill Belichick's backfield would be impossible to decipher. Then Mike Gillislee's three-TD performance in the opener convinced us he was LeGarrette Blount 2.0. Turns out that was a smokescreen, as Gillislee has not scored or topped 52 rushing yards since Week 2. The main cause of this disappearing fantasy value has been Dion Lewis, who has vultured Gillislee's work in the red zone, scored twice in the last three weeks, and even out-carried Gillislee for the first time on Sunday. With Rex Burkhead set to return soon, this backfield is officially a mess. Lewis should be added, but none of these guys are reliable starters outside James White in PPR formats.
Mark Ingram's Back In Charge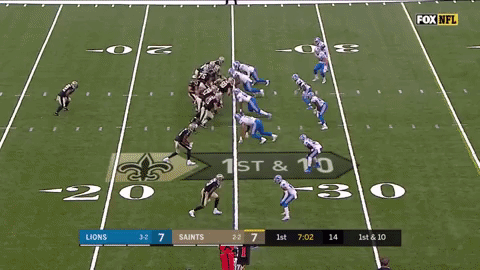 Adrian Peterson was getting little to none of Ingram's volume before being traded to Arizona, but apparently his mere presence was holding Ingram back. With AP out of town, Ingram handled 25 carries in a high-scoring affair, rushed for a season-high 114 yards and two touchdowns, and added five catches for 36 yards in the passing game. He looked dynamic, breaking tackles and picking up chunk yardage (particularly on this 51-yard beauty in the first quarter). Even with Alvin Kamara involved in the passing game, Ingram reasserted his status as a high-end RB2 or better with this performance.
And So Is AP
Speaking of Peterson, who would've guessed a couple weeks ago that he and Ingram would both finish as top-five fantasy RBs in the same week? Answer: no one. Fortunately for Peterson – and fantasy owners savvy enough to him pick up and start him – the Arizona Cardinals were willing to feature AP to a degree he hasn't seen in recent memory. Peterson got his new team out to an early lead with this dominant TD run on the opening drive and never looked back, finishing with 26 rushes for 134 yards and two touchdowns. Game script won't always be this favorable for AP, but the Arizona O-line is healthy and he clearly has enough left in the tank to sport fantasy relevance again.
Agholor Getting Hard to Ignore
Darting into the end zone early in the fourth quarter on Thursday night, Agholor raised his touchdown total to four in six games, to go along with 55 yards on the day and 321 on the season. He is very DeSean-Jackson-esque, often relying on a big play or two to produce in fantasy, but those plays are coming frequently this year. Agholor has logged at least 58 yards or a touchdown in all but one game and is a vital cog in this humming Philadelphia offense. He may not be an every-week starter, but he's a viable FLEX play, especially as we approach the meat of BYE weeks.
Jordan Howard Redefines Workhorse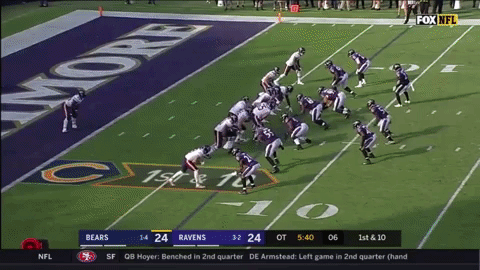 Yes, this game did have three overtime drives, and yes, Howard's biggest run came on this 53-yard doozy in the extra period, but c'mon. The man shouldered 36 carries and racked up 167 yards rushing. If nothing else, this tells us what the Bears intend to do with Mitchell Trubisky under center – run the ball. Howard is a strong, tough running back who beats defenses down over time, so a heavy workload is especially useful for the sophomore RB. With the current outlook at the position, Howard is easily an RB1 and has every opportunity behind a strong line to finish in the top five.
Jay Ajayi Leads Fins to Win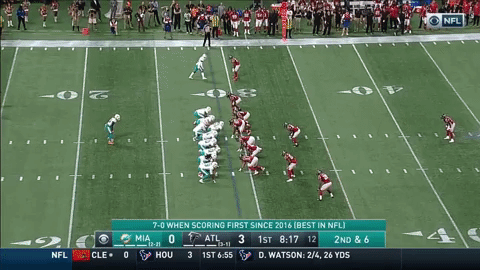 It's pretty simple for Ajayi at this point. When he's had 12 or fewer carries (twice), he's been a dud, as he has yet to score in 2017. When he gets legitimate volume, he has legitimate value, totaling 329 yards in his three games with 20-plus carries (26-for-130 Sunday against the Falcons). Another interesting fact on those three games: the Dolphins won all three. It's a bit of a chicken-and-egg conundrum whether Ajayi's volume leads to victories or vice-versa, but the Dolphins would be wise to limit Cutler's exposure and lean on Ajayi whenever possible. Moreover, the touchdowns will come for Ajayi, which can only improve his fantasy output.
TyMont Falls Short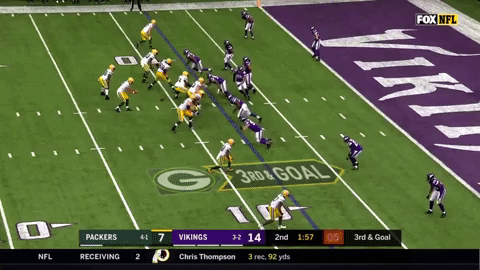 Ty Montgomery was able to come back quicker than expected from his broken ribs, but the results in Week 6 were less than ideal. Montgomery totaled 10 carries for only 28 yards (outperformed by Aaron Jones' 13-for-41) and only came up with one catch for three yards on three targets (Jones received four targets). Worst of all, Montgomery was unable to corral a wide-open touchdown pass while attempting to dive for the end zone at the end of the first half. With the loss of Aaron Rodgers (a detriment to the entire offense) and the emergence of Aaron Jones, Montgomery's value is currently in a nose-dive.
Brate is Great
If every half-decent tight end is worth an arm and a leg in today's fantasy landscape, Cameron Brate is worth at least an entire torso. This 10-yard score from Ryan Fitzpatrick made for Brate's fourth TD in the past four games. Moreover, he's averaged five receptions and 75 receiving yards per game over the past three weeks, establishing a high floor to go with his scoring-inflated ceiling. Even if Jameis Winston misses time, Brate will remain a top-ten guy. And if Winston is able to play sooner than later, his trust in Brate (especially in the red-zone) could make his current No. 3 TE status a season-long reality.
Henry Has Hunted Down His Fantasy Value
Speaking of valuable tight ends, the Chargers have finally remembered they have one – and his name is not Antonio Gates. Henry had his best day receiving on the year, with five catches for 90 yards on seven targets, including this 34-yarder on the game-winning drive. Minus his two inexplicably targetless duds, Henry has been very good for fantasy purposes. Assuming the Chargers don't revert to that baffling strategy, he should solidify his role as the pass-catching tight end in Los Angeles and provide TE1 production moving forward.
Orleans Darkwa Baffles Denver D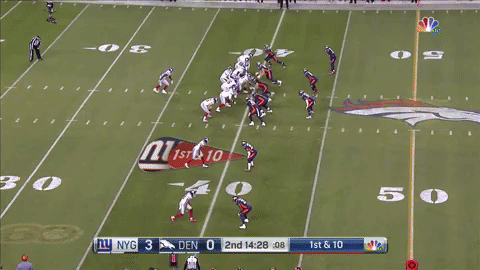 Coming into this week, the Broncos had allowed an atrocious 42 yards per game to opposing running backs. Then Orleans Darkwa came out of nowhere with 21 carries for 117 yards, 47 of which came on this beast of a run to start the second half. Darkwa also dominated the carry count, as Wayne Gallman only tallied nine. Perhaps most impressive, the Giants previously-awful offensive line opened legitimate holes against the Denver front. Considering the fluky nature of all of the above notes, it's tough to consider Darkwa a must-start. But he is certainly a must-add and may be relied upon heavily rest of season considering New York's lack of offensive weapons.

Subscribe: iTunes | Stitcher | SoundCloud | Google Play | TuneIn | RSS
Matt Okada is a featured writer at FantasyPros. For more from Matt, check out his archive and follow him @FantasySensei.