Tale of the Tape: Week 7 (Fantasy Football)
Welcome to Tale of the Tape, where we break down a handful of highlight GIFs from the week's slate of NFL games and translate them into fantasy football relevance. If you see a highlight worth analyzing in the future, feel free to hit me up on Twitter @FantasySensei!
For now, let's get into Week 7 of the NFL season!
Import your team to My Playbook for instant Lineup & Trade advice >>
Cooper Packs a Few Games' Stats Into One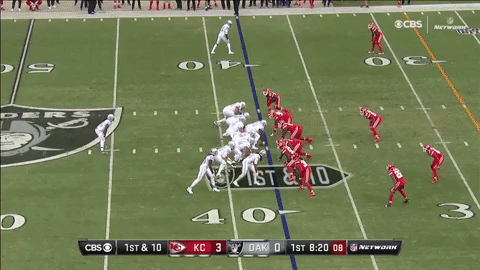 Finally, in Week 7, Amari Cooper flashed the chops that made him a high-round draft pick in fantasy. He hauled in a monstrous 11-for-210 on 19 targets with two touchdowns. Now, it's worth noting that his first score – a flea-flicker on Oakland's first drive – featured a somewhat blatant pass interference by Cooper that wasn't called and that he was also bitten by the drop-bug again later in the game. As such, it's still a little tough to discern whether this is a true breakout for Cooper or a (very large) blip on an otherwise lackluster season. Continued inconsistency is the more likely scenario in my book and I'd look to sell high, but if you recently acquired Cooper as a buy-low, you have to be feeling decent about the move.
Brett 2.0 in Green Bay Is … Not Good
When Aaron Rodgers broke his collarbone last week, we rushed to prepare the fantasy alarms for the wealth of relevant Green Bay receivers. After Brett Hundley's performance in Week 7, those alarms are blaring at full volume. Hundley was absolutely awful, completing 12-of-25 pass attempts for a baffling 87 yards, zero passing TDs, and this absolute duck of an interception straight to Kenny Vaccaro of the New Orleans Saints. No Packer pass-catcher topped 17 yards in what may have been the worst fantasy output by an entire passing attack in recent memory. Any hopes that Jordy Nelson, Davante Adams, and Randall Cobb could maintain decent fantasy production are fading, as the gap between one of the game's best and his replacement is simply too massive.
Alvin "Kamaro" Revving the Engine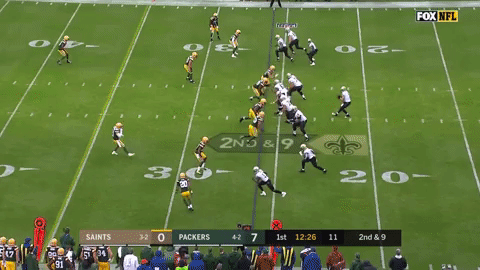 Last week, we highlighted the breakout of Mark Ingram after the departure of Adrian Peterson, but at this point we owe Alvin Kamara equal respect. The dynamic rookie had another great performance on Sunday, combining nine rushes for 57 yards with five catches for 50, including this nifty 24-yard gain on a screen behind the line of scrimmage. That brings his season totals to 215 yards on 34 rushes, 209 on 29 receptions, and two total touchdowns – good for 17th overall in PPR scoring. Kamara is startable in all formats and a legitimate RB2 in PPR, thanks to his Darren-Sproles-like ability to create plays and his stable role on an explosive offense.
Matt Moore + Kenny Stills Chemistry Continues
Can I interest you in a shocking under-the-radar stat regarding Miami's backup QB and WR3? In Matt Moore's four games to close the 2016 season (in place of the injured Ryan Tannehill), Stills averaged 56 yards per game and caught a touchdown in every single contest. In the last quarter of Sunday's matchup (following Jay Cutler's injury in the third quarter), Moore came in and targeted Stills seven times, hooking up for four catches, 42 yards, and two touchdowns, including this 28-yard floater. It's probably safe to say the two have some chemistry, and it may just be strong enough to bump Stills into low-end WR2 consideration for as long as Moore remains the starter (especially with DeVante Parker currently injured).
The Dak Attack is Unrelenting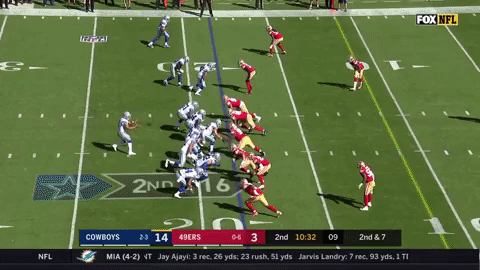 We already knew Dak Prescott was a solid QB coming into Week 7, but he has now crossed into a new threshold: the fantasy elite. Prescott threw for 234 yards and three scores on 16-for-25 passing and added 26 yards and a touchdown on the ground. He will enter Week 8 as the number one QB in fantasy and is probably battling with fellow-sophomore Carson Wentz for best real-world QB in the NFC. Prescott is accurate (as seen above in a perfect touch-pass to Jason Witten), smart, and both extends plays and racks up fantasy value with his legs on a weekly basis. It's not a stretch to label the young gun a top-five QB for the rest of the year and it's entirely possible he ends the season with the most fantasy points in the league.
Latavius Murray's "Don't Forget About Me" Day
After a killer performance by Jerrick McKinnon in Week 6, many were quick to dub him the Dalvin Cook replacement and cast Latavius Murray aside. Apparently, Murray took issue with that, as he galloped for 113 yards and a touchdown on 18 carries (to McKinnon's 14) against the Ravens. This 35-yard scamper was plenty impressive, but Murray's touchdown also came on a breakaway run of 31 yards – not something we're used to seeing from the short-yardage bruiser. The workload distribution may be somewhat game-dependent moving forward, but considering the Vikings' strong defense, Murray should consistently earn carries as the lead-preserver and clock-manager. He's certainly worth owning, and can be started in Minnesota-favored matchups (like next week against the Browns).
TyGod Looks to Join the Pantheon of QB1s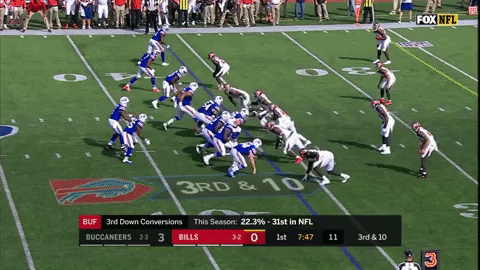 Coming off the bye, Tyrod Taylor showed why he has legitimate potential to be a fantasy starter for the remainder of the season. In a juicy matchup with the Bucs Taylor had 268 yards and a TD through the air and added 53 yards rushing on six attempts. He may be the best rushing QB in the game right now – a valuable asset in most fantasy formats – and the tasty matchups only figure to continue. The Bills have the Raiders, Jets, Saints, Chargers, Chiefs, Colts, Patriots twice, and Dolphins twice to finish the season (only the Chargers have had a top-half passing defense so far). Taylor's pass-catching corps is on the mend – Jordan Matthews returned in this game and Charles Clay is set to be back soon – and his rushing ability offers both a stable floor and extra upside. As far as I'm concerned, Taylor is a 10-week stream moving forward.
Doug Baldwin With Reassuring Rebound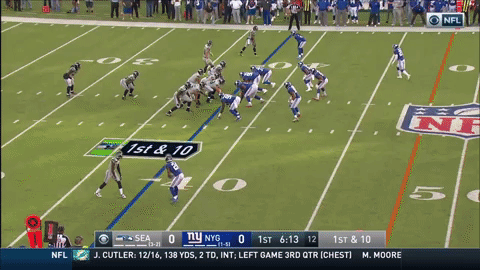 Apart from a strong 105-yard performance in Week 3, Doug Baldwin's fantasy value has suffered in part due to a groin injury and an early bye last week. His fantasy owners can breathe a sigh of relief after Week 7, as Baldwin was targeted a team-high 12 times and brought down nine for 92 yards and a touchdown. Russell Wilson hit him on multiple deep balls, including this 32-yarder where Baldwin smoked Janoris Jenkins and a 22-yard TD grab later in the game. Baldwin is a valuable combination of high target share and excellent big-play ability and should have a WR2 floor moving forward with plenty of high-end WR1 finishes in store.
Matt Tryan … And Failin'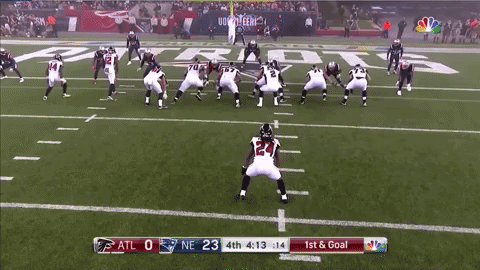 To those of you excited to hear about Julio Jones after watching that GIF, sorry, that's another story for another time. The highlight here is the fact that Matt Ryan's most valuable fantasy play of the night was a near-interception that Jones managed to pry from the hands of Malcolm Butler. On the whole, last year's MVP continued his streak of regression in this game, gaining almost the entirety of his fantasy total in garbage time and padding his stats with three scrambles for 37 yards on desperation plays. Even after some fortunate fantasy dominoes fell Ryan's way on Sunday night, he sits at the QB22, far from his top-five draft price. If you can still sell high on name and this deceptively good stat line, do it.
Reed's Return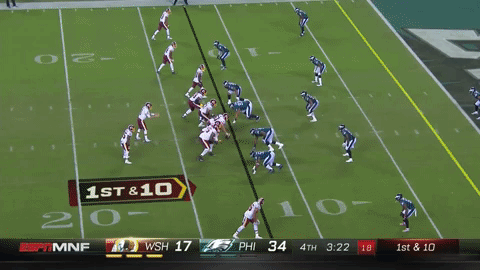 Coming into Monday night, Jordan Reed's game-highs in 2017 stood at eight targets, six receptions, and 48 yards, with no touchdowns to speak of. After Monday night, those marks have all changed – to 10 targets, eight receptions, 64 yards, and two TDs. The highly talented right end is finally back to full-strength and back to being Kirk Cousin's number one target. Reed looked unhampered by the injuries that plagued the early part of his season (toe, chest) – breaking tackles and diving into the end zone on his second score – which should return him to top TE1 status for as long as he's healthy.

Subscribe: iTunes | Stitcher | SoundCloud | Google Play | TuneIn | RSS
Matt Okada is a featured writer at FantasyPros. For more from Matt, check out his archive and follow him @FantasySensei.