Tale of the Tape: Week 12 (Fantasy Football)
Welcome to Tale of the Tape, where we break down a handful of highlight GIFs from the week's slate of NFL games and translate them into fantasy football relevance. If you see a highlight worth analyzing in the future, feel free to hit me up on Twitter @FantasySensei!
For now, let's get into Week 12 of the NFL season!
Import your team to My Playbook for instant Waiver Wire advice >>
Keenum Keeps Killin' It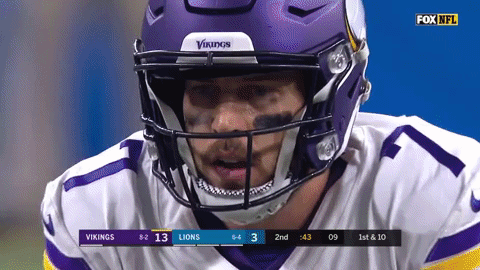 Like Jared Goff, expectations for Case Keenum were set extremely low by the unfortunate curse of playing for Jeff Fisher's Rams. Now freed from that misery, Keenum is shining in Minnesota. He was one of the most productive passers in NCAA history — setting records for passing yards (19,217) and TDs (155) — but went undrafted due to a supposed lack of physical gifts. Apparently, those reports were misguided. Keenum's 282 yards and three total TDs on Thanksgiving — including this glorious toss to Kyle Rudolph under heavy pressure — were good for the third-best fantasy total on the week and marked his fourth straight output of 17 points or more in standard scoring. With Minnesota chasing the Eagles for home-field advantage, Keenum could be a glory-play throughout the fantasy playoffs as he continues to silence anyone calling for Teddy Bridgewater's return.
Dak is Fantasy Dead Weight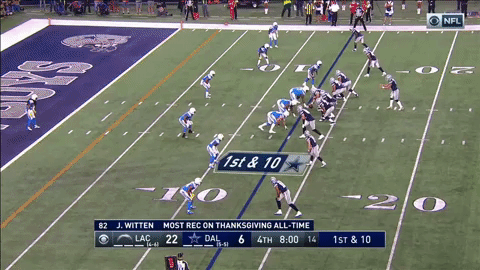 Here's another one of those headlines I can't believe I'm writing. Unfortunately, without Ezekiel Elliott, and after taking a couple beatings behind a Tyron Smith-less offensive line, Dak Prescott is simply not the same quarterback he was earlier this season. It was tough to choose which of Dak's two awful Thanksgiving interceptions to highlight but this one really captures it all: the nervous pocket presence, the unnecessary scrambling, the unstable and ill-advised throw. The sophomore has hit an extremely rough patch, averaging 167 passing yards over the last three weeks with zero passing TDs and five INTs. Until we see him get right, possibly for multiple weeks in a row, Dak is nigh unstartable outside of deep or 2QB leagues.
Finally a Top Dog in Washington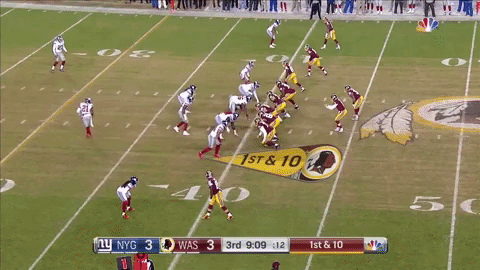 Jamison Crowder has finally earned the label of No. 1 fantasy receiver on the Redskins after half a season of disappointment for the entire squad. Crowder's seven catches for 141 yards on Thanksgiving marked his fourth straight game of at least four and 72 in those respective categories and he finally snagged his first touchdown of the season to boot. He's averaging 19 PPR fantasy points per game over that stretch and will have to play a pivotal role in any attempt by the 5-6 Redskins to fight their way into a wild card position. You should feel confident starting Crowder as a lower-tier WR2 from here on out.
Cooper Kupp Steps Up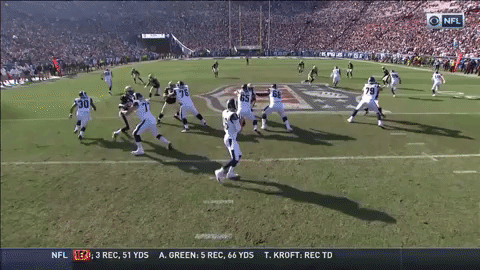 Crafty DFS players likely rostered Cooper Kupp this week in light of Robert Woods' absence (shoulder) and the rookie paid off pretty well. He seamlessly assumed the mantle of Jared Goff's go-to guy and hauled in 8-of-11 targets for 116 yards. Kupp has shown an incredible knack for making tough catches, like this toe-tapping 19-yarder in the first quarter, which is why he is a favorite of Goff's in the red and end zones. Until Woods returns, which will likely be another week or two, Kupp is a startable fantasy asset, especially in PPR.
LeGarrette Blount Pounds His Way to Fantasy Relevance
With only one game over 100 rushing yards and three total touchdowns on the season, it's tough to recommend LeGarrette Blount as a reliable fantasy asset. That said, he is the most reliable asset in the Eagles backfield — and it's a backfield that's producing fantasy points. Blount totaled 97 yards on 15 carries against the Bears on Sunday, logging his second best game of the year despite the recent integration of Jay Ajayi. Blount is a consistent bet for double-digit carries and could potentially see even more work as the Eagles prepare to clinch the division. Don't be surprised to see Philly shift more and more of the workload off of Carson Wentz's precious right arm and onto Blount's powerful legs as they coast to the finish line.
Charles Clay Ramping Back To Full Speed
After a knee injury took away the middle part of Charles Clay's season, the Buffalo tight end is now looking to regain the solid production he had enjoyed to start the year. In his second game back, Clay caught all four of his targets for 60 yards against a Kansas City defense that's typically stingy against the position. Clay led the team in receiving and once again served as an ultra-reliable outlet for Tyrod Taylor. Back under center after the failed Peterman experiment, Taylor will continue to involve his favorite pass-catcher, and Clay's PPR value could return to the top-six territory it had skirted before the injury, making him a great waiver stash for the fantasy playoffs.
Kareem Hunt's Slippery Decline Continues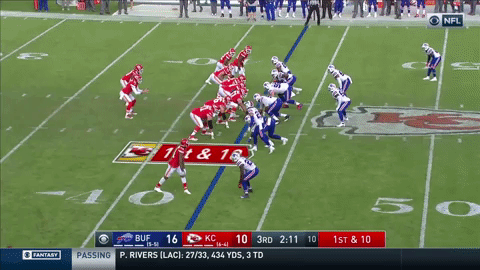 In one of the most frustrating trends in all of fantasy (at least for his owners), Kareem Hunt put up another dud on Sunday against the recently porous Buffalo defense. Hunt rushed 11 times for 17 yards and added a single catch for nine yards, easily the worst output of his career. The majority of his runs looked something like this, with poor protection dooming Hunt early and a lack of that early-season, tackle-breaking explosiveness limiting his ability to compensate. Along with the entire Kansas City offense, Hunt is in a negative spiral that even has people questioning ever-brilliant head coach Andy Reid. It'll be tough to sit Hunt, especially with a juicy slate of matchups on the horizon, but if the Chiefs don't pull a 180 fast, Hunt could easily be the biggest second-half bust of the year.
This Is the Week for Mixon!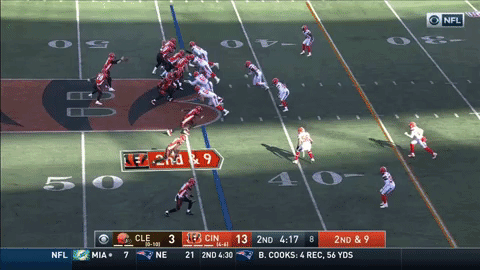 Finally, the "This is the Week for Mixon" meme can be retired, as the rookie broke out against the Browns to the tune of 114 yards and a touchdown on 23 carries, plus 51 yards on three catches. A couple big rushes and this explosive 36-yard reception demonstrated what we expected from Mixon coming into the NFL: dynamic, play-making ability in both facets of the game. The 26 touches were also his new career-high, surpassing the mark of 22 set last week. In other words, Marvin Lewis is finally getting the ball into Mixon's hands and Mixon is finally giving him good reason to continue. As the Bengals battle toward a chance at a wild card berth, Mixon could end up being the complete antithesis of Kareem Hunt by rewarding patient fantasy owners with Pro-Bowl production through the playoff push.
Robby Anderson Levels Up
Back in Week 8, we highlighted Robby Anderson's transformation from sleeper to startable fantasy receiver. This week, the second-year breakout has leveled up again. This time, on the back of a 146-yard, two-touchdown performance, Anderson has stepped into the realm of must-play fantasy stars. He is what Martavis Bryant was supposed to be, logging big play after big play and scoring six touchdowns in his last five games. With the surprising fantasy output of Josh McCown and the Jets' consistently high-scoring affairs, Anderson's ceiling is one of the highest in the game. And even with Jermaine Kearse logging an impressive game on Sunday, Anderson remains far and away the best weapon on this offense, meaning his opportunities will not disappear anytime soon.
Henry Runs Circles Around Colts and Murray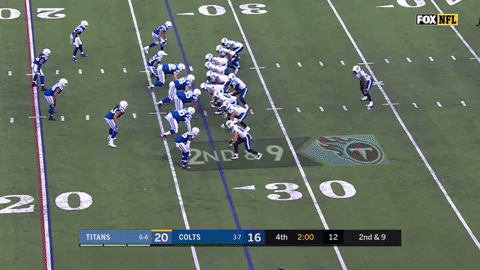 By some baffling logic, the Titans have deemed it reasonable to continue feeding DeMarco Murray the ball. The veteran logged 12 carries in Sunday's matchup against the hapless Colts and managed nine total yards (including one rush for 12 yards … work that math out). Meanwhile, young Heisman-winner Derrick Henry was handed a slightly better 13 carries and took them for 79 yards, including this 16-yard scamper to ice the game. At some point, possibly after this lopsided week, you have to hope Tennesee recognizes Henry's value and starts giving him the ball outside of clock-killing garbage time. If they finally do so, and relegate Murray to third-down work where he belongs, Henry could be the league-winner we've wanted him to be for nearly two years.

Subscribe: iTunes | Stitcher | SoundCloud | Google Play | TuneIn | RSS
Matt Okada is a featured writer at FantasyPros. For more from Matt, check out his archive and follow him @FantasySensei.