Tale of the Tape: Week 9 (Fantasy Football)
Welcome to Tale of the Tape, where we break down a handful of highlight GIFs from the week's slate of NFL games and translate them into fantasy football relevance. If you see a highlight worth analyzing in the future, feel free to hit me up on Twitter @FantasySensei!
For now, let's get into Week 9 of the NFL season!
Import your team to My Playbook for instant Waiver Wire advice >>
Tom Savage is a Dud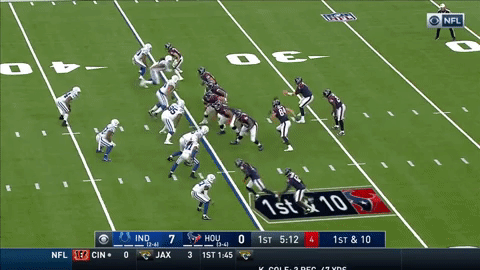 In last week's Tale of the Tape, we ended with a glowing review of Deshaun Watson as a bona fide stud. Sadly, the Texans lost Watson to a torn ACL between then and now, and have turned to Tom Savage in his place. Let's just say it's a bit of a downgrade. This failure of a throw was one of many ugly misses by Savage, who ended up 19-for-44 for 219 yards and a late TD. That's a 43.2% completion rate. DeAndre Hopkins owners should be happy to see their elite receiver haul in a monster catch for a touchdown, but only because it affords one last window to sell high. It took 16 targets for Hopkins to cobble together six receptions and this was against an atrocious Colts secondary without their best cornerback. Unless Houston makes a QB change, Savage will quickly drain every Texans' fantasy value over the remainder of the season.
Evan Engram Mossin' On the Giants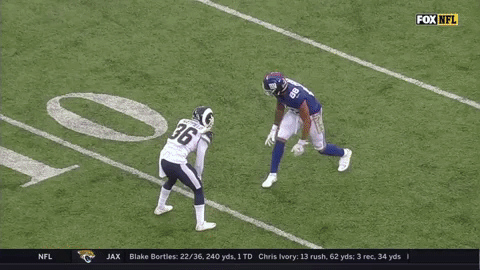 If it wasn't already apparent, Evan Engram is a top-notch tight end. He not only leads rookies this season in receptions, yards, and TDs (tied with O.J. Howard), but is currently setting an all-time kind of pace at a position where rookies typically struggle. With four catches for 70 yards on 10 targets Sunday, Engram's full-season totals would now project at 68 receptions, 824 yards, and eight TDs. Even Rob Gronkowki's rookie season only amounted to 42-546-10, 42 PPR fantasy points short of Engram's current pace. It makes sense, considering the elite athleticism Engram flaunted on this Randy-Moss-like touchdown catch and the scarcity of decent receiving options in New York. At this point, Engram is knocking on the door of top five in fantasy.
Marqise Lee Stays Consistent
On a run-first team with Blake Bortles at the helm, Marqise Lee has managed to be impressively consistent in recent weeks. He picked up multiple 19-yard receptions, including this one on the opening drive, as well as a goal-line TD catch, his first of the season. Lee finished with eight catches for 75 yards and a touchdown, marking his third game with double-digit targets, highest reception total on the year, and third straight game with 72-plus receiving yards. There is a possibility that rookie Dede Westbrook's return from IR cuts into Lee's target share, but it's also possible Lee has earned the WR1 role in JAX in Allen Robinson's absence. If so, he is a strong WR3 in fantasy over the latter part of the year.
Wentz to Jeffery Starting to Click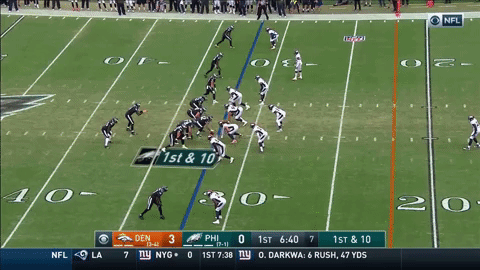 After a somewhat slow first half of the season, it looks like Carson Wentz and Alshon Jeffery are getting on the same page. With Zach Ertz a surprise inactive, Jeffery stepped up to catch six of 11 targets for 84 yards – all were his highest totals since Week 2 – and a pair of touchdowns. The perfect timing between Wentz and Jeffery on this 32-yard score was especially encouraging, as was Jeffery's catch rate in the game (54.5%), his second highest with Wentz. Ertz's return, if and when it comes, will certainly steal a little of Jeffery's floor. But as his connection with his MVP-candidate QB continues to grow, Jeffery's ceiling could easily be WR1 production.
SuperCam is Back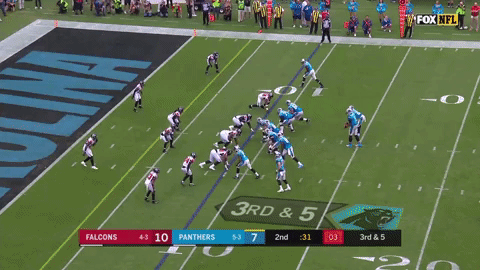 Now, to be clear, I'm not hearkening back to the MVP Cam Newton that put up elite passing numbers. Newton's throwing is nothing short of atrocious this season. But the Cam Newton that breaks off rushes like a runaway train and leaps willy-nilly into the end zone – that guy is back. Against the struggling Falcons, Cam rushed nine times for 86 yards (a season-high) and proceeded to dunk this TD on Desmond Trufant's head for good measure. That makes 251 rushing yards over his last four games (more than Christian McCaffrey has on the season). If Cam can stay healthy, and it's a big IF, his legs might be enough to hold QB1 value even without the passing production.
Julio Just Misses Massive Breakout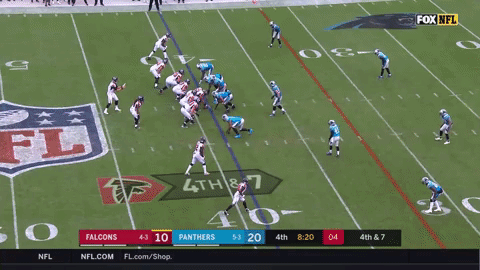 While Julio Jones has been plenty good for fantasy purposes in 2017, plenty good is not what owners signed up for. We signed up for world-beating dominance, featuring 200-yard, two-TD performances. And that's just about what Julio had dialed up in this game – until he dropped the ball. Literally. Jones inexplicably bungled this guaranteed 39-yard touchdown reception in the fourth quarter, likely losing the week for plenty of fantasy owners and maybe even for the Falcons as well. Matt Ryan also massively overthrew Jones on a wide-open 46-yard touchdown opportunity earlier in the game. The two missed plays held Jones' numbers to a still respectable six catches for 118 yards and offered a reminder of how close he is to finally breaking out.
Carlos Hyde Established as Lead Receiver in SF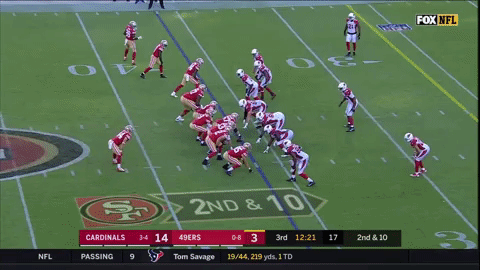 Well, we knew Kyle Shanahan can get excellent receiving production from his running backs, but this is another level. Carlos Hyde snagged nine receptions on 11 targets for 84 yards in this game, tops on the team in every category. He even ran routes as a WR to great success, including this 17-yard pickup. It was the third week in a row that Hyde has led or co-led the team in targets (tied Marquise Goodwin with eight in Week 7). With Pierre Garcon on IR, it's entirely likely this will be the new standard in San Francisco, giving Hyde a huge boost in PPR value. Even with Matt Breida supposedly nipping at his heels, Hyde looks like a legitimate RB1 option in PPR formats rest of season.
Vernon Davis Excels Filling in for Reed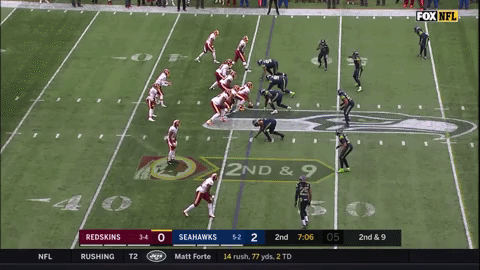 In Jordan Reed's two fully-missed games this season (including Sunday), Vernon Davis now has 11 catches for 130 yards and a touchdown. His six catches and 72 yards against the Seahawks were his highest and second highest on the year in those categories, respectively. But regardless of Reed's participation, Davis has been a consistent downfield threat for Kirk Cousins, posting at least 58 receiving yards in all but one game since Week 3. Considering the underperformance of the Redskins WRs, it's no surprise Davis has been asked to step up throughout the season. With Reed's consistent injury issues, Davis is a legitimate add and highly streamable tight end until further notice.
Terrance Williams Goes Off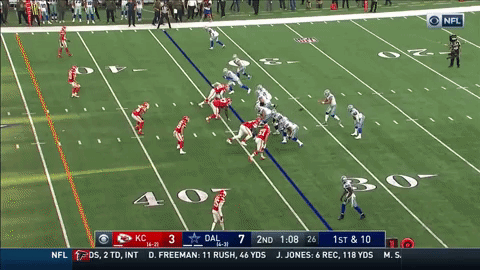 We knew the KC defense had struggled against WRs, and Terrance Williams likely made his share of DFS lineups, but I don't know if anyone expected nine catches for 141 yards from the fifth-year receiver. Dak found Williams deep downfield several times on Sunday, including this 56-yard bomb along the sideline paint. Normally, we might write off such a performance as flukey, but Dez Bryant got banged up late in the game as well, potentially opening the door for Williams over the next couple weeks. Dez is currently listed as day-to-day with both an ankle and knee ailment, but he seems to be a frequent flyer in the questionable-then-out department. If Bryant does miss time, Williams may have shown enough in this one to garner attention in a juicy Week 10 matchup with the Falcons.
New Fins RB Corps Runs Wild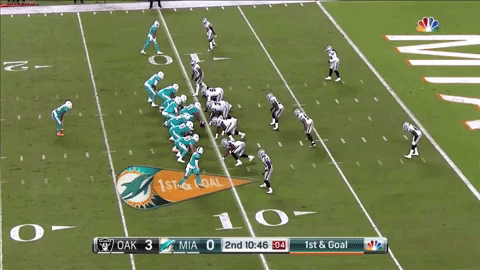 After the trade of Jay Ajayi to the Eagles last week, the Dolphins run game looked like a bad bet at best. As it turns out, Damien Williams and Kenyan Drake may be better as a combo than Ajayi ever was. Williams was the better fantasy option thanks to this pinball-style receiving touchdown to go with 61 total yards, but Drake's 104 total yards kept him plenty relevant, largely thanks to this 42-yard breakaway rush. Both backs had six receptions as Jay Cutler went a surprising 34-for-42 throwing dump-offs galore. While the porous Oakland defense played a large part in the tandem's production on Sunday night, it's possible both have decent value moving forward.

Subscribe: iTunes | Stitcher | SoundCloud | Google Play | TuneIn | RSS
Matt Okada is a featured writer at FantasyPros. For more from Matt, check out his archive and follow him @FantasySensei.