NFL.com Playoff Challenge Contest Advice
The fantasy football season has come to an end, but that doesn't mean the fantasy fun has to stop. It's playoff time in the NFL, and NFL.com is offering a free fantasy contest with a chance to win a trip to the Super Bowl. Click here to sign up and enter. 
In this article, I'm going to lay out the rules and scoring of this contest, some basic strategy to maximize your chances of winning, and the current Vegas odds for Wild Card Weekend and for each playoff team to win the Super Bowl. This information should give you the tools you need to make informed roster decisions of your own, but I'm going to name a few players that I like and will be plugging into my lineups. Here we go!
Enter our FREE Wild Card contest for a shot at $1 million >>
Rules and Scoring
Like any fantasy contest, it's important to understand the rules before entering. Knowing the scoring system will help you to set the best lineup. Unlike FanDuel or DraftKings, the NFL.com contest does not award any points per reception. Players like Keenan Allen and James White (both on playoff teams) will still score points, but they are less valuable in non-PPR formats. Keep that in mind when setting your lineups. 
The roster is made up of eight players: QB, RB, RB, WR, WR, TE, K, DEF
The full scoring system is pretty standard: 
10 yards rushing/receiving = 1 point
25 yards passing = 1 point
Rushing/Receiving/DEF/Special Teams TD = 6 points
Passing TD = 4 points
Sack = 1 point
Interception/Safety/Fumble recovery = 2 points
FG Made 0 – 49 yards = 3 points
FG Made 50+ yards = 5 points
Points Allowed 0 – 27 = 10 – 0 points
Points Allowed 28 – 34 = -1 points
Points Allowed 35+ = -4 points
Team Win = 5 points
Multiplier bonuses for starting players in your lineup in consecutive weeks
You can start a player in your lineup during Wild Card Weekend even if that player has a bye
The five scoring rules that stick out here are:
No PPR or half-PPR scoring
Passing TDs = 4 points
A team DEF scores five points for a team win
Multiplier bonuses
Starting a player on a bye week
Those rules should certainly impact your lineup choices. We'll get to that in "Strategy."
The contest runs for four weeks, including all three rounds of the playoffs and the Super Bowl, and the winner will have the highest combined score from all four weeks.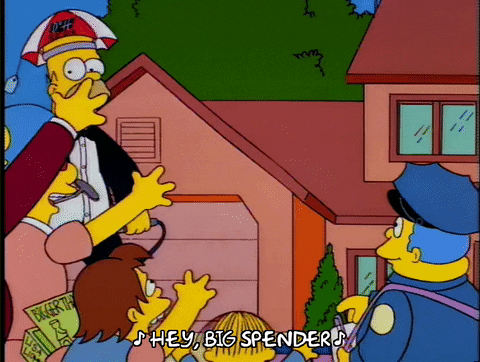 Remember, there is no salary cap, so you can draft any players you want and feel like a big spender each and every time you set your lineups.
Strategy
As mentioned above, there are some aspects of scoring for this contest that make some players more valuable than others, and there is some strategy involved when setting lineups. This contest offers some very interesting bonuses, and they are the most important aspect of the scoring. There are player multiplier bonuses offered if you start a player in consecutive weeks. Those multipliers are 2X, 3X, and 4X depending on how many weeks a player is in your lineup. For example, if I play Philip Rivers in the Wild Card Round and the Chargers make it to the Super Bowl, I could play Rivers each week and earn a 2X bonus in the Divisional Round, a 3X bonus in the Conference Championship, and a 4X bonus in the Super Bowl.
There is strategy involved in the multiplier bonuses because in the above example it's assumed that Rivers would play in four games. Of course, nine of the last 10 Super Bowl participants over the last five years have been #1 Seeds with the Falcons being the lone exception as a #2 seed the year they lost to the Patriots. With that being said, does it actually make sense to put a player into your lineup who has a first-round bye? Let's crunch some numbers.
For this week's lineup, I'm playing Ezekiel Elliott. He's too good to ignore, and he's easily the best available RB. While the Cowboys are unlikely to make the Super Bowl, the points I'd be missing out on by playing an RB on bye over Zeke would be too much of a loss. There are two RB spots available, so who is my next choice? My options are the next best available — Jordan Howard (vs. PHI) or superstar Alvin Kamara (BYE).
While he did have a down year, Howard has scored four times in his last three games, including a 109 yard, two TD game against the Vikings in Week 17. With Nick Foles and the Eagles looking as hot as they did heading into the playoffs last year, Chicago would be wise to employ a run-heavy, clock-control approach this week. Here's how the numbers shake out between my two choices:
Howard – 1,080 scrimmage yards, nine total TDs = 162 fantasy points using NFL.com contest scoring – 10 FPPG
Kamara – 1,592 scrimmage yards, 18 total TDs = 267 fantasy points using NFL.com contest scoring – 17.8 FPPG (15 games played)
Let's say both players finish with their season average in FPPG in each playoff game in which they play. Both players are in the NFC, so both cannot make the Super Bowl. Here are the totals if I assume each player makes the Super Bowl.
If I play Howard: 10 points in the Wild Card Round, 20 points in the Divisional Round, 30 points in the Conference Championship Round, and 40 points in the Super Bowl. Total points = 100
If I play Kamara: 0 points in the Wild Card round, 35.6 points in the Divisional round, 53.4 points in the Conference Championship, and 71.2 points in the Super Bowl. Total points = 160.2
The clear advantage lies in playing Kamara who will score far more than Howard should he make the Super Bowl.
Do the numbers justify playing a QB on a bye week, too? Let's compare my favorite play this week, Lamar Jackson, with Super Bowl favorite, Drew Brees.
Jackson – 1,114 passing yards, five passing TDs, three INTs, 556 rushing yards, four rushing TDs (in seven starts) = 19.73 FPPG
Brees – 3,992 passing yards, 32 passing TDs, five INTs, 22 rushing yards, four rushing TDs (in 15 starts) =  20.25 FPPG
If we assume that Brees will make the Super Bowl and I play him this week while on a bye, he will score 0 points in the Wild Card round, 40.50 points in the Divisional Round, 60.75 points in the Conference Championship, and 81.0 points in the Super Bowl for a total of 182.25 points.
Because the FPPG are so close, Jackson would ultimately score more if the Ravens make the Super Bowl, but the chances of the Saints making it are far more likely. Let's look at a third option. What if I play Jackson this week and Brees every week after that? I would end up with 19.73 for Jackson in the Wild Card Round, 20.25 for Brees in the Divisional Round, 40.50 for Brees in the Conference Championship, and 60.75 points for Brees in the Super Bowl for a total of 141.23 points.
Ultimately, it is a gamble to start a player who is on a bye, but the numbers don't lie. I think the Saints have the best chance of making the Super Bowl, and I'm happy to play Brees and Kamara this week and get double donuts with the reward of huge Super Bowl bonuses. Although the Chiefs are AFC favorites, I think the Saints are far more likely to win their conference because of experience, coaching, and past history. Even though I'm playing Brees and Kamara, I'm looking elsewhere for my other roster spots just because of the uncertainty that I feel in this year's playoffs and the misguided "eggs in one basket" mentality that would burn me should I fill my entire lineup with players currently on bye.
We've talked about multipliers and players on bye weeks, but what about the scoring? Obviously, QBs who can scramble or score rushing TDs have significant value (Lamar Jackson, Dak Prescott). They are great options. Non-PPR scoring favors players who can score TDs, so look for scoring upside when deciding on position (ex. Jordan Howard vs. Tarik Cohen, Zach Ertz vs. Eric Ebron). When selecting a team DEF, look for the best matchup. If no matchups are great, pick the team you think will win the game. If you pick right, you get an automatic five points.
Vegas Odds
The odds-makers have already set the lines for Wild Card Weekend and the odds for each team to win it all. In case you need a refresher, here is this year's playoff bracket:
The #NFLPlayoffs are SET! pic.twitter.com/O7ytoh8Tl9

— NFL (@NFL) December 31, 2018
Wild Card Weekend
IND @ HOU: HOU -1.5
SEA @ DAL: DAL -1.5
LAC @ BAL: BAL -2.5
PHI @ CHI: CHI -5.5
The home teams are all favored this weekend, but the only game to feature a line higher than an FG is the Bears/Eagles which will most likely be a low-scoring slugfest.
Super Bowl Favorites
Saints +250
Rams +400
Chiefs +470
Patriots +650
Bears +700
Ravens +1300
Chargers +1500
Cowboys +2500
Texans +2500
Seahawks +2800
Colts +3000
Eagles +3500
Unsurprisingly, the Saints are the favorites to win the big game, with the Rams, Chiefs, and Pats bringing up the rear. Now that you know the rules, some basic strategy, and the Vegas odds, here are some recommended plays for Wild Card Weekend.
Recommended Plays
Lamar Jackson (QB – BAL) vs. LAC/Drew Brees (QB – NO) BYE
As I mentioned above, I love both of these guys this week. I'm a fan of Jackson because he accounted for nearly 80 yards rushing and over half a rushing TD per game in his seven starts, and rushing yards and scores count more than passing yards and scores. Brees is far more likely to go to the Super Bowl than Jackson, and his passing prowess makes his just as lethal as the rookie. I'll play Brees here.
Ezekiel Elliott (RB – DAL) vs. SEA
Zeke captured his second rushing title in three years with a 1,434 effort. He's gone over 1,400 yards in two of three seasons and barely missed 1,000 yards last year even while serving a six-game suspension. He's easily the best back in any of this week's games. I'm playing him without thinking twice.
Jordan Howard (RB – CHI) vs. PHI/Alvin Kamara (RB – NO) BYE
JoHo had a down year, but still almost hit 1,000 rushing yards. His last three weeks have been productive, and that trend should carry over into the first week of the playoffs. Kamara is still the best pick because of his electric playmaking abilities, nose for the end zone, and star-studded roster which is likely Super Bowl-bound.
T.Y. Hilton (WR – IND) @ HOU
After four straight 1,000 yard seasons, Hilton had a down year in 2017 with only 57-966-4. He rebounded nicely this season with a healthy Andrew Luck racking up 1,276 yards and six scores. He's historically performed well against his division foe, averaging 103 yards per game in 14 contests versus Houston, including 157 per game in two matchups this season. With Luck and the Colts surging, Hilton makes sense.
DeAndre Hopkins (WR – HOU) vs. IND
Nūk had another productive season, finishing second in the NFL in receiving yards with 1,572. He's now accumulated 2,950 receiving yards and 24 TDs in his last two seasons. One of the league's most prolific wideouts should be in for a big game against the Colts' burnable secondary.
Eric Ebron (TE – IND) vs. HOU
Ebron set career highs in receptions (66), receiving yards (750), and TDs (13) this season, and he'll likely be in for a big day against the Texans. But what about Zach Ertz? Ertz has scored in only one of five games since Nick Foles took over as the starter, and he's finished with under 40 receiving yards in three of those contests. In a non-PPR contest, I like the TD upside of Ebron this weekend.
Justin Tucker (K – BAL)
Baltimore's offense has been much improved under Jackson, but Tucker has been one of the Ravens' most reliable sources of points for years. He's clearly the best kicker in this round.
Chicago Bears DEF vs. PHI
The Bears were fantasy's highest-scoring D/ST of 2018. Even though St. Nick has led the Eagles into the playoffs in improbable fashion once again, a Cinderella run isn't in the cards this year. Foles may be limited after leaving Week 17's game early with a rib injury. I like the Bears for the sacks, the turnovers, and the team win bonus.
Thanks for reading, and good luck in your NFL.com contest!

Subscribe: Apple Podcasts | Google Play | Spotify | Stitcher | SoundCloud | TuneIn | RSS
Zachary Hanshew is a correspondent at FantasyPros. For more from Zachary, check out his archive and follow him @zakthemonster.
What's your take? Leave a comment