Dan Harris's Must-Have Players (2020 Fantasy Football)
You should never have any actual "must-have" players. But you know that already. Instead, you should have "players who I will probably draft because I value them higher than their average draft position." But that doesn't make for as catchy a title.
I've done countless mock drafts with our draft simulator and completed drafts in many of my leagues this year. And draft after draft, I find myself gravitating toward the same players over and over again.
So, whether you want to call this "must-have players," "my guys," or "players who I keep drafting because I think they're undervalued," here is my list of players to be on the lookout for during your draft.
Import your team to My Playbook for instant Lineup & Trade advice >>
Quarterbacks
Cam Newton (NE)
Newton has slowly moved up my board as we head into the start of the season. Yes, he's dealt with injuries the past two seasons. Yes, he probably has the worst group of pass-catchers in the NFL. And yes, he hasn't even been named the starting quarterback as of this writing.
But a healthy Newton, as he is heading into the season, not only offers a high floor because of his rushing ability but an immense ceiling, which we've already seen. Before last season when he was limited to just two games, Newton averaged 559 rushing yards and six rushing touchdowns per season from 2015-2018,  adding more than 3,500 passing yards per season.
Bill Belichick and Josh McDaniels will find a way to get the most out of a motivated Newton's strengths. As the 15th quarterback in expert consensus rankings and 17th in consensus average draft position, I see him as a significant value, and he's found his way onto a lot of my rosters.
Gardner Minshew (JAC) (in two-quarterback or superflex leagues)
Minshew is barely being drafted as a QB2, and I just don't get it. As detailed in Mike Tagliere's Boom, Bust, and Everything in Between series, Minshew was a top-18 quarterback last year 71.4% of the time, good for 12th-best among the position.
Among other reasons, he offered a high floor with his rushing ability (344 rushing yards in just 14 games) and had the best deep passer rating in the NFL (129). Add to that a better offensive coordinator in Jay Gruden, a soft opening schedule, and the recent release of Leonard Fournette, which could allow Minshew a better opportunity to score a rushing touchdown or two unlike last year, and there's plenty of reason to take a shot at him as a mid-QB2, as I have been.
Running Backs
James Conner (PIT)
Conner is still being drafted as the 18th running back off the board in half-PPR formats, and that is just too low. If he is healthy for the full season, a big if, of course, then he's a guaranteed RB1 with top-five potential.
Do you want a high floor? Over the last two seasons, he's had a 16-game pace of 62 catches. Do you want touchdowns? He's got 20 over his previous 23 games. Over the last two years, he has 34 red zone rushing attempts and 17 rushing attempts inside the five-yard line.
Mike Tomlin has all but said that Conner is going to get the full workload in the Steelers' backfield. There's no reason to be drafting Melvin Gordon and Todd Gurley over him.
David Johnson (HOU)
Through Week 6 last year, Johnson was the RB6 in half-PPR formats, averaging 17.7 fantasy points per game. He then battled injuries and lost his starting job to Kenyan Drake. Now, he's on a Houston team that gave up significant capital to acquire him and is replacing a mediocre running back in Carlos Hyde who, despite being traded to the team on the eve of the season and not factoring into the passing game, finished as the RB27 in half-PPR formats.
If you think Johnson is done, then you shouldn't be drafting him at all. If you don't, like me, then his average draft position of 23rd running back off the board is a steal.
Raheem Mostert (SF)
Over the final six games of the season, Mostert was the RB7 in half-PPR formats. That's to say nothing of his monstrous playoff performances, which included a 220-rushing yard, four-touchdown game against the Packers.
The 49ers jettisoned Matt Breida this offseason and placated Mostert after his trade demand with a new deal in July. Tevin Coleman remains on the roster, as does Jerick McKinnon, and Kyle Shanahan is unpredictable in how he deploys his running backs.
But the 49ers ran the ball 609 times last year, second only to the Ravens, and Mostert was the most explosive back on the team. Yards per carry is a crude metric, but it's challenging to ignore Moster's 6.0 career mark. If he stays healthy, he's a lock for RB2 status but with upside for much, much more.
Zack Moss (BUF)
The 43rd running back off the board in consensus average draft position is going at least 10 spots too late, and more like 15.
Let's start with the obvious. Moss is your goal-line back. Frank Gore had 18 carries inside the 10-yard line last year and 11 inside the five-yard line. He gained four yards total. It's not that Josh Allen was so incredibly close to the goal-line that he'd siphon off all that work. It's that Gore was inept in the role. Moss won't be and was particularly effective there in college.
But Moss should have a more prominent role than just around the end zone. He's had an excellent camp, Devin Singletary has struggled with fumbles (as he did last year), and Moss is a skilled receiver. I've been drafting him as a high-end Flex and have plenty of shares. You should, too.
Antonio Gibson (WAS)
14 touchdowns on 77 touches in two years at Memphis. That's just silly.
No, Gibson isn't a classic running back (he had just 33 carries at Memphis), but the release of Derrius Guice and now Adrian Peterson only further depletes Washington of explosive options. Gibson is just that and has gotten plenty of buzz in camp. With his versatility, particularly in half- or full-PPR leagues, he should be drafted more than 10 spots higher than his current ADP as 48th running back off the board.
Wide Receivers
Robert Woods (LAR)
If you have followed me at all this fantasy season, then you know I think you know how I feel about Woods' average draft position as the 25th wide receiver of the board: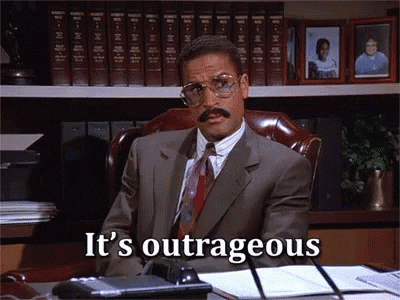 Do you know why drafters don't love Woods? Two receiving touchdowns last year. That's all. Because if you ignore those, then seriously, I have no answers.
9.3 targets per game last year (seventh among wide receivers). At least 130 targets in each of the previous two years. Closed the season incredibly strong when the Rams switched to more 12 personnel, which all indications suggest they will stick with this season. Brandin Cooks is gone.
Woods is the best receiver to roster with the Rams. He's a borderline WR1. You can get him much later. That's a "my guy" if I ever heard of one.
Henry Ruggs (LV)
It's hard to get too excited about rookie wide receivers this year, given the lack of preseason games. Except for Ruggs.
The Tyrell Williams injury helps any Raiders pass-catcher, but Ruggs should have been a target regardless. He scored a touchdown on more than a quarter of his touches in college. That is not a typical sentence to write.
Ruggs has game-breaking speed and is outstanding after the catch. And that fits in perfectly for Derek Carr, who completes plenty of passes but barely pushes the ball downfield (just 6.6 aDOT last year). That should mean plenty of short routes for Ruggs, who can use his speed to turn those catches into big plays.
In other words, for someone like Ruggs, the lack of preseason games is hardly a huge deterrent to his fantasy value. Draft him as a borderline WR3, rather than as a WR5 as his current ADP suggests.
Jamison Crowder (NYJ)
Crowder is one of my peanut butter sandwich players, as I like to call them. The unexciting player who lacks upside but who you know is going to be reliable every week.
Crowder is being drafted as the 44th wide receiver in half-PPR leagues, which is weird since he was the 31st wide receiver in that format last year and is in a better position this year.
Of course, Crowder isn't an upside play. His average depth of target and yards per target are mediocre at best, and he has just 20 touchdowns in his five seasons. But, especially given the injuries to Breshad Perriman and Denzel Mims, there is no universe in which Crowder fails to see reliable targets. None.
You don't need to shoot for the moon with every late pick—especially not this year. Crowder has found his way onto the vast majority of my teams, and I'm more than happy about it.
Anthony Miller (CHI)
Miller dealt with a slow start because of offseason shoulder surgery last year, but from Week 5 on, he was the 41st wide receiver in half-PPR leagues. And he closed the season particularly strong, with 34 catches for 433 yards over his last six healthy games, a 90-catch, 1154-yard pace.
Miller played last year in an unexciting offense, and, like Woods, he scored only two receiving touchdowns (after seven in his rookie year). But if he is healthy all year and with natural touchdown regression, he should easily finish well within the WR3 range. That's particularly the case if Nick Foles wins the starting job, as Foles often heavily targets his slot receiver.
Miller is going as the 55th receiver off the board. I rarely leave a draft without him.
Tight Ends
Hayden Hurst (ATL)
Perhaps to clarify, Hurst is a "my guy" in my home leagues where he is being drafted closer to his ADP of 13th wide receiver off the board. In analyst leagues, he's more like a "my acquaintance who I still usually get to hang out with but not always."
Where are the question marks with Hurst this year? It's not his targets, given how tight ends have been targeted in Atlanta under Dirk Koetter's system. It's not his talent, as he was PFF's eighth-highest graded tight end last year and was tied for sixth in yards per target. It's not his offense, as Atlanta should be one of the most pass-happy teams in the league.
You want to be skeptical because there have been no preseason games, and he needs to learn a new offense? Ok. But you shouldn't be. He's a TE1, easily.
Blake Jarwin (DAL)
Jarwin was tied with Hurst in yards per target (8.9) and eighth among tight ends in yards per route run, one of the stickier stats in football. And the Cowboys signed him to a four-year extension, so they intend for him to be a focal point.
Yes, there are plenty of mouths to feed, but Jason Witten is leaving 83 targets on the table (as is Randall Cobb), so there's plenty of room for Jarwin to succeed even with the addition of CeeDee Lamb.
He's barely being drafted as a TE2. He's more like a TE1.
Import your team to My Playbook for instant Lineup & Trade advice >>

Subscribe: Apple Podcasts | Spotify | Google Podcasts | Stitcher | SoundCloud | iHeartRadio
Beyond our fantasy football content, be sure to check out our award-winning slate of Fantasy Football Tools as you prepare for your draft this season. From our free mock Draft Simulator – which allows you to mock draft against realistic opponents – to our Draft Assistant – which optimizes your picks with expert advice – we've got you covered this fantasy football draft season.
Dan Harris is the Editor-in-Chief of FantasyPros. For more from Dan, check out his archive or follow him on Twitter @danharris80.
What's your take? Leave a comment