Keeping tabs on offseason developments in the NFL is advantageous for fantasy. Coaching changes, trades, and pending acquisitions via free agency and the draft can affect players' roles. While situations remain fluid, here are some of the trending names and what to anticipate.
Check out all of our 2021 NFL Draft coverage

Trending Up
J.K. Dobbins (RB – BAL)
Despite the Ravens utilizing a committee approach out of the backfield, J.K. Dobbins entrenched himself as the team's No. 1 option toward the end of his rookie campaign. From Weeks 9-17, he finished 13th in points at his position. Dobbins has all the makings of a star and plays on a first-run offense. His eye-popping six yards-per-carry average was the highest among all running backs last season. With Mark Ingram's release and Gus Edwards a restricted free agent, Dobbins' stock is skyrocketing. Once drafting season hits full swing, he'll no longer be available at his current fourth-round ADP.
Darnell Mooney (WR – CHI)
Darnell Mooney was an afterthought in a deep 2020 draft class, so his semi-flashy rookie year was a bit of a surprise. He played in all 16 games, making an impact on the field as early as Week 1. As the season progressed, his role steadily grew. Mooney's 98 total targets jump off the page, good for 34th overall among wide receivers. His 4.3 speed helped him garner the 11th-most deep targets in the league last year with 23.
One would extrapolate that Mooney will only build upon his first-year success. The largest potential catalyst for Mooney's sophomore campaign is Allen Robinson's pending free agency. Robinson's possible departure would propel Mooney to de facto WR1 status in Chicago. Even if the team signs a veteran receiver, Mooney's role should still expand based on his performance and familiarity with the offense.
Additionally, the Bears are in the market for a new quarterback. No matter who is under center this fall, it will undoubtedly be an upgrade from the Mitch Trubisky/Nick Foles tandem Chicago trotted out in 2020.
Carson Wentz (QB – IND)
Landing in Indianapolis must feel like Christmas for Carson Wentz. Reuniting with Frank Reich, a top offensive line, talented weapons, strong run game, and quality play-calling should be rejuvenating for him. Wentz's play was near-MVP-level when he hit some major career bumps, starting with a torn ACL/NCL in December 2017. The following year he suffered a stress fracture in his back. He later went under fire amid rumors of being a selfish teammate. Last April, the Eagles drafted quarterback Jalen Hurts in the second round. From 2017-2019 with the Eagles, Wentz had a passer rating of 98.3, which plummeted to 72.8 in 2020. He had career-lows in just about every statistical category causing him to get benched in favor of Hurts. Hopefully, Wentz can regain his confidence and return to form now that he's with a Super Bowl-caliber team and a head coach that wants him.
I'll be live in 15 minutes.. can't wait to chat about The Colts winning the Super Bowl next year all of a sudden https://t.co/y5LYRX5Gl8

— Pat McAfee (@PatMcAfeeShow) February 18, 2021
Dallas Goedert (TE – PHI)
According to recent reports from ESPN's Jeremy Fowler, Zach Ertz's days in Philadelphia appear numbered. Now with Carson Wentz traded, moving on from Ertz could be more imminent for the Eagles. If Dallas Goedert's counterpart is released or dealt away, Goedert will become the clear-cut TE1 in Philadelphia. He is an impact player who has proven capable of putting up TE1 numbers while playing a significant role as the 30-year-old Ertz battled with an injury-plagued season.
Matthew Stafford (QB – LAR)
Matthew Stafford has the most passing yards (45,109) through a player's first 165 games in NFL history and the seventh most touchdown passes (282) during that span. Now he gains an upgrade at offense in his new home with the Rams. Stafford's skill set fits Coach Sean McVay's play-action scheme. He'll also have the luxury of throwing to a plethora of adept pass catchers that include Robert Woods, Cooper Kupp, and a rising young back in Cam Akers.
Robert Woods (WR – LAR) and Cam Akers (RB – LAR)
With the Stafford trade, Robert Woods and Cam Akers' values receive a boost. The Rams deployed play-action the fifth-most in the NFL last year, which opens up huge gains through the air. Stafford is more apt at stretching the field than Jared Goff. That bodes particularly well for Woods, who led the team in targets, catches, yards, and TDs on play-action passes in 2020.
Akers was already on an upward career trajectory all but pronounced as the Rams' lead back following his late-season surge. Now he has Stafford at the helm, who has the propensity to throw the ball to his backs 10 percent more frequently than Akers' former QB. Akers has already displayed the traits of an elite running back. He secured a massive rushing share and is now likely to see an extended role in the passing game.
Trending Down
Deshaun Watson (QB – HOU)
Classifying Deshaun Watson as a current Top 10 quarterback is irrefutable, but his future with the Texans and 2021 playing status is uncertain. Reports reveal he's disgruntled with the organization, wants to be traded, and is threatening to sit out the season if the team refuses to grant his wish. The volatility of his current footing makes him a risky pick in fantasy. Watson is currently the 5th QB coming off draft boards in 12-team PPR leagues, with an average ADP of 4.12. In an on-going Best Ball draft, a savvy group of participants didn't pick Watson until the 7th round, the 8th quarterback overall. Things will heat back up with Watson as long as he's in a uniform this season.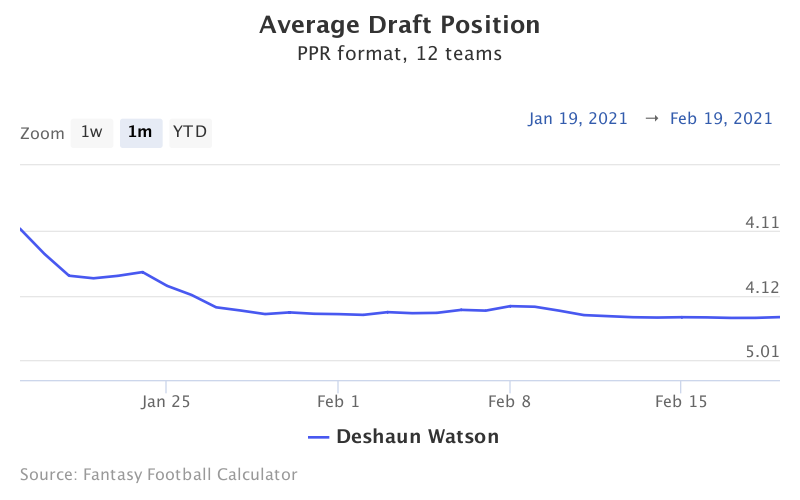 James Conner (RB – PIT)
A change of scenery might be what James Conner needs. The Steelers running back has had trouble staying on the field due to injuries, and Pittsburgh has implied they are ready to move on from him. Conner has proven to be a good player when healthy. About a month into the 2020 season, he was among the NFL's leading rushers and finished the year averaging 4.3 yards-per-carry. Nonetheless, he missed two games due to Covid-19, one game because of injury, and was limited in others, resulting in Pittsburgh finishing dead last in rushing. Conner also didn't contribute much in the passing game. There may be greener pastures for him, but health concerns could limit his opportunities with other teams.
Jared Goff (QB – DET)
It's hard to envision what the Detroit offense will look like this season. The Lions will be playing with a first-time head coach and a new offensive coordinator. Furthermore, their top three receivers, Kenny Golladay, Marvin Jones, and Danny Amendola, are hitting free agency. Some of them could return, or the team could find replacements through free agency or the draft. Regardless, it presents a downgrade from the Rams' receivers for Jared Goff.
Goff's production has already dropped off in each of the last two seasons with Los Angeles. He had one of the lowest average depth of targets (6.9 yards) in 2020, and he doesn't give you much with his legs either. With his regression and the team's present state, it's hard to foresee Goff yielding more than low-end QB2 production this season.
Todd Gurley (RB – ATL)
It's a shame that Todd Gurley and his notorious knees seem to be bound for fantasy irrelevance instead of the once-destined-for Hall of Fame. Gurley, an impending free agent, closed the 2020 season with a whimper, failing to score a touchdown in his final five outings. That's not a good omen, as his fantasy value hinges mostly on his ability to find the end zone. With a new head coach and general manager coming in the door, Gurley is probably heading out.
Can you draft the perfect 2020 team? Try our Perfect Draft Game


Subscribe: Apple Podcasts | Spotify | Google Podcasts | Stitcher | SoundCloud | iHeartRadio
Beyond our fantasy football content, be sure to check out our award-winning slate of Fantasy Football Tools as you prepare for your draft this season. From our free mock Draft Simulator - which allows you to mock draft against realistic opponents - to our Cheat Sheet Creator - which allows you to combine rankings from 100+ experts into one cheat sheet - we've got you covered this fantasy football draft season.
Bonnie Robinson is a featured writer at FantasyPros. For more from Bonnie, check out her archive and follow her @FantasyQueenB.