Zak Hanshew's 2021 NBA Mock Draft 1.0
We're a week removed from Baylor's championship win over Gonzaga, so it's time to look ahead to the NBA Draft. The Draft Lottery will be selected on June 22, and the NBA Draft will take place on July 29. As a result, the draft order below is subject to change based on team record and protected picks. I'll use the best available information for this first mock draft, and future iterations will be updated accordingly. This year's draft class is loaded with playmakers and shot creators (especially at guard), though as always, there are a number of players who may need some time to develop at the next level.
Davion Mitchell played his way into the lottery after a tremendous tournament run, and Corey Kispert winds up with the Splash Brothers. The top-5 picks remain chalky and unchanged, and several international talents see their stock on the rise in a big way. I couldn't be more excited to dive into this first NBA Mock Draft of the season, so let's get to it!
Draft Order: Tankathon (as of 4/11)
Create FanDuel lineups using our DFS Lineup Optimizer tool >>
1. Minnesota Timberwolves: Cade Cunningham (G – Oklahoma State)
Minnesota won't pass on Cunningham, and the logjam at guard and wing is going to get a bit more complicated. The Timberwolves will almost certainly move on from one or more of Ricky Rubio, Jarrett Culver, Josh Okogie, and potentially D'Angelo Russell with Cunningham in the fold. Despite years of mediocrity, the addition of Cunningham gives Minnesota an exciting young core moving forward with Anthony Edwards, Karl-Anthony Towns, Jaden McDaniels, and Cunningham. Cunningham is an elite playmaker who should make an immediate impact for a franchise that is desperate to become relevant again.
---
2. Houston Rockets: Jalen Suggs (G – Gonzaga)
In a class full of athletic players, Suggs stands out. Although Gonzaga couldn't complete its undefeated season, Suggs' Final Four buzzer-beating heave to send the Zags to the championship cemented his status as a top-three pick in this draft. After a standout season, Suggs went for 18.7 points, 5.7 assists, 5.3 boards, and 1.3 steals over his final three games. Evan Mobley would be a fine pick for Houston here, but the team has a long-term solution at center in Christian Wood and a talented scorer in Kevin Porter, who could cut his turnovers down with the ball in his hands less. John Wall isn't the future of Houston, but Suggs will be.
---
3. Detroit Pistons: Evan Mobley (C – USC)
Mobley is cut from the same unicorn cloth as Kristaps Porzingis – a tall, lanky big who can play forward or center, step outside the paint to make a shot, get to the basket, rebound, and block shots with authority. Mobley has no problem putting the ball on the deck and making a play for himself, and his rare combination of size, mobility, and two-way play makes him the clear No. 3 selection here. Although the Pistons just signed Mason Plumlee to a four-year deal in the offseason, he's not a franchise center, and Mobley could be the final piece of a promising rebuild in the Motor City.
---
4. Orlando Magic: Jalen Green (G – G League Ignite)
Orlando will be thrilled to get Green at No. 4. The G-League star is a shot-maker extraordinaire with outstanding athleticism and explosiveness. As Orlando begins its rebuild in earnest in 2021, the team will be in desperate need of playmakers who can put the ball in the hoop, and the Magic would be hard-pressed to find a better fit than Green.
---
5. Cleveland Cavaliers: Jonathan Kuminga (F – G League Ignite)
Cleveland could use more playmakers, but the biggest need is defense. Kuminga's size (6'7, 217) and length (6'11 wingspan) make him an imposing defender and a player who's tough to defend on offense. He's strong, athletic, and explosive, with the ability to make big plays at the rim. His shooting is a big concern (39/63/25), but the raw talent and upside paired with his immediate contributions on defense should keep him in the top-5 conversation.
---
6. Washington Wizards: Scottie Barnes (F – Florida St)
Barnes will head to Washington, where he'll look to contribute right away on the offensive end of the floor. He's got an impressive 7'0 wingspan, consistently looks to get to the basket, is extremely physical, and doesn't shy away from contact. With a thick frame at 6'9, 225, Barnes gets down the court with a head of steam and is difficult to stop in fast-break situations. Washington ranks fifth-worst in the NBA in fast-break points this season, so Barnes' contributions should be immediate in that department.
---
7. Oklahoma City Thunder: Davion Mitchell (G – Baylor)
Mitchell is shooting up draft boards, and it's tough to imagine the Thunder passing on him with this pick after his strong play in the NCAA Tournament. Throughout the season, Mitchell played excellent two-way ball for a stout Baylor defense that eventually held Gonzaga's juggernaut to just 70 points in the championship game. He's a guy who can shoot the three, get teammates involved, and provide some quality defense. The guard/wing trio of Mitchell, Shai Gilgeous-Alexander, and Luguentz Dort would a scary matchup for opposing offenses.
---
8. Toronto Raptors: Moses Moody (G – Arkansas)
Moody's got great size for a two-guard and flashes athleticism and strength. He's a worthy scorer who's great on catch-and-shoot opportunities but also able to drive to the rim and finish in traffic. Moody is the type of tough, blue-collar, two-way player the Raptors typically hang their hat on, so this selection seems like a perfect fit. He'll add some tenacity and grit alongside the likes of OG Anunoby, Fred VanVleet, and Pascal Siakam.
---
9. Sacramento Kings: Alperen Sengun (C – Besiktas)
Sengun is 6'9 or 6'10 depending who you ask. He's a bit undersized for a center, but his skill set and raw upside are tough to ignore, especially given his recent play in the Turkish League. Sengun can step outside for a three-ball, but he can also clog up the lane, grab a rebound, and put the ball in the basket with efficient post moves. Sacramento needs another big as the Marvin Bagley experiment likely draws to a close, vaulting Sengun into the top-10.
---
10. Orlando Magic (from Chicago): Keon Johnson (G/F – Tennessee)
The Magic go for another high-upside pick at No. 10, though Johnson may not be a guy who will immediately contribute. He's extremely athletic but relies too much on his short mid-range jumper, runner, and floater, making his shot selection a bit predictable for opposing defenders. Orlando is in full rebuild mode, and they'll be looking for ceiling with this pick, making Johnson the guy. Expect some highlight plays as a rookie, but Johnson will need time to develop.
---
11. New Orleans Pelicans: James Bouknight (G – UConn)
Bouknight is a score-first two-guard who can get to the rim at will and finish strong. He's a great rebounder for his size and took big steps forward last season with the Huskies. New Orleans has one of the most dynamic players and scorers in the NBA in Zion Williamson and adding Bouknight to a team with Zion and Brandon Ingram could make for a deadly offense.
---
12. Indiana Pacers: Jalen Johnson (G/F – Duke)
Though Johnson opted out for most of his first and only season with Duke, his limited sample size was enough to keep him in the lottery. He's got the skillset to be a quality two-way player at the next level as a willing and efficient defender with the ability to pass effectively. He's most effective in transition where he's a nightmare to stop. Johnson should be a great fit with an Indiana team that prides itself on efficient shooting and good ball movement.
---
13. Golden State Warriors: Corey Kispert (F – Gonzaga)
Kispert could be the best shooter in this year's draft. His three-point percentage has increased in each of the last three seasons, and he's drained better than 43% of his long-range attempts in each of his final two seasons with the Zags. He's a two-time All-WCC selection who averaged nearly 20 points per game last season. His deadly marksmanship will be a perfect fit for the Warriors, who have missed Klay Thompson desperately. Oracle will be roaring with Stephen Curry and Kispert knocking down triples next season.
---
14. San Antonio Spurs: Tre Mann (G – Florida)
The Spurs released LaMarcus Aldridge, and DeMar DeRozan is likely on his way out the door in free agency this summer, so who will the Spurs rely on for scoring? In need of offense, Mann fits the bill as the Spurs' lottery pick here. The Florida guard is an elite shot creator, who excels in creating space for himself and shooting off the dribble. He hustles for rebounds and can find teammates for easy buckets, but his strength is in his scoring abilities. Over the final eight games of his NCAA career, he averaged 20 points per game.
---
15. New York Knicks: Ziaire Williams (G/F – Stanford)
Williams has noticeable length (6'11 wingspan), and he's an excellent rebounder on offense and defense. He's able to facilitate effectively and is a solid knock-down shooter. He needs to work on creating his own shot, as his strengths are in catch-and-shoot and second-chance opportunities. Still, his combination of size, defense, and passing abilities make him a very interesting prospect for New York.
---
16. Boston Celtics: Sharife Cooper (G – Auburn)
Cooper isn't the most athletic guard in this draft, but he won't be relied on for athleticism with Boston. Cooper's strengths come from his ability to draw contact and finish creatively in the paint, but most importantly, he operates as a pure point guard who looks to get his teammates involved early and often. Cooper averaged 8.1 dimes with Auburn this season, and that passing ability would be welcomed by a Boston squad that has dealt with plenty of missed time from its franchise point guard. Kemba Walker missed 16 games in 2019-20, and he's missed 20 thus far in 2020-21. A backup with Cooper's elite facilitating seems like an ideal fit.
---
17. Charlotte Hornets: Kai Jones (C – Texas)
Cody Zeller and Bismack Biyombo? Yeah, you could say the Hornets are in need of an upgrade at center. The rest of the team looks to have few holes with LaMelo Ball, Terry Rozier, and PJ Washington anchoring a promising young core. Charlotte's Achilles heel is the center position, and Charlotte will be thrilled when the potential lottery pick slides to them at 17. Jones is freakishly athletic with insane hops, and while he'll need to bulk up and work on his shooting, he profiles as a stretch five with speed, burst, and explosiveness not seen at that position in recent years.
---
18. Oklahoma City (from Miami): Jaden Springer (G – Tennessee)
The counting stats won't blow you away, but the eye test should. Springer's movements are fluid, he's an able shot creator and a true threat from downtown. His natural scoring ability is top-notch, and while he falls outside the top-14 here, he's a lottery talent with the ability to play well on both ends of the court.
---
19. Memphis Grizzlies: Franz Wagner (F – Michigan)
Wagner falls a bit on draft night after poor NCAA Tournament play in which he went ice cold from beyond the arc. Still, it's hard to imagine the 6'9 Wagner falling farther than this thanks to his strong rebounding and typically capable three-point shooting.
---
20. Atlanta Hawks: Greg Brown (F – Texas)
Brown is an explosive athlete with a long reach (6'10 wingspan). He's a willing defender, solid rebounder, and electric finisher at the rim with a reel of highlight dunks to his credit. John Collins will likely be gone in free agency, leaving a vacant spot at PF for Brown to fill. Danilo Gallinari should slot in as the starter to open the season, but it will only be a matter of time before he's overtaken by Brown.
---
21. New York Knicks (from Dallas): Isaiah Jackson (F/C – Kentucky)
Mitchell Robinson hasn't been able to stay healthy since joining the Knicks, and despite his tremendous per-minute upside as a shot-blocker, his availability has been a concern. Jackson can provide some quality depth behind Robinson in the form of an excellent defender, who averaged 3.4 combined blocks/steals in his lone season at Kentucky. Just like Robinson, Jackson isn't a gifted scorer, but his elite speed and athleticism paired with rim-protecting abilities should make him an attractive pick for New York.
---
22. Houston Rockets (from Portland): Usman Garuba (F/C – Real Madrid)
Houston shored up its starting PG with Jalen Suggs, and now the Rockets opt to go for a defensive-minded center who will take a little time to develop on offense. Enter Garuba. The teenager from Real Madrid is a little undersized to play center, but that hasn't stopped him from making a huge impact in the paint. Houston clearly needs some depth at center, and Garuba's ceiling is much higher than the No. 22 pick in the draft. This is a steal for a rebuilding Houston team that will be able to afford some patience with Garuba as he develops.
---
23. Houston Rockets (from Milwaukee): Cameron Thomas (G – LSU)
Thomas averaged 23.0 points per game as a Freshman at LSU, leading the SEC and all Freshmen in scoring and finishing fourth in the nation in that category. With an elite point guard and a high-upside big already secured, Houston will look for scoring. The Rockets are 27th in Offensive Rating this season, and the team needs to put more points on the board. Thomas is the pick.
---
24. Los Angeles Lakers: Josh Giddey (G – Adelaide)
Dennis Schroder will be an unrestricted free agent this summer, and he recently rejected a 4-year, $84M extension from the Lakers. His days with Los Angeles may be numbered, and the Lakers will look for a solution at PG with Giddey. The Australian has continued to rise up draft boards in recent weeks thanks to excellent passing and solid rebounding. He should contribute immediately and provide a long-term fit for the Lakers.
---
25. Denver Nuggets: Jared Butler (G – Baylor)
The rich get richer, as Denver adds the Final Four's Most Outstanding Player to an already-loaded Nuggets roster. Butler does a lot of things well, but his biggest strengths are defense, passing, and shooting threes. In Butler, the Nuggets get an experienced player with a championship pedigree.
---
26. Los Angeles Clippers: Josh Christopher (G – Arizona State)
Christopher, while still a raw shooter, will bring a ton of energy to the Clippers on both ends of the floor. He's got a high motor and hustles on defense, which should make him a good fit, and he could benefit from the mentorship of experienced players such as Paul George and Kawhi Leonard (if he returns).
---
27. Brooklyn Nets: Charles Bassey (F/C – Western Kentucky)
Bassey has finally declared for the draft, and he'll make a fine addition to an elite Nets team that's lacking a true big man. Bassey has a big frame, clogs up the paint, and profiles as a shot-blocker extraordinaire. He's an elite rebounder who can finish strong at the rim on offense. Though not an impressive post scorer and lacking an outside game, he can do some serious damage as a rebounder and shot-blocker. LaMarcus Aldridge and Blake Griffin are placeholders at this point in their careers, and Nicolas Claxton is more of a power forward. Add Bassey to this team that already sports a Big Three of James Harden, Kyrie Irving, and Kevin Durant, and the Nets could be even more formidable.
---
28. Philadelphia 76ers: Chris Duarte (G – Oregon)
Duarte's rise to the first round of the NBA Draft is the remarkable story of a guy who played two years at Junior College before transferring to Oregon and excelling at the highest level of college hoops. He averaged 17.1 points per game in his final season with the ducks, showing off his sharp-shooting abilities (42.4% from deep) in the process. Philly already boasts an elite roster, led by Ben Simmons, Tobias Harris, and Joel Embiid, but Simmons isn't a natural scorer or shooter, and Harris and Embiid can't continue to carry such a heavy load if this team wants to enjoy sustained success. That's where Duarte comes in.
---
29. Phoenix Suns: Taevion Kinsey (G – Marshall)
Kinsey isn't a guy who's getting a ton of attention right now, but expect that to change as the draft draws nearer. The Marshall standout consistently plays above the rim and doesn't settle for jumpers when he can get to the basket. He's a strong and powerful finisher with athleticism to behold. Phoenix could use some scoring and explosiveness in the backcourt behind Chris Paul and Devin Booker, and Kinsey is the guy to give it to them.
---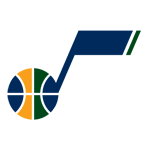 30. Utah Jazz: Ayo Dosunmu (G – Illinois)
Dosunmu is a great get for the Jazz at the end of the first round. He led Illinois to a 23-6 record and a No. 2 ranking prior to the NCAA Tournament, and he offers unique size (6'5) and scoring ability (20.1 PPG in 2020-21) for a point guard. Adding him to a backcourt of Mike Conley, Donovan Mitchell, and Jordan Clarkson gives Utah tremendous depth.
Create FanDuel lineups using our DFS Lineup Optimizer tool >>
Beyond our daily fantasy basketball content, be sure to check out our Daily Fantasy Basketball Tools. From our Lineup Optimizer – which allows you to build winning DFS lineups in seconds for Cash and GPP contests – to our DFS Cheat Sheets – that helps you get a quick read on the day's players – we've got you covered this fantasy basketball season.
Zachary Hanshew is a featured writer at FantasyPros. For more from Zachary, check out his archive and follow him @zakthemonster.