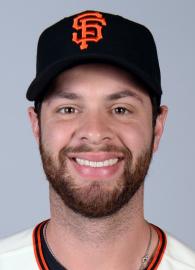 Brandon Belt News & Advice
Sports Injury Alert
| Aug 16th, 3:00pm
The San Francisco Giants lost in 10 innings last night to the Philadelphia Phillies by the score of 5-3. the loss dropped the Giants to 63-58, second in the National League West. The Giants wasted a strong outing by Madison Bumgarner, who allowed only a run on four hits with nine strikeouts, in seven innings. Michael Morse provided all three runs for the Giants with his 16th home run of the season....
MLB.com
| Aug 16th, 1:32am
Brandon Belt won't be taking the field for the Giants anytime soon. Manager Bruce Bochy said concussion specialist Michael "Micky" Collins in Pittsburgh will evaluate Belt next week while the Giants are in Chicago for a three-game set against the Cubs.
KFFL
| Aug 15th, 10:48pm
San Francisco Giants 1B Brandon Belt (concussion) is scheduled to meet with a concussion specialist ...
Fangraphs
| Jul 25th, 2:44am
Concussions are serious business, and we've seen with Justin Morneau that they can linger and hamper hitters for quite a long time. Hopefully Belt feels better each day and can return to the team in a few days, but at this point, it's looking like he'll need to be transferred to the 15-day DL. -
Zach Sanders