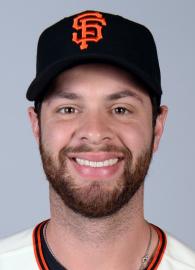 Brandon Belt News & Advice
MLB.com
| Oct 29th, 6:08am
A miscue by Giants first baseman Brandon Belt on an unusual play in the bottom of the second inning may have been a turning point in a 10-0 Royals win in Game 6 of the World Series at Kauffman Stadium on Tuesday night.
MLB.com
| Oct 28th, 2:50am
The road to the World Series has been a unique experience for every single player involved in this year's edition, but perhaps no man competing for baseball's greatest prize had as many twists and turns and highs and lows on that journey as Giants first baseman Brandon Belt.
MLB.com
| Oct 27th, 6:12am
Brandon Belt bunted for a single in the second inning of the Giants' 5-0 victory in Game 5 of the World Series on Sunday night. "They were giving me that whole area over there," he said.