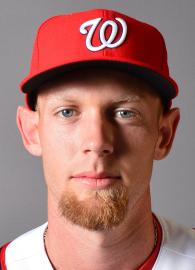 Stephen Strasburg News & Advice
ESPN
| Sep 16th, 2:48am
Stephen Strasburg threw seven scoreless innings to end a long run of frustration against Atlanta, and the Nationals beat the struggling Braves 4-2 on Monday night to move to the verge of the NL East title.
KFFL
| Sep 16th, 2:30am
Washington Nationals SP Stephen Strasburg struck out seven over seven shutout innings in a win ...
MLB.com
| Sep 16th, 2:20am
Coming off a miserable road trip, the Braves were hoping to gain some momentum courtesy of their latest opportunity to face Stephen Strasburg. But instead of frustrating Strasburg yet again, they extended their offensive woes in Monday night's 4-2 loss to the Nationals, who are now on the brink of clinching the National League East title.
MLB.com
| Sep 16th, 2:18am
The magic number is now 2. That is the combined number of Nats wins and Braves losses needed for the Nationals to win the National League East after Monday night's 4-2 Washington victory at Turner Field. Stephen Strasburg tossed seven shutout innings and had an RBI single, while Wilson Ramos homered in the series-opening win.