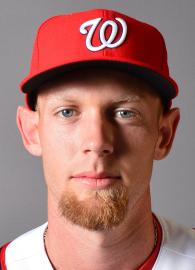 Stephen Strasburg News & Advice
MLB.com
| Sep 27th, 11:12pm
If Saturday was any indication, right-hander Stephen Strasburg is ready for the National League Division Series. He pitched six shutout innings and helped the Nationals beat the Marlins, 5-1, at Nationals Park.
Rotoworld
| Sep 27th, 11:11pm
Stephen Strasburg delivered six shutout innings in Saturday's 5-1 defeat of the Marlins.
MLB.com
| Sep 25th, 1:33am
Nationals manager Matt Williams has decided that right-hander Stephen Strasburg will pitch Saturday against the Marlins, while Jordan Zimmermann, who is dealing with shoulder issues, will pitch the final game of the regular season against Florida. Both pitchers were pushed back a day.