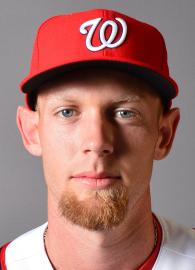 Stephen Strasburg allowed four earned runs on four hits (two homers), walking two and striking out two as he threw four innings in his first outing after twisting his ankle. He did not show any ill effects from the injury but his control, especially on his curve, was definitely off.
Fantasy Impact: Even at his best, Strasburg has been prone to the occasional clunker. He has one more tune-up before the regular season, when he is expected to face the Mets' Matt Harvey on April 9.
Category: Game Recaps
---
Stephen Strasburg will miss his Spring Training start on Sunday after he sprained his left ankle during conditioning drills, manager Matt Williams announced. (Source: Nationals via Twitter)
Fantasy Impact: This is the second minor injury for the big righty. Otherwise, he's been solid in two starts with a 3.18 ERA, seven strikeouts and two walks.
Category: , Injury Updates
---
Stephen Strasburg was "dazzling" (according to the Tigers' radio announcers) as he struck out five, walked none, allowing three hits and no runs in four innings of work. He has apparently recovered from the in-grown toenail that caused him to miss his previous start.
Fantasy Impact: Strasburg recorded 242 strikeouts in 215 innings last season, and it looks like he could match that in 2015.
Category: , Game Recaps
---
Stephen Strasburg will miss his second spring training start after undergoing surgery to remove an in-grown toenail. Manager Matt Williams says the right-hander will throw on the minor-league side where he will not field. (Source: MASN )
Fantasy Impact: Probably minimal. In his first start, Strasburg threw 40 pitches, 26 for strikes. There is still plenty of time for him to build up his arm strength before the regular season begins.
Category: , Injury Updates
---
Rumors surrounded Stephen Strasburg's negativity to Max Scherzer signing with the Nationals. These rumors are unfounded and he is perfect content with the organization (Source: Washington Times)
Fantasy Impact: This could be the year Strasburg turns into that top-five SP, even as the #2 pitcher in the Nationals rotation. He tied for the lead in the National League in strikeouts last year; he had 242 strikeouts and so too did Johnny Cueto of the Reds. His inconsistency so far in his career is the issue with Strasburg; he has all of the talents to be a top-five SPthe biggest problem. At this point he is taken as one of the top pitchers in fantasy baseball; if you're looking for one of the top elite strikeout pitchers, picking Strasburg a round or two after Clayton Kershaw could be a shrewd transaction.
---