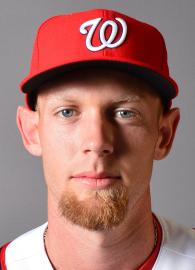 By Matthew Hoffman, Nationals Correspondent, Tue, Feb 10th 10:09pm EST
Rumors surrounded Stephen Strasburg's negativity to Max Scherzer signing with the Nationals. These rumors are unfounded and he is perfect content with the organization (Source:
Washington Times
)
Fantasy Impact: This could be the year Strasburg turns into that top-five SP, even as the #2 pitcher in the Nationals rotation. He tied for the lead in the National League in strikeouts last year; he had 242 strikeouts and so too did Johnny Cueto of the Reds. His inconsistency so far in his career is the issue with Strasburg; he has all of the talents to be a top-five SPthe biggest problem. At this point he is taken as one of the top pitchers in fantasy baseball; if you're looking for one of the top elite strikeout pitchers, picking Strasburg a round or two after Clayton Kershaw could be a shrewd transaction.