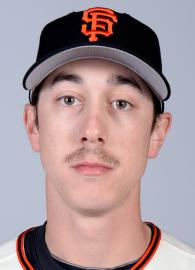 Tim Lincecum News & Advice
Yahoo! Sports
| Aug 26th, 5:29pm
Tim Lincecum might be the most consistently-panned player in this space over the last couple of years. We didn't give him an excuse for the gopheritis trend that started in 2012. We didn't trust the K/9 rate, given that the strikeout percentage was moving in the wrong direction. We didn't play the "but he's Tim Lincecum" card, an all-time silly argument. Numbers over names, man. But Timmy...
MLB.com
| Aug 26th, 3:24am
There's no question that the Giants need The Tim Lincecum to make their stretch run. But right now, Lincecum just isn't Lincecum.
ESPN
| Aug 26th, 12:59am
Right-hander Tim Lincecum has been moved to the San Francisco Giants' bullpen as he tries to work through his latest struggles.
MLB.com
| Aug 26th, 12:54am
Yusmeiro Petit will take over for Tim Lincecum in the Giants' rotation Thursday, manager Bruce Bochy said before Monday night's game. Bochy said the rotation would be reassessed after Petit's start, so it's unknown when or if Lincecum will return to the rotation.
Rotoworld
| Aug 25th, 11:54pm
Tim Lincecum has been moved to the Giants' bullpen.
KFFL
| Aug 25th, 9:42pm
San Francisco Giants SP Tim Lincecum will have his next start skipped. SP Yusmeiro Petit ...
MLB.com
| Aug 24th, 4:55pm
Tim Lincecum's status for his next scheduled start remained uncertain Sunday, as Giants manager Bruce Bochy had yet to meet with the right-hander to discuss his slump.
Rotoworld
| Aug 24th, 12:40pm
Giants manager Bruce Bochy after Saturday's game would not commit to Tim Lincecum making his next start.
MLB.com
| Aug 22nd, 10:34pm
With a victory Saturday over the Nationals, Giants right-hander Tim Lincecum would become the fifth pitcher to win 100 games with the club since the franchise moved west in 1958.