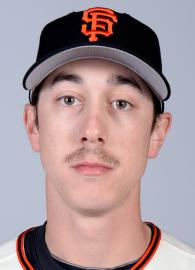 Tim Lincecum News & Advice
MLB.com
| Sep 1st, 1:11am
Perhaps the only sour note on an otherwise brilliant Sunday afternoon at AT&T Park for the Giants was the performance of Tim Lincecum. The righty made his first appearance since his move to the bullpen in the eighth inning of the Giants' 15-5 victory against the Brewers.
MLB.com
| Aug 30th, 1:26am
After a successful outing Thursday afternoon, Yusmeiro Petit has earned another start for the Giants. Manager Bruce Bochy said before Friday night's game that Petit, not Tim Lincecum, will start in Colorado on Tuesday, the next time what was once Lincecum's rotation turn comes around.
MLB.com
| Aug 30th, 1:21am
Giants manager Bruce Bochy spoke highly of Tim Lincecum's bullpen sessions, saying he's improved each area the Giants hoped he would. Now Bochy just needs to find the right opportunity to use the righty out of the bullpen, which according to Bochy, could be just about any time.
KFFL
| Aug 29th, 10:23pm
San Francisco Giants SP Tim Lincecum could be used in long or short relief, depending ...