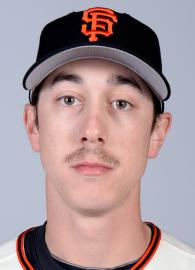 Tim Lincecum News & Advice
Rotoworld
| Oct 24th, 4:48am
Nate Grimm discusses Tim Lincecum's injury outlook, the Phillies locking up players and some free agent rumblings in Friday's Daily Dose.
MLB.com
| Oct 23rd, 6:53am
Tim Lincecum waited an entire postseason to make an appearance for the Giants, and when it finally happened, the outing lasted all of 23 pitches, as the right-hander was forced to leave Wednesday's Game 2 of the World Series after his back tightened.
ESPN
| Oct 23rd, 6:14am
Banished to the bullpen and absent from the mound since the regular season, Tim Lincecum returned Wednesday night with the Giants trailing the Royals by five runs in the seventh inning.
Rotoworld
| Oct 23rd, 3:51am
Tim Lincecum left Wednesday's World Series Game 2 with lower back tightness.
Sports Injury Alert
| Oct 23rd, 3:38am
With two outs in the eighth inning, former starter Tim Lincecum exited game two of the World Series with what originally appeared to be a leg injury. This rough season has continued. #456341936 / gettyimages.comTim Lincecum leaves the game with trainer Dave Groeschner | 2 outs and nobody on. Further updates coming. Now pitching, Santiago Casilla— #OctoberTogether (@SFGiants)...
MLB.com
| Oct 22nd, 9:29pm
Giants right-hander Tim Lincecum missed Tuesday's pregame introductions because he was sick to his stomach, manager Bruce Bochy said Wednesday.
MLB.com
| Oct 21st, 12:31am
Giants right-hander Tim Lincecum has gone from the sublime to the anonymous in his baseball career. Thus far, Lincecum has not pitched during the 2014 playoffs, but he insists he is not obsessing about pitching in the World Series against the Royals. If Lincecum's not used, he figures he'll deal with all that when the postseason is over.
Sports Injury Alert
| Oct 20th, 1:15pm
Right-hander Tim Lincecum didn't go through a full workout Saturday because he woke up with a stiff neck, according to Alex Pavlovic. However, Lincecum is on the roster for the World Series and the Giants don't think his discomfort is serious.Lincecum has yet to pitch in the 2014 postseason, though Giants manager Bruce Bochy said he would have pitched the 19th inning in Game 2 of the NLDS...