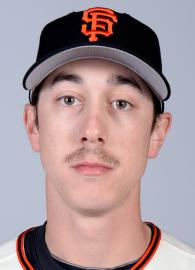 | ECR | Best | Worst | Auction | Alerts |
| --- | --- | --- | --- | --- |
| #202 | #141 | #343 | $4 | - |
Tim Lincecum News & Advice
KFFL
| Jul 23rd, 11:50am
San Francisco Giants SP Tim Lincecum pitched two-thirds of an inning in the 14th inning ...
MLB.com
| Jul 23rd, 6:47am
With the Giants having exhausted their bullpen, in terms of manpower and energy, Tim Lincecum stepped forward to record the final two outs and earn his first Major League save in Tuesday night's 9-6, 14-inning victory over the Philadelphia Phillies.
ESPN
| Jul 23rd, 6:04am
Brandon Crawford hit a bases-clearing double to break a 14th-inning stalemate and Tim Lincecum earned his first career save as the San Francisco Giants beat the Philadelphia Phillies 9-6 on Tuesday night.
Rotoworld
| Jul 23rd, 5:00am
Tim Lincecum notched the first save of his eight-year career, coming into Tuesday's game in the 14th inning and getting the final two outs for a Giants win.
The Fake Baseball
| Jul 20th, 1:30pm
(Editor's Note: Try our FanDuel Cheat Sheet with picks, sample lineups, and tons of sortable matchup stats) Tim Lincecum (80% Y!, 99.5% ESPN, 95% CBS) has been great for the past Full Article »
Roto Professor
| Jul 14th, 2:55am
Over his past four starts he's allowed 1 ER over 30.1 innings, allowing 10 H and 9 BB while striking out 24. Are we really about to declare that ?he's back?? He's obviously not THIS good, but overall this season he owns a 3.66 ERA and 1.25 WHIP based on believable metrics with a .276 BABIP and 75.2% strand rate. With an 8.04 K/9 and 3.50 BB/9, there actually is a lot to like. Maybe he implodes again, but for now he's definitely worth the risk. -
Eric Stashin
Roto Professor
| Jun 30th, 9:13pm
Don't let the no hitter fool you, and you should continue to tread carefully with him moving forward. This week he starts twice, once at home against the Cardinals and then in San Diego. There is some risk associated with his start against St. Louis, but the fact that it is at home and is balanced out by another start against the Padres is enough for me to start him this week. Also, Lincecum's 83 strikeouts in 91 innings doesn't hurt either. -
Ray Kuhn
Roto Professor
| Jun 29th, 4:12am
Pay close attention to how Lincecum fares against those hitters. If he can make the necessary improvements early after the All Star Break, expect Lincecum to put up a strong second half to set up another contract year coming up. No matter what, Lincecum should not be on any mixed league waiver wires because of his annual ability to push 200 K despite the bloated ratios. -
Ray Lin