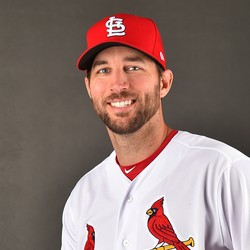 Adam Wainwright
SP - STL
Height: 6' 7"Weight: 235 lbsAge: 36Bats: RThrows: RCountry: USA
Adam Wainwright gives five strong innings
Adam Wainwright turned in a solid effort on Friday against the Brewers, allowing two earned runs on six hits over five innings without allowing a walk. Wainwright struck out nine on his way to his first win of 2017, improving his ERA to 6.27.
Fantasy Impact
Wainwright also helped himself out at the plate, smashing a second-deck two run HR. It was nice to see improved control from Waino, although he still gave up his fair share of hits. The nine strikeouts are encouraging as well given that Wainwright has been largely unable to miss bats in 2017. Fantasy managers can probably wait to see if Wainwright can string a few more starts like this together before giving him a shot in deeper leagues.
Adam Wainwright knocked around again Sunday against Yankees
The Yankees got the best of Adam Wainwright on Easter night, smacking 10 hits and scoring four runs off the Cardinals starter in 4 2/3 innings. Wainwright allowed two walks and struck out four in his third loss of the season.
Fantasy Impact
Wainwright worked in and out of plenty of trouble, but ultimately fell victim to the long ball with home runs by Greg Bird and Aaron Hicks. Wainwright will take on the Brewers in his next start in a more favorable matchup, but he probably can't be trusted on fantasy roster until he strings together a few solid outings. Wainwright will carry a 7.24 ERA as he searches for his first win on 2017.
Adam Wainwright smacked around in loss to Nats
Adam Wainwright struggled on Monday night on the road against the Nationals. In four lackluster innings, Wainwright coughed up six runs (five earned) on 11 hits and three walks. Wainwright struck out just three on the night.
Fantasy Impact
This one wasn't pretty. It took Wainwright 96 pitches to get through the disastrous outing. As bad as it was, the day could have been even worse for the Cardinals as the Nats left a whopping 28 runners on base. The Cardinals' pitching as a whole is struggling, with a bullpen ERA of 8.86. The silver lining (if there is one) is that Wainwright was able to keep the ball in the park. He will hope for a better fortune next week against the Yankees in New York.
Adam Wainwright solid in final spring start
Adam Wainwright continued to distance himself from his disastrous start to his spring in a rematch with the Mets on Tuesday. Earlier this spring the Mets pummeled Wainwright to score ten runs in 1 and 2/3 innings, but the veteran responded with a strong performance in the rematch. Wainwright scattered five hits and three runs over five innings against a Mets lineup consisting of majority opening day starters.
Fantasy Impact
All three runs allowed by Wainwright in his final start came from a Lucas Duda three-run home run in the 4th inning. What is most encouraging, however, is the improved control demonstrated in his final tune-up. Wainwright did not allow any free passes this time out after struggling with command in the early part of spring. Wainwright may not be the Cy Young contender he once was, but he could be a nice addition to round out your fantasy rotation. With an ADP ~200, he could be a decent value add at the end of your draft to provide reliable innings in 2017.
Adam Wainwright turns in improved start following poor outing
Waiinwright allowed 1 ER on 5 hits over 4 innings on Thursday in a rebound from his previous start against the Mets in which he gave up 10 R in two innings. Wainwright will match up with the Mets again on Tuesday in his final start before the regular season.
Fantasy Impact
With the emergence of Carlos Martinez, the Cardinals no longer need Wainwright to be their ace in 2017. However, with several question marks in their rotation, they need Wainwright to regain some of his former dominance and reliability behind Martinez. Wainwright will get the ball for game 2 of the 2017 season. In the offseason, the Cardinals' veteran SP has worked to improve his cutter and curveball. In 2016, Wainwright posted a 4.62 ERA, but his 3.93 FIP indicates he may have been a victim of a little bad luck. If Wainwright has truly improved upon his secondary pitchers, he could be a bounceback candidate in front of an improved Cardinals' defense in 2017.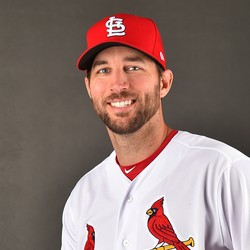 Availability
---