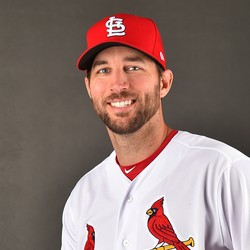 Adam Wainwright
SP - STL
Age: 38Bats: RThrows: R
Adam Wainwright throws batting practice on Sunday
Adam Wainwright threw four innings of batting practice on Sunday.
Fantasy Impact
Wainwright threw four innings of live batting practice on Sunday, and said it was third time pitching four innings in the calendar year. He will turn 39 in August and recently said he "would love to play next year." Wano is projected to be the Cardinals' fourth starter in the rotation. Wainwright owned a (14-10) record along with a 4.19 ERA and a 153:64 K:BB across 171 2/3 innings. He is currently ranked 217th among all pitchers in the latest expert consensus rankings.
Adam Wainwright hoping to play again next season
Adam Wainwright told Ken Rosenthal of The Athletic that he hopes to continue his playing career in 2021.
Fantasy Impact
The Cardinals' right-hander turns 39 years old in August but still managed to throw over 170 innings last season. "As long as (the Cardinals) will have me, I'd love to play again next year." Wainwright elaborated. Another longtime Cardinal, Yadier Molina, is trying to determine his next course of action as well.
Adam Wainwright re-signs with Cardinals for one year
Adam Wainwright is re-signing with the Cardinals on a one-year deal.
Fantasy Impact
There are no financial terms yet. The 38-year-old Wainwright posted a 4.19 ERA in 31 starts this past season for St. Louis. He'll be a reliable innings eater as well as a strong veteran presence for the rotation in 2020.
Adam Wainwright allows four home runs Saturday
Adam Wainwright (14-10_ allowed six runs on 12 hits - including four homers - over 4.1 innings to take the loss to the Cubs Saturday. He struck out three.
Fantasy Impact
Wainwright had been on a great run, posting an ERA under 1.00 over the span of five starts, but things took a dark turn on Saturday. He allowed two homers to Ian Happ, and one each to Kyle Schwarber and Victor Caratini. Wainwright ends the regular season with a 4.19 ERA and 1.43 WHIP in 171.2 innings.
Adam Wainwright picks up 14th win Monday
Adam Wainwright (14-9) earned the win Monday against the Diamondbacks, allowing five earned runs on eight hits over five innings, striking out six and walking two.
Fantasy Impact
Wainwright had been on fire entering Monday night, allowing just one earned run over his last 27 innings. While he couldn't maintain that dominance against the Diamondbacks, he did enough to earn his 14th win. Overall, he owns a 3.98 ERA, 1.39 WHIP, and 150:64 K:BB across 167.1 innings.