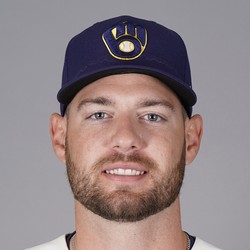 Adrian Houser
SP,RP - MIL
Age: 27Bats: RThrows: R
Adrian Houser (thumb) starting on Sunday
Adrian Houser (thumb) is starting Sunday's split-squad game against Oakland.
Fantasy Impact
Houser exited Monday's outing due to thumb tightness. The injury wasn't deemed serious, and his exit was precautionary. Houser is all systems go for Sunday's outing. The 27-year old is a key member of the Brewers rotation, he owned a (6-7) record with a 3.72 ERA, 1.24 WHIP and 117 strikeouts across 111 1/3 innings last season.
Adrian Houser's (thumb) exit in Monday's game was precautionary
Adrian Houser's removal from his outing Monday against the White Sox due to thumb tightness was purely precautionary.
Fantasy Impact
Houser exited Monday's B game with thumb tightness. The move was strictly precautionary and he should be fine going forward. It is unclear when he will pitch again during Spring Training, but it sounds as if Houser avoided a major injury. The 27-year old owned a 6-7 record, 3.72 ERA, 1.24 WHIP and 117:37 K:BB across 35 games in 2019.
Adrian Houser leaves with thumb tightness
Adrian Houser exited Monday's B game with thumb tightness.
Fantasy Impact
Houser threw two 1/3 innings before exiting Monday's game with a thumb injury. "He had a little thumb tightness so decided not to push it," per Brewers General Manager David Stearns. The injury doesn't appear to be serious, and Houser should be considered day-to-day. Fantasy owners should continue to monitor his situation, but the injury appears to be relatively minor.
Adrian Houser strikes out five in last regular season start
Adrian Houser tossed four scoreless innings while allowing one hit and one walk against the Rockies on Sunday. He struck out five.
Fantasy Impact
Houser departed too early to earn a win, and the Rockies eventually scored four unanswered runs later in the game. Houser now owns a 3.72 ERA alongside a 117:37 K:BB in 111.1 innings.
Adrian Houser works four innings Tuesday
Adrian Houser allowed two runs on three hits and no walks across four innings against the Reds on Tuesday. He struck out three.
Fantasy Impact
Houser allowed all three of his hits in the first inning, but then settled down nicely after that. He's been decent as a starter, but consistently does not work past the fifth inning. He's lined up to toe the mound for the Brewers' last regular season game Sunday at Colorado.