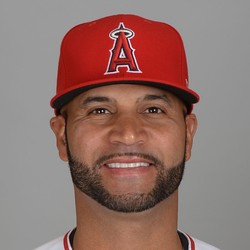 Albert Pujols
1B,DH - LAA
Height: 6' 3"Weight: 230 lbsAge: 38College: Maple Woods CC, MOCountry: Dominican Republic
2018 Outlook
Strength of Schedule:
N/A
Albert Pujols goes 0-for-4 on Thursday
Albert Pujols didn't have a great game on Thursday. Pujols went 0-for-4 and left one runner on base.
Fantasy Impact
Pujols hasn't been the same since joining Los Angeles. He is under contract with the Angels for four more seasons. The stat-line for Pujols includes 23 home runs and 100 RBIs, but a .242 batting average. That's where things get sketchy and make you want to leave him off your fantasy team.
Albert Pujols hits two home runs on Thursday
Albert Pujols went 2-for-4 with three runs scored, four RBIs, and two home runs on Thursday against the A's.
Fantasy Impact
Pujols incredibly has just a .665 OPS and a .387 slugging percentages, both far below his career averages and well below even replacement level. Though he's on pace for 100 RBIs, he's no longer a fantasy asset of any sort.
Albert Pujols passes Sammy Sosa for 8th All-Time in home runs
Albert Pujols went 2-for-4 with a double and a three-run home run to total four RBIs in Tuesday's win over the Rangers.
Fantasy Impact
Pujols flashed his historic greatness on Tuesday and collected his second homer in five games. While he continues to be a contributor in the RBI department (79 on the season) he hasn't been good for much else. Sporting an ugly .231 batting average, he is just a well-known name and there are a vast number of more productive options at 1B this year. You could likely close your eyes and select a better option from the waiver wire.
Albert Pujols goes yard on Friday
Albert Pujols went 1-for-4 with a two-run home run on Friday against the Orioles.
Fantasy Impact
Pujols now has 18 home runs on the season, an obviously disappointing total given the new landscape and Pujols's past performance. He somehow has 74 RBIs, but that's not nearly enough to outweigh his 41 runs scored or .230 batting average.
Albert Pujols hittless on Monday
Albert Pujols went 0-for-4 in the loss to Baltimore on Monday.
Fantasy Impact
Pujols is struggling so far in August with a bleak .167 BA. Outside side of the RBIs cat, Pujols has not contributed for owners like he use to.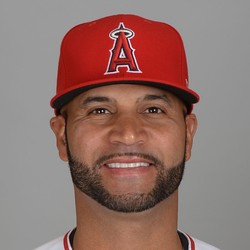 Availability
---
---