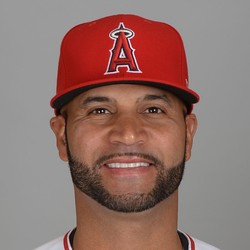 Albert Pujols
1B,DH - LAA
Height: 6' 3"Weight: 230 lbsAge: 37College: Maple Woods CC, MOBats: RThrows: RCountry: Dominican Republic
Albert Pujols delivers a double in Saturday's win over Red Sox
Albert Pujols went 2-for-5 with a double in Saturday's win over Boston.
Fantasy Impact
The two-bagger was Pujols' eighth on the year and he's managed to heat up a tad recently. He's batting .304 with three RBIs and two runs scored in the last five games. Nothing crazy, but it's serviceable and much better compared to his .242 batting average on the year. It's likely the sub-par average is here to stay, but if you can stomach those woes he will drive in runs with the best of them.
Albert Pujols drives in go-ahead run in win over Yankees
Albert Pujols went 2-for-5 with two RBIs and a run scored in Thursday's win over the Yankees.
Fantasy Impact
Albert Pujols blooped in an RBI single early in the game and then managed to drive in the go-ahead run for the Halos in the seventh inning. The veteran has been short of impressive, but is showing signs of life. His 51 RBIs and noteworthy name are keeping his value afloat, but his fantasy owners are certainly left wanting more.
Albert Pujols drives in one against the Yankees
Albert Pujols went 2-for-5 with one RBI in Tuesday's win in New York.
Fantasy Impact
Pujols managed to come through in the first inning with an RBI single to put the Angels up early, but he didn't manage to contribute much more than another base hit. Fantasy owners won't complain but it would have been nice to see more production from him in an eight-run night. Pujols is trending slightly up as of late, but he will need to string together a few consistent nights to earn back trust.
Albert Pujols comes up empty on Sunday
Albert Pujols went 0-for-4 with a walk in Sunday's loss to the Royals.
Fantasy Impact
You have to expect days like this with the veteran, as he is batting a career-low .236. However, the Angels lineup is getting hot, especially the Angels in the outfield (no not the movie). Cameron Maybin, Kole Calhoun, and Eric Young Jr. have all smacked the laces off the ball in June, and considering Pujols has a hold on the three-hole, he should be looking at plenty of RBIs. Cross your fingers that Pujols can feed off the energy of his younger teammates.
Albert Pujols launches another for the Halos on Saturday
Albert Pujols went 3-for-4 with a home run and two RBIs in Saturday's win against the Royals.
Fantasy Impact
Pujols bat has been dead lately, but this may be the jump start he needs. The seasoned vet is batting .28 points below last years average, but is still slapping dingers and is slotted into the three-hole for a hot lineup. Chances are someone is still holding on to him, but if he's laying around on the waivers now may be the time to scoop him.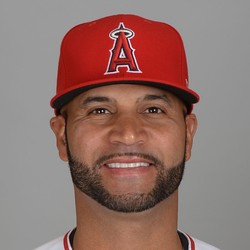 Availability
---