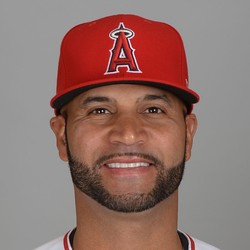 Albert Pujols
1B,DH - LAA
Height: 6' 3"Weight: 230 lbsAge: 37College: Maple Woods CC, MOBats: RThrows: RCountry: Dominican Republic
Albert Pujols passes Sammy Sosa for 8th All-Time in home runs
Albert Pujols went 2-for-4 with a double and a three-run home run to total four RBIs in Tuesday's win over the Rangers.
Fantasy Impact
Pujols flashed his historic greatness on Tuesday and collected his second homer in five games. While he continues to be a contributor in the RBI department (79 on the season) he hasn't been good for much else. Sporting an ugly .231 batting average, he is just a well-known name and there are a vast number of more productive options at 1B this year. You could likely close your eyes and select a better option from the waiver wire.
Albert Pujols goes yard on Friday
Albert Pujols went 1-for-4 with a two-run home run on Friday against the Orioles.
Fantasy Impact
Pujols now has 18 home runs on the season, an obviously disappointing total given the new landscape and Pujols's past performance. He somehow has 74 RBIs, but that's not nearly enough to outweigh his 41 runs scored or .230 batting average.
Albert Pujols hittless on Monday
Albert Pujols went 0-for-4 in the loss to Baltimore on Monday.
Fantasy Impact
Pujols is struggling so far in August with a bleak .167 BA. Outside side of the RBIs cat, Pujols has not contributed for owners like he use to.
Albert Pujols knocks in another five runs against the Phillies on Tuesday
Albert Pujols went 3-for-4 with a home run and five RBIs in Tuesday's win over the Phillies.
Fantasy Impact
Nine RBIs, three dingers, and six hits in just two games. That's the Pujols we know and love. It would be foolish to assume he's found the fountain of youth in the final months of a terrible year (.238 batting average and .683 OPS). It's much more likely the veteran will fall back off in a few days and return back to his 0-for-4 and 1-for-4 ways. There's close to a 50/50 shot Pujols is on the waiver-wire in your league right now, but there's about a 0 percent chance he's going to be added. Even with these monster games, its going to take much more than "a blast from the past" to make him relevant again.
Albert Pujols goes deep twice Sunday
Albert Pujols went 3-for-5 with a pair of home runs in the Angels' loss to the Blue Jays on Sunday, giving him 16 home runs on the year.
Fantasy Impact
Pujols has struggled for most of the year and has been slumping especially hard lately, hitting just .185 in the second half after hitting .196 in June. Before his two home runs Sunday, he had gone hitless in five straight games, going 0-for-24 during that stretch.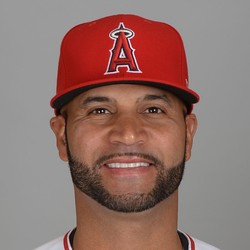 Availability
---