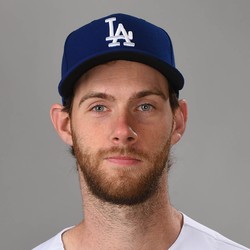 Tony Cingrani
SP,RP - FA
Age: 31College: RiceBats: LThrows: L
Tony Cingrani agrees to one-year deal with Dodgers
Tony Cingrani has agreed to a one-year deal worth $2.65M with the Dodgers.
Fantasy Impact
Cingrani hasn't started a regular season game since 2015 and should stay with the Dodgers as a reliever. He had a 4.76 ERA through 30 appearances last year with LA.
Anthony Cingrani leaves game with shoulder discomfort
Anthony Cingrani left Wednesday's game against the Pirates with shoulder discomfort, Andy McCullough of the Los Angeles Times reports. Dodgers manager Dave Roberts says he "felt some sort of sharp pain."
Fantasy Impact
Cingrani faced one batter and walked him before exiting the game, and "sharp pain" is never what you want to hear from a pitcher, especially one who recently spent time on the disabled list this season with a shoulder injury. More information should be available Thursday or Friday after he is evaluated, but it would not be surprising to see him land back on the DL at this point.
Anthony Cingrani traded to Dodgers
Anthony Cingrani has been traded from the Cincinnati Reds to the Los Angeles Dodgers, according to Ken Rosenthal on Twitter.
Fantasy Impact
The Dodgers already acquired Tony Watson just before Monday's 4 PM trade deadline, but it appears they were not done adding lefty relievers. Cingrani has not had a great year and has battled some injuries, but if he can turn things around the Dodgers have acquired another left-hander for their bullpen. While he has not pitched very well this season, he did hold left-handed batters to a .207 batting average in 2016, so the Dodgers are likely betting on him returning to form if he can prove to be healthy.
Anthony Cingrani to DL with oblique injury
Anthony Cingrani has been placed on the 10-day disabled list with an oblique injury.
Fantasy Impact
It's surprising considering Cingrani was off to a nice start this season, posting an ERA and WHIP of 1.93 and 1.07 with five strikeouts over 4 2/3 innings. He's only really useful in holds leagues, and he's probably not someone worth holding onto while recovering from injury at that.
Tony Cingrani earns hold versus Phillies
Tony Cingrani pitched one inning and struck out one while earning the hold as the Reds beat the Phillies Thursday 7-4. Cingrani figures to be a back of the bullpen arm this year for the Reds.
Fantasy Impact
Cingrani was able to come in a earn the hold as the Reds beat the Phillies Thursday. We likely saw the order of the bullpen Thursday as Raisel Iglesias did not come in for his save opportunity. Cingrani more times than not will come in before Drew Storen with Iglesias following Storen. If you are in a deep league where holds count you may want to consider Cingrani but he is a risky pickup given his control issues.