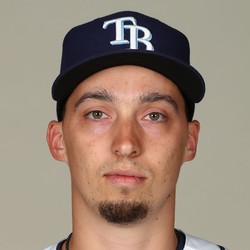 Blake Snell
SP - TB
Age: 26Bats: LThrows: L
Blake Snell starting Monday as Rays begin to monitor his workload
Rays Manager Kevin Cash's decision to delay Blake Snell's next start until Monday in New York was both to line up his ace against a key divisional foe and to give Snell a few extra days of rest as they begin to monitor his workload in the second half.
Fantasy Impact
Snell is coming off of a career-high 180 2/3 innings pitched in 2018 and is already at 90 through the first half of 2019. With the Rays eyeing a potential deep postseason run, they want to be sure that pitchers Snell and Charlie Morton are both healthy and not overworked before they get there.
Blake Snell gives up one run in no-decision
Blake Snell allowed one run on five hits with two walks and five strikeouts across five innings in a no-decision against the Yankees on Saturday.
Fantasy Impact
After a rough patch, Snell has looked good over his last two starts giving up three earned runs and striking out 17 over 11 innings. The reigning AL Cy Young winner is now 5-7 with a 4.70 ERA, 1.29 WHIP, and 122 strikeouts in 90 innings. Now is the time to buy low on Snell as he could have a big second half of the season.
Blake Snell strikes out 12 in win over the Rangers
Blake Snell gave up two runs on three hits while striking out 12 batters over six innings in the Rays' 6-2 win over the Rangers on Sunday.
Fantasy Impact
This was a nice bounce back for Snell who had given up 16 earned runs over his last seven innings pitched. That is certainly good news for fantasy owners. The bad news is that he is facing a powerful Yankees lineup in his next start.
Blake Snell struggles again in loss on Tuesday
Blake Snell allowed seven runs on 11 hits with one walk and four strikeouts across 3 1/3 innings while taking a loss against the Twins on Tuesday.
Fantasy Impact
Snell has not looked good in his last two starts giving up 13 runs over 3 2/3 innings. The reigning AL Cy Young winner has a 4-7 with a 5.01 ERA, 1.34 WHIP, and 105 strikeouts in 79 innings this season. Fantasy owners should remain patient as Snell will bounce back and right now is a good time to buy low.
Blake Snell gets knocked out in the first inning of loss
Blake Snell walked four, gave up two hits and was charged with six runs while getting one out on 39 pitches as the Rays lost to the Yankees on Wednesday by a 10-2 score.
Fantasy Impact
This was the shortest start of Snell's career. The 26-year-old lefty is coming off of a Cy Young winning season in 2018 but has been inconsistent so far in 2019. Snell is now 4-6 with a 4.40 ERA. This may be a good time for fantasy owners to buy low.