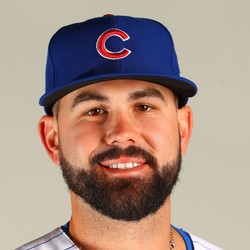 Casey Kelly
SP,RP - FA
Age: 30Bats: RThrows: R
Casey Kelly gets no-decision in spot start Friday
Casey Kelly pitched into the fifth inning Friday, allowing one run on nine hits. He struck out two and walked one.
Fantasy Impact
This was a spot start after Dereck Rodriguez was placed on the disabled list Friday. Kelly could get another start in five days.
Former first rounder Casey Kelly throws BP
RHP Casey Kelly, whose spring training was disrupted by a groin injury suffered during the first day of drills on February 20, will throw batting practice for the first time on Sunday.
Fantasy Impact
The 25 year old Casey Kelly arrived at spring training with sights on the 5th starter job but now expect the former first round pick to start in AAA. Injuries have limited him to just 86 IP over the last 3 seasons. If he can stay healthy, his former top prospect pedigree means you should track his progress.
Casey Kelly stretching out to be a starter
Casey Kelly will be stretched out as starter at Padres camp. Kelly hasn't played in the majors since 2012 due to elbow injuries. He did make two promising starts at Double-A San Antonio toward the end of the 2014 season.
Fantasy Impact
Padres fans this is one of the prospects you received in the Adrian Gonzalez trade back in 2010. Kelly was once a first round draft choice in 2008 by the Red Sox organization. So for that reason alone keep an eye on him during spring training. It's been a long time since he has meet major league hitters and there is not much potential with Kelly this season.