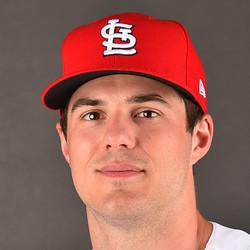 Dakota Hudson
RP - STL
Age: 24College: Mississippi StateBats: RThrows: R
Dakota Hudson picks up eighth win Saturday
Dakota Hudson (8-4) picked up the win Saturday against the Diamondbacks. He allowed two runs on three hits and four walks over six innings while striking out five.
Fantasy Impact
Hudson delivered his 10th quality start of the season, but he wasn't particularly sharp in this one, firing just 53 of his 94 pitches for strikes, and tying a season high with four walks. Overall, he has a 3.48 ERA and 73:46 K:BB in 98.1 innings. He'll take on the Reds on Thursday.
Dakota Hudson picks up seventh win Friday
Dakota Hudson (7-4) picked up the win Friday against the Giants, allowing three runs on six hits and three walks while striking out six.
Fantasy Impact
Hudson got into a jam in the first inning, allowing two runs, then surrendered a solo homer to Alex Dickerson in the third. He has a 3.51 ERA and 1.53 WHIP in 92.1 innings this season. He's scheduled to take on the Pirates next on July 15th.
Dakota Hudson rocked by Padres Saturday
Dakota Hudson (6-4) allowed seven runs (one earned) on five hits and a walk over 1.2 innings. He struck out two, and took the loss.
Fantasy Impact
It was Hudson's shortest start of the season, as he'd allowed more than five runs only twice in 15 starts this year. Since he allowed six unearned runs, Hudson's ERA only rose to 3.40. He'll look to get back on track in his next start, which will come against the Giants on Friday.
Dakota Hudson extends quality start streak to seven Sunday
Dakota Hudson allowed three runs on eight hits over six innings in the Cardinals' 4-3 win over the Mets on Sunday. He walked three and struck out three in the no-decision.
Fantasy Impact
Hudson continues to defy conventional pitching logic with his seventh straight quality start today. He is able to overcome poor control and a low strikeout rate with a league-high 61.8% groundball rate, but owners should still be skeptical of Hudson's long-term sustainability. It's really hard to trust a pitcher with a 1.5 K/BB ratio and 4.73 FIP. His next start comes Friday vs. the Angels.
Dakota Hudson allows one run in win Tuesday
Dakota Hudson allowed one run on four hits over seven innings in the Cardinals' 7-1 win over the Marlins Tuesday. He walked two and struck out six while improving to 5-3.
Fantasy Impact
Hudson continues to pile up quality starts, this being his sixth straight quality outing. He now has a stellar 3.48 ERA, but a 4.83 FIP suggests he cannot maintain this success. He has control issues, with a 4.11 BB/9, and is rather low dominance with just a 6.22 K/9. The one thing he does do well is get groundballs, as Hudson induces grounders 62% of the time. That alone won't hold a sub-4 ERA together, but it will help him overcome his other flaws. His next start comes Sunday at the Mets.