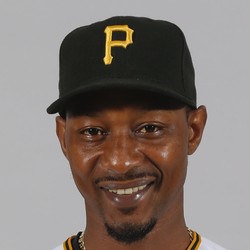 Jarrod Dyson
CF,RF - ARI
Age: 34College: Southwest Mississippi JCBats: LThrows: R
Jarrod Dyson leaves game with hamstring cramp Wednesday
Diamondbacks Jarrod Dyson was removed from Wednesday night's game with a right hamstring cramp, the team announced on Twitter.
Fantasy Impact
Wednesday's game was a blowout at the time of Dyson's departure, so it's possible that his exit was precautionary. He did, however, limp off the field with a trainer after sliding into second base. Look for an update on his status on Thursday.
Jarrod Dyson swipes 21st base of 2019
Jarrod Dyson went 1-for-4 with a double, a walk, two runs scored, and a stolen base in the D'Backs' 9-2 win over the Rangers on Tuesday.
Fantasy Impact
The steal gives Dyson 21 on the year, which is good for second most in the National League. He's batting under .250 with a sub-700 OPS, however, so he's only worth rostering for his speed.
Jarrod Dyson steals two more bases Wednesday
Jarrod Dyson went 3-for-5 with a double, an RBI, a run scored, and two steals in Wednesday's 8-2 win over the Dodgers.
Fantasy Impact
Dyson now ranks third in the majors with 19 steals on the year. He's batting just .256 with a .726 OPS but is worth owning if you're chasing stolen bases.
Jarrod Dyson swipes 16th base in Wednesday's loss
Jarrod Dyson stole his 16th base of the year in Wednesday's 6-4 loss to the Rockies.
Fantasy Impact
He reached base twice in this one, via a walk and a single. Dyson continues to lead off for Arizona and is worth rostering if you need steals.
Jarrod Dyson singles in Sunday's loss
Jarrod Dyson went 1-for-5 with a single in the D'Backs' 15-5 loss to the Nationals on Sunday.
Fantasy Impact
Dyson is now hitting .262 with 15 steals this year. His fantasy value is mainly tied to roto and categories leagues since his lone calling card is speed, which isn't as valuable in points formats.