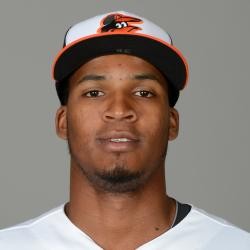 Jimmy Paredes
2B,LF,RF - PHI
Age: 30Bats: BThrows: R
Jimmy Paredes has a big day in Philadelphia
Jimmy Paredes had a single, double and home run for the Phillies on Sunday, each hit bringing home a run against the Rockies. Final score was 7-6 with the Phillies coming out on top.
Fantasy Impact
Although he has these sparks of brilliance, Jimmy Paredes is only in a reserve roll for the Phillies and only has value as a filler in DFS match-ups.
Jimmy Paredes starting Tuesday, Justin Smoak out
New Blue Jay Jimmy Paredes will get a start Tuesday night, pushing Justin Smoak to the bench.
Fantasy Impact
Smoak has cooled off after a quick start, and Paredes is 2-for-6 with a HR off Yankees starter Nathan Eovaldi. As a lefty power bat, Paredes will have plenty of opportunities to stick in the Jays lineup.
Jimmy Paredes claimed by Blue Jays
The Blue Jays have claimed Jimmy Paredes off waivers from the Orioles.
Fantasy Impact
The O's were fans of Paredes, but they didn't have a spot for him and ultimately had to waive him to create roster space. He didn't last long on the wire, as he was picked up by the team's division rival. Paredes has shown that he can be a productive hitter, and he's played several different positions, though none extremely well. It would be interesting to see him in the Blue Jays' lineup, but there's no clear road for him to the majors at this point.
Jimmy Paredes will play for High-A Fredrick Wednesday
Jimmy Paredes will have a rehab start in High-A Fredrick on Wednesday.
Fantasy Impact
Paredes is making his way back from injury and should be back in the Orioles rotation very shortly. He is a solid waiver wire pick up when he is hot, otherwise keep him on the waiver.
Jimmy Paredes (wrist) lands on the DL
Jimmy Paredes will start the season on the DL. He has been battling a wrist injury all camp. The move is retroactive to March 25 which means he is eligible to play Sunday April 10.
Fantasy Impact
There is no timetable for Paredes, but the hope is that he'll resume baseball related activities soon.