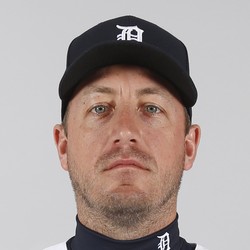 Jordan Zimmermann
SP - DET
Height: 6' 2"Weight: 225 lbsAge: 31College: Wisconsin - Stevens PointBats: RThrows: RCountry: USA
Jordan Zimmermann with no-decision in loss
Jordan Zimmermann allowed three earned runs, six hits and three walks to go with seven strikeouts over 6 2/3 innings in a no-decision against the Mariners.
Fantasy Impact
Zimmermann pitched well enough for the win missing bats all afternoon but the Tigers would lose a third straight game in which he's taken the mound despite pitching to four consecutive quality starts. He'll bring a 5.25 ERA and 1.46 WHIP into his next start at San Diego.
Jordan Zimmermann tosses third consecutive quality start in losing effort
Jordan Zimmermann gave up two runs on six hits while striking out six over eight innings Wednesday against the Diamondbacks. Unfortunately, the two runs Zimmermann gave up in the first inning were all Arizona needed, as they defeated the Tigers 2-1.
Fantasy Impact
Zimmermann pitched seven scoreless innings after giving up two runs in the first, but he ended up losing the game anyway. More importantly, he looked sharp for the third straight time out. His ERA is now down to 5.35, while his WHIP is 1.48. He will try to keep this momentum going next time out against the Mariners in Seattle.
Jordan Zimmermann gets win
Jordan Zimmermann surrendered one run on seven hits across six innings en route to a 10-1 win over the White Sox.
Fantasy Impact
He also struck out five batters and walked two in what was his best start since his first one against the Red Sox on April 8th. Zimmermann gets hit hard, doesn't miss a lot of bats and has been the benefactor of pitching ahead of a hard hitting Tigers lineup. However, a nosebleed 5.98 ERA, unsightly 1.56 WHIP and a mere 39 strikeouts across 61 2/3 innings of work means he shouldn't be on your roster unless you're in a very deep format.
Jordan Zimmermann takes third loss of the season
Jordan Zimmermann (4-3) lost on Tuesday against Houston, allowing four runs (two earned) over six innings. He allowed five hits (two home runs) while walking two and striking out three.
Fantasy Impact
Zimmermann has a lot of red flags that indicate that his poor pitching this year is legitimate. He's posting career worst K/9 (5.51), HR/9 (2.31), and groundball percentages (27.3%), and his 2.84 BB/9 would be his worst since 2010, a year where he only pitched 31 innings. His .307 BABIP allowed isn't too far off from his career average of .295, and his LOB% is also on par with his career numbers. It's sad to say since he used to be an elite fantasy option, but it's practically impossible to find an ray of hope in J-Zim's profile. Avoid him in all fantasy formats unless he starts making drastic changes.
Jordan Zimmermann allows three homers in no-decision
Jordan Zimmermann (3-1) pitched 5 2/3 IP on Saturday against the A's, allowing four runs on five hits (three home runs) and a walk. He struck out four.
Fantasy Impact
That makes eight homers allowed in six starts for J-Zim as he continues to be an ineffective option in standard leagues. He now has a 6.21 ERA (6.04 FIP) and currently sports the lowest K/9 rate (5.4) of his career and his highest BB/9 rate (2.7) since 2010. You can do much better on the waiver wire than him right now.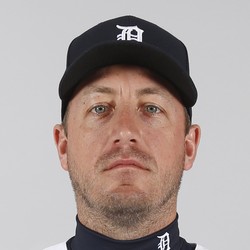 Availability
---