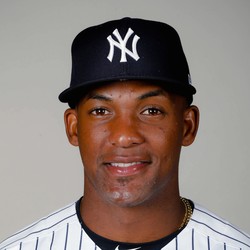 Miguel Andujar
3B,DH - NYY -
DL10
Age: 24Bats: RThrows: R
Miguel Andujar taking batting practice on Thursday
Miguel Andujar (shoulder) took batting practice on the field Thursday, Coley Harvey of ESPN.com reports.
Fantasy Impact
Andujar has been on the IL with labrum tear in his right shoulder. The fact that he is able to swing a bat and take batting practice is a big step in his recovery. The next step in his rehab will be throwing to bases. If he can handle that and won't need surgery there should be a clearer timetable on his return.
Miguel Andujar is showing progress with his shoulder
Miguel Andujar (shoulder) took 25 dry swings and 25 swings off a tee Friday with no apparent issues, Bryan Hoch of MLB.com reports. Andujar said he was swinging at about 50% of his normal effort.
Fantasy Impact
Andujar resumed his throwing on Wednesday as he is still early in the rehab stages from his right labrum tear and has no official timetable for his return. Fantasy owners should keep an eye on updates on his progress.
Miguel Andujar (shoulder) to test progress on Wednesday
Miguel Andujar was the subject of a segment on Fantasy Sports Radio where manager Aaron Boone said, "[Andujar] will start playing catch on Wednesday." The Yankee manager continued by alluding 'Wednesday will help determine if Andujar will be able to play through the tear or have surgery.' Surgery would almost guarantee that Andujar would miss the rest of the season.
Fantasy Impact
If things go well for Andujar, manager Aaron Boone believes he will return "...in the next couple of weeks." While this sounds positive, the Yankees still have no idea how much Andujar's rehab has healed him. Fantasy owners need to expect to learn the fate of Andujar in the coming days. Monitor the situation closely.
Miguel Andujar (shoulder) plans to play through labrum injury
Miguel Andujar plans to play this season and will reevaluate his injury after a couple of week's worth of rest. He will still need to rehab his shoulder, prior to his return.
Fantasy Impact
Andujar's will 'see where he is at after a couple of weeks off.' In more news, the doctor informed Andujar that he would, 'be more affected in the field than in the batters box' for his torn labrum. This is a small relief for fantasy owners with stock in Andujar, however you still will have to wait until he has rehabbed his injury. It will be interesting to see what the Yankees do for a full time third baseman, as Andujar does not posses an elite arm, even prior to the labrum tear. This could lead to more DH opportunities for the sophomore.
Miguel Andujar (shoulder) has small labrum tear, could be out for season
Miguel Andujar has been diagnosed with a small labrum tear in his right shoulder that could eventually require season-ending surgery.
Fantasy Impact
This is a worst case scenario for Andujar and the Yankees. The plan is for him to be treated conservatively for two weeks and for the team to then re-evaluate the injury. We're likely looking at an extended absence even if he doesn't need season-ending surgery, which is a killer for fantasy owners. Still, he needs to be held onto until we know more.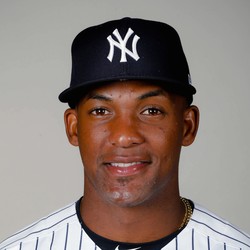 Availability
---
---