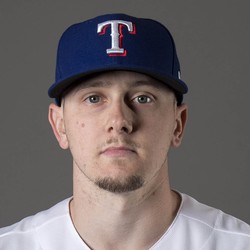 Ryan Rua
1B,LF - FA
Age: 30College: Lake Erie, OHBats: RThrows: R
Ryan Rua placed on the 10-day disabled list
Ryan Rua (back) was moved to the 10-day disabled list Saturday due to back spasms which occurred on Friday.
Fantasy Impact
Rua should be on the DL for the minimum stay according to reports. The 28-year-old outfielder is hitting just .194 on the season and is not worth stashing in fantasy leagues.
Ryan Rua slots in at first base and drives in three runs
Ryan Rua started at first base on Thursday and drove in three runs for the Rangers, playing a key role in their win over the Phillies. Rua hit a three run home run that plated Rougned Odor and and Robinson Chirinos.
Fantasy Impact
Rua has received a few spot starts at first base to spell Mike Napoli of late. However, whenever Adrian Beltre does return, Rua's playing time should dip as the Rangers will likely give Joey Gallo at bats that could come at both first base and in left field.
Ryan Rua wins starting left field role
According to Sullivan, Rua has won the privilege to start games as the Rangers' left fielder. Jeff Banister is hoping this will kick start the offense.
Fantasy Impact
He was battling with Delino Deshields and Jurickson Profar for the role but neither has done enough to separate themselves from the pack. Rua has not done much more but he is arguably the most proven of the bunch. He offers limited fantasy potential.
Ryan Rua makes rare appearance Monday
Ryan Rua left one man on base as a pinch hitter in for Jurickson Profar Monday. He has been sharing time off the bench with Delino DeShields.
Fantasy Impact
Ryan Rua has only had nine at-bats over the last seven days. He is batting .115 on the season.
Ryan Rua scores run in season debut
Ryan Rua was given the start in left field Tuesday evening against the Cleveland Indians and Carlos Carrasco. Rua failed to record a hit but did reach base on a fielder's choice in the bottom of the second inning. Joey Gallo promptly delivered a two run home run which plated Rua.
Fantasy Impact
All accounts indicated Delino DeShields and his stellar spring had won the starting gig in left field for the Rangers. However, manager Jeff Bannister has since played Jurickson Profar and Ryan Rua in left field during the first two games of the season. Rua isn't a fantasy stalwart and his competitors have more upside. Profar offers more versatility to garner at bats considering his defensive prowess while Deshields is a burner on the basepaths, provided he can get on base in the first place. If Rua fails to produce in the early going, his playing time could evaporate quickly provided either Profar or DeShields step up as viable alternatives.