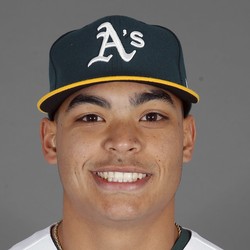 Jesus Luzardo
SP,RP - OAK
Age: 22Bats: LThrows: L
It's not if Luzardo will pitch any innings for the A's this year, it's how how many? With the short season, will he be limited to four- to five-inning outings? He's a wild card with a bright future.
It's going to be difficult to find a fantasy player who isn't salivating to draft Luzardo, particularly after an expected breakout season was derailed by injuries last year. Now, purportedly without an innings restriction, Luzardo looks ready to fulfill the potential he has oozed throughout his career. Armed with four elite pitches and the ability to sit at 96 miles per hour, the only thing that looks to be able to hold Luzardo down is health. Absent injury concerns, he should be a monster.
I want to move Lazardo further up these rankings because of his lights-out arsenal and pitching in Oakland helps those ratio's, but rookie innings limits are real and I am concerned that he won't pitch enough to reach his enormous ceiling. Guarantee me 210 innings pitched and he is a Top 40 Pick for me. I expect more like 130-150 and with some rookie struggles, that drops him down significantly. 2021 he will be hotter than Walker Buehler was.