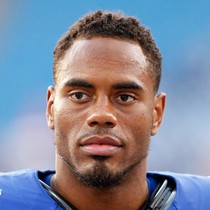 | RB | Matchup | Alerts |
| --- | --- | --- |
| #32 | at LA | Questionable: Thumb - Full Participation |
Note from FantasyPros Staff
While the Rams' front seven is very good, they specialize in pass rush rather than defending the run, so don't be scared off of Giants' running back because of that. Rather, be scared off because we have no idea who will get the touches.
Rashad Jennings handled the majority of the workload for the Giants but did little on the ground; he actually found almost as many yards on one passing play than all his carries. In total Jennings was handed the ball 13 times and managed just 25 yards and a start saving touchdown on a goal line carry from the one yard line. He caught two passes for 24 yards, all of it coming on a well-executed screen play.
Fantasy Impact
Jennings is still clearly the Giants' top RB but the Rams' DL stymied the Giants' OL and didn't allow Jennings, or any backs for that matter, room to run. On a critical situation at third and goal the Liberty University product managed to break through and get a touchdown that salvaged a lackluster performance for any fantasy owners starting him. Jennings' saving grace in a disappointing Giants' offense has been his unchallenged role as the goal line runner. After a Week 8 bye Jennings and the Giants' take on another unrelenting defense in division opponent Philly.
Category: Game Recaps
---
Rashad Jennings participated in full during the Giants' last three practices after a thumb injury had sidelined him from Weeks 3 through 6. He will start Sunday in London against the Rams.
Fantasy Impact
Jennings would appear to be fully back from his injury and should not be limited in any capacity as the Giants' primary runner and pass blocking back. He goes against a Rams' defense that gives up around 17 points per game against Runningbacks; middle of the pack in fantasy scoring. With the Giants' looking to establish a ground game, expect Jennings to get plenty of carries and serve as a solid Flex option.
Category: Injury Updates
---
FanSided, Sat, Oct 22nd 11:00am EDT
Week 7 of the 2016 Fantasy Football season is almost here. What should owners of New York Giants running back Rashad Jennings do with him this week? The New York Giants have had a disappointing start to the season on offense despite high expectations. There have been multiple issues with the Giants...
---
Athlon Sports, Sun, Oct 16th 10:30am EDT
The goods new for fantasy owners in Week 6 is that four teams are back in action, which means there are more players to choose from compared to last week. Read the full story on Athlon Sports
---
Athlon Sports, Sun, Oct 9th 10:30am EDT
It's Week 5 and even with four teams on bye, the injury report is pretty full and something fantasy owners definitely need to pay attention to. How bad it is? Every position is represented, which means there's even a fantasy-relevant kicker that makes the list! Read the full story on Athlon Sports
---
Athlon Sports, Sun, Sep 25th 10:30am EDT
Fantasy owners were lucky to escape Week 2 with their starting two running backs still healthy. However, unlike the wide receivers, which are banged up and may or may not play, most of the injured running backs have already been ruled out. Read the full story on Athlon Sports
---
Athlon Sports, Fri, Sep 16th 2:30pm EDT
With Week 1 in the books, fantasy football owners have a better feel for their team. Owners could see how the games unfolded, how players were used, and how defenses looked. While it is a small sample size, it makes the rankings for Week 2 slightly easier than they were for Week 1. With that, players can move up and down. Read the full story on Athlon Sports
---
Fantasy Games
Get 5 free NFL entries
with your first deposit
| | |
| --- | --- |
| | Join a League for Free |
| | |
| --- | --- |
| | Serious Fantasy Football |