Fantasy Football News Roundup: David Montgomery, Kenyan Drake, Joe Mixon, Chris Carson
The best part about the growth of the fantasy sports industry is that player analysis has never been more accessible. In fact, we're at the point where one of the most overlooked aspects of playing fantasy football is simply reading the news. Often, there is a lot to learn from what a coach or executive say, as well as the information that beat reporters share. Using this news to our advantage is one of the few ways fantasy players can create an edge for themselves. Here's a summary of this week's headlines.
2020 Draft Kit: View printable cheat sheets, sleepers & mistakes to avoid >>
D-Mont Out 2-4 Weeks
We had the Miles Sanders injury scare last week. We watched our Twitter feeds attentively as news of Nick Chubb's concussion came out. This week, we had a mysterious walking boot that we'll touch on soon. However, David Montgomery's groin strain is the first injury of 2020 training camp that has resulted in an actual timetable. After slipping at practice on Wednesday, NFL Network reported Thursday morning that Montgomery would be sidelined two to four weeks.
Chicago's Week 1 tilt with the Detroit Lions is just over two weeks away, which puts Montgomery's status in question for the season opener. The Bears don't have much on the depth chart behind D-Mont, which means that there isn't a ton to analyze here for fantasy purposes. Since the injury isn't expected to be a season-ender, it's unlikely that the team brings in Devonta Freeman.
Perhaps Tarik Cohen will be more involved. He becomes slightly more interesting in PPR format in the wake of this news. Meanwhile, it's tough to envision anyone starting (or even rostering) Cordarrelle Patterson. Should Montgomery miss some time, fantasy owners shouldn't try and replace him with another Bears running back. Odds are you have a back from another team that'll be in a better situation.
| | |
| --- | --- |
| Week | Bears Opponent |
| Week 1 | @ Detroit Lions |
| Week 2 | vs. New York Giants |
| Week 3 | @ Atlanta Falcons |
Drake's "Precautionary" Walking Boot
Look, we aren't getting a lot of information from training camp this summer, which is causing #FantasyTwitter to overreact to every precious nugget we get. Without preseason games, analysts are left to cling to beat writer reports and, unfortunately, injury updates.
So yes, there was once again minor panic when it was reported that Kenyan Drake was sporting a walking boot on Monday. Similar to the Sanders news, extreme concerns were quickly squashed. Drake himself took to Twitter to talk us off the ledge:
Was in a walking book around this time last summer too. Just trying to stay consistent lol no worries I'm good 🤞🏾

— Kenyan Drake™ (@KDx32) August 24, 2020
Coach Kliff Kingsbury also brushed this news off, calling it "precautionary." Most walking boots aren't viewed as precautionary, but unless we get more information, there's no reason to drop Drake down in your rankings at this time. Instead, use it as a reminder to draft Chase Edmonds everywhere.
Money Migraines
Tom Pelissero of NFL Network reported Thursday that Joe Mixon has been absent from recent practices due to migraines. He added that there's optimism Mixon will be back soon and that "contract talks are ongoing."
The last part of that sentence is the key. Mixon may very well be dealing with some migraines, but his contract status continues to be a talking point as the regular season draws closer. The possibility of a holdout was originally reported back in April, but there hasn't been much smoke around that idea since.
This blog post is being written on Thursday night, August 27th. There could very well be an update by the time you read this Friday. Until we know more, there isn't a lot of analysis to give. Mixon isn't officially holding out, so he shouldn't drop down draft boards. At the same time, if you're between him and one other player, it might be slightly safer to do so.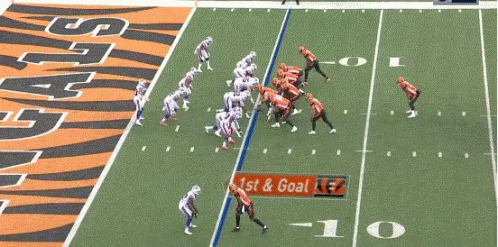 The Perfect Third-Round RB Selection
It's been quite the journey for Seahawks running back Chris Carson, a former seventh-round NFL draft pick who continues to outplay his competition and work as the team's lead back. The 25-year-old has missed a lot of training camp due to multiple deaths in his family. Let this serve as a reminder that yes, football players are people too. They go through the same human experiences as the rest of us.
The good news is that Carson returned to the practice field on Wednesday. He's still expected to function as Seattle's every-down running back. With his role secured and his return to camp, we can shift our focus to Carson's 2020 fantasy outlook. The most common draft strategy this year involves taking two running backs early followed by pounding wide receivers in Rounds 3-6. This is due, in part, to the lack of appealing running backs available in the middle rounds.
Carson bucks that trend, however, as a workhorse back on a winning team that wants to run the football. The Seahawks have ranked top-three in rushing attempts in each of the two seasons that Brian Schottenheimer has been their offensive coordinator. Additionally, it's worth pointing out that Carson ranked third in Pro Football Focus' elusive rating last season, finishing behind only Josh Jacobs and Nick Chubb. Locked into a prominent role with little in-house competition, Carson is a running back worth taking once the top names are quickly gobbled up.
Ready for your draft? Try a FAST mock and get an instant grade >>

Subscribe: Apple Podcasts | Spotify | Google Podcasts | Stitcher | SoundCloud | iHeartRadio
Beyond our fantasy football content, be sure to check out our award-winning slate of Fantasy Football Tools as you prepare for your draft this season. From our free mock Draft Simulator – which allows you to mock draft against realistic opponents – to our Draft Assistant – that optimizes your picks with expert advice – we've got you covered this fantasy football draft season.
Brendan Tuma is a correspondent at FantasyPros. To read more from Brendan, check out his archive and follow him @toomuchtuma.