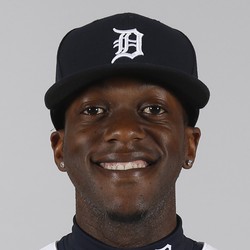 Cameron Maybin
LF,CF,RF - NYY
Age: 32Bats: RThrows: R
Cameron Maybin hits a solo homer in win on Monday
Cameron Maybin went 3-for-3 with a solo home run and a second run scored in Monday's 3-0 win over the Rays.
Fantasy Impact
Maybin has been a solid pickup by the Yankees and is hitting .299 with four home runs, 22 runs scored and five stolen bases. Maybin may end up losing his spot on the roster when Giancarlo Stanton and Aaron Judge come back from the IL but for now fantasy owners in AL-only formats can use Maybin if they are desperate for stolen bases.
Cameron Maybin drives in three runs in win over Royals
Cameron Maybin went 2-for-3 with three RBI and a walk as the Yankees won by a 6-5 score in the second game of a doubleheader against the Royals on Saturday.
Fantasy Impact
Since being picked up in April, Maybin is hitting .254 with one home run, 11 runs scored and three stolen bases. The veteran outfielder will be relegated to the bench once all the Yankee outfielders get healthy but for now, is worth owning in deep AL-only formats.
Cameron Maybin steals his first base of the year
Cameron Maybin went 2-for-4 at the plate with a steal and run in a 5-4 victory against the Mariners on Tuesday.
Fantasy Impact
Maybin is off to a good start since being signed by the Yankees. The veteran outfielder is .360 with two RBI, six runs and a steal in 25 at-bats during 10 games. Maybin is filling as the team is dealing with multiple injuries to the outfielders and will end up on the bench when they all get healthy but for now, fantasy owners in deep leagues may want to grab Maybin.
Cameron Maybin acquired by Yankees
Cameron Maybin has been acquired by the Yankees from the Indians.
Fantasy Impact
Maybin signed a minor league deal with the Indians this spring and spent the start of the season with their Triple-A affiliate. While he's not a sure bet for fantasy relevance, given the many injuries the Yankees have had to their outfielders, Maybin could see timein New York sooner than later. If he does see consistent playing time, he's an intriguing player to monitor in deeper leagues given his previous success on the base paths.
Cameron Maybin signed by Cleveland
The Cleveland Indians have signed free agent Cameron Maybin to a minor league contract. For now, Maybin has been assigned to Triple-A Columbus.
Fantasy Impact
Released by the Giants following the conclusion of Spring Training, Maybin is no fantasy asset currently, as he has been optioned to Triple-A. Even if Maybin gets the call up, he is a career .254 hitter, with a ceiling of around 10 home runs, 15 steals and 25 RBI's - and that is if he plays on regular basis. Last year with Seattle, Maybin appeared in 30 games and slashed .242/.289/.319 in 97 plate appearances.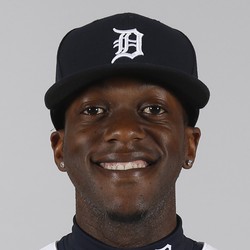 Availability
---
---