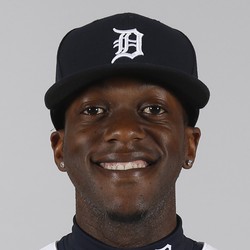 Cameron Maybin
LF,CF,RF - LAA -
DL10
Height: 6' 3"Weight: 205 lbsAge: 30Bats: RThrows: RCountry: USA
Cameron Maybin lands on 10-Day DL with MCL sprain
Cameron Maybin (knee) was officially placed on the 10-Day DL on Wednedsay.
Fantasy Impact
This move comes to no surprise, as Maybin exited early from Tuesday's game against the Nationals. The projected recovery is two-to-four weeks, and to be quite honest, I don't think owners are going to miss him. The veteran outfielder was on a long skid prior to the injury and has just two hits in his last 16 at-bats. Hopefully this time off will awaken his bat, as well as his burners. Maybin sits at 25 steals on the season and it is worth noting a large chunk were produced just after his last DL-stint.
Cameron Maybin to miss 2-to-4 weeks with Grade 1 MCL sprain
Cameron Maybin left the game in the first inning after a messy slide into second base causing him to sprain a ligament in his right knee. He was 1-for-1 with a single prior to his exit.
Fantasy Impact
Welp, there's that. On the bright side, Maybin was in the midst of a long slump so this time off may serve him justice. The veteran has an extended rap sheet of injuries, so this should come to no one's surprise. Maybin said "I'm a pretty quick healer. Just got to stay positive." In the meantime, we can expect to see Ben Revere and possibly a resurgence of EYJ in centerfield.
Cameron Maybin leaves Tuesday's game with knee injury
Cameron Maybin injured his knee trying to steal second base in the first inning of Tuesday's game against the Nationals and was immediately removed from the game.
Fantasy Impact
Maybin had to be helped off the field, which is obviously a bad sign for the seriousness of the injury. The Angels should provide further updates after the game but Maybin owners should hold their breath and prepare for a DL stint.
Cameron Maybin struggles continue against Tampa Bay
Cameron Maybin went 0-for-3 with a walk in Monday's outing against the Rays.
Fantasy Impact
ZzzzzZzzzz.... oh hey, sorry, I was in the middle of a Cameron Maybin at-bat. The 30-year old veteran has been on an extended slump for while and can't seem to buy a good game to save his life. He's hitless in the first three games back from the All-Star Break, but the slump began about a week or so prior to the hiatus. Rumors have started to put Maybin on the trade block, so we may see yet another relocation for the speedy outfielder if the Angels do not remain contenders for the post-season.
Cameron Maybin bangs out double in win over Rangers
Cameron Maybin went 1-for-4 with a double and two strike outs in Sunday's win in Globe Life Park.
Fantasy Impact
Maybin has been ice cold over the past few games, gathering just two hits in his last six outings (including tonight). He still holds 25 stolen bags on the year, but he has also slowed down his pace on the path recently. Maybin is a notoriously streaky player, so this dry-spell isn't unheard of. All-Star teammate Mike Trout is expected back following the break, so this may be the jolt of energy he needs to start moving the needle once again.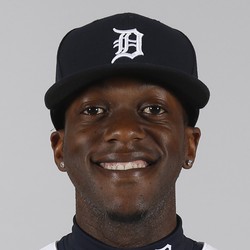 Availability
---