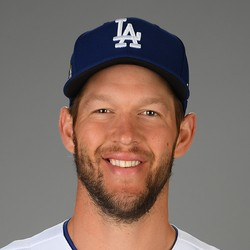 Clayton Kershaw
SP - LAD
Height: 6' 4"Weight: 225 lbsAge: 30Bats: LThrows: LCountry: USA
Clayton Kershaw has a mediocre outing against the Marlins
Clayton Kershaw had an uncharacteristic six walks against the Marlins on Wednesday. Kershaw was only able to go five innings due to an inefficient 112 pitches. The three earned runs bumped his ERA up to 2.84.
Fantasy Impact
This is a disappointing outing for fantasy owners who expected Kershaw to run through the Marlins. His next start will be a difficult one on the road in Arizona.
Clayton Kershaw allows four runs in third loss Friday
Clayton Kershaw allowed four runs on nine hits and no walks while striking out four over seven innings in a loss to the Washington Nationals on Friday.
Fantasy Impact
The loss is already Kershaw's third of the season, though he was mostly the victim of bad luck before Friday as he had thrown four straight quality starts and had allowed just four runs in his first 26 innings. He has a favorable matchup next time out against the Miami Marlins at home.
Clayton Kershaw defeats Diamondbacks for first win
Clayton Kershaw dominated the Diamondbacks on Sunday, going seven innings (100 pitches) while only allowing two hits and one earned run. Kershaw had his entire repertoire working, especially his slider, racking up the majority of his 12 strikeouts with it.
Fantasy Impact
You can expect a lot more of this moving forward. Kershaw's win total will continue to rise as long as his teammates provide him an adequate amount of run support. Kershaw's next opponent will come at home against the Nationals.
Clayton Kershaw expected to opt out after this season?
The early word on Clayton Kershaw and his contract situation is that he will utilize the opt-out clause this offseason and either become a free agent or utilize the existence of that clause to improve his financial situation, according to rumblings heard from the Los Angeles clubhouse by FanRag's Jon Heyman. The expectation is that Kershaw will stay with the Los Angeles Dodgers, where he has spent his entire career, but that he will opt out of the $65 million and two years left on his current deal and aim for something better.
Fantasy Impact
When healthy, Kershaw is arguably the top starting pitcher in baseball. And if not at the top, he is certainly in the top three. For fantasy owners, the only bad news would be if Kershaw would jump ship for an American League team such as his hometown Texas Rangers, but even that would be a slight dip in value for such a talented pitcher. In any event, this will be something to consider for the 2019 season and should not affect his 2018 fantasy value in any way.
Clayton Kershaw distributes a strong seven innings
Clayton Kershaw had all of his pitches working on Sunday against the Giants. The Dodgers' ace went seven innings with six strikeouts, allowing six hits, no walks and one earned run.
Fantasy Impact
Another top tier performance from the three-time CY Young winner. Kershaw has now allowed four runs over three starts while only receiving three runs in support over that span. The wins will come sooner than later.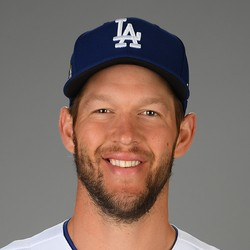 Availability
---
---