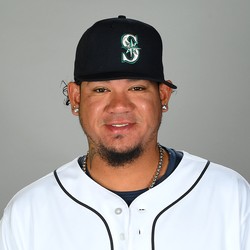 Felix Hernandez
SP - SEA
Height: 6' 3"Weight: 225 lbsAge: 31Bats: RThrows: RCountry: VEN
Felix Hernandez earns the win in slugfest
Felix Hernandez earned his second win of the season Wednesday night. Seattle hosted the Miami Marlins in what was an offensive game. Hernandez allowed four earned runs before being pulled with one out in the seventh. He struck out five but was victimized by the outfield core in Miami.
Fantasy Impact
Hernandez has been a bit of a mixed bag to start the season. He should continue to pitch deep into games while posting decent numbers across the board. Despite his age, Hernandez remains a solid option across all formats.
Felix Hernandez earns first victory this weekend against Rangers
Felix Hernandez pitched 7 1/3 solid innings against the Rangers on Friday night, allowing just one run on six hits while striking out three. Hernandez earned the victory to move to 1-1 on the season.
Fantasy Impact
The old King Felix is gone, but the new version is an extremely serviceable starter. Of all the encouraging signs for Felix, the best one is that he has yet to walk a batter in 18 innings pitched. Considering he was coming off a career-worst 9.9% walk-rate in 2016, Hernandez's control is a very good sign for his success in 2017. He'll take on the Marlins in his next start on Wednesday.
Felix Hernandez gives up two runs in outing
In three innings of work, Hernandez gave up four hits resulting in two earned runs. He struck out five.
Fantasy Impact
From 2014 to 2015 Hernandez's earned run average jumped almost a run and a half. In 2016 it increased once again to 3.83. He has dealt with injuries and velocity issues recently making him a very risky play.
Felix Hernandez cannot win in scoreless appearance
Felix Hernandez allowed two hits in seven scoreless innings against the Blue Jays on Wednesday, only earning a no-decision. Hernandez is 2-1 with a 4.30 ERA and 1.48 WHIP in September, striking out 12 batters and walking 11 in 23 innings. He is 11-6 this season with a 3.61 ERA and will pitch in Houston on September 27 against the Astros.
Fantasy Impact
Hernandez has two quality starts in his last five starts and has walked three or more batters in four of his last five starts. He is 7-2 with a 4.19 ERA in the second half, striking out 63 batters in 81 2/3 innings. Current Astros have a .969 OPS in 100 career at-bats against Hernandez and he is 6-3 with a 3.43 ERA on the road this season.
Felix Hernandez wins again
Felix Hernandez pitched six scoreless innings on Saturday, allowing six hits and striking out two batters against Oakland. Hernandez is 2-0 in September with a 4.63 ERA, 1.46 WHIP, and five strikeouts in 11 2/3 innings. He is 11-5 with a 3.58 ERA this season and will face the Astros on September 16 in Seattle.
Fantasy Impact
Hernandez has continued to walk too many batters and has not struck out a ton of batters, but is 7-1 in his last 10 starts. After striking out eight batters in four of five starts, Hernandez has struck out 13 batters in his last four starts and has walked 57 batters in 133 1/3 innings this season. Current Astros have a .902 OPS in 79 career at-bats against Hernandez and he is 5-2 with a 3.71 ERA at home this season.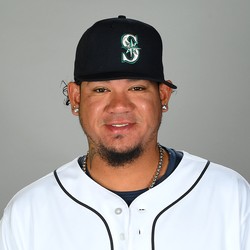 Availability
---