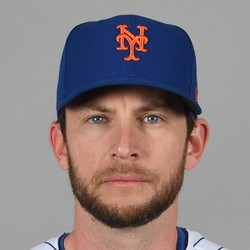 Jed Lowrie
2B - NYM
Age: 36College: StanfordBats: BThrows: R
Jed Lowrie (knee) part of Mets' initial player pool
Jed Lowrie (knee) is listed as active in the Mets' player pool for the 2020 season.
Fantasy Impact
Lowrie appeared in just nine games for the Mets last season and barely participated in Spring Training 1.0 due to injuries. The 36-year-old was dealing with complications with his surgically repaired left knee. It's unclear what role he will be physically able to play for New York this summer.
Jed Lowrie's debut still uncertain
As opening day looms closer and closer, Jed Lowrie's status does not appear to be any clearer, leaving his availability for the start of the season very much in doubt.
Fantasy Impact
Lowrie has yet to make an appearance in Grapefruit League action, and the fact that left leg ailments are what caused him to miss most of the 2019 season, it's now leaving some to speculate whether or not the 35-year-old will see the field at all in 2020. Veteran Eduardo Nunez, who is having a productive spring, could potentially slide into that backup 2B role if needed, though Lowrie's positional flexibility would make him the preferred option when healthy.
Jed Lowrie has no physcial issues during Monday's workout
Jed Lowrie was able to get through Monday's workout without any physical restrictions.
Fantasy Impact
Basically he was a "full go" today, fielding grounders and taking live batting practice. Lowrie appeared in just nine games last year and is expected to serve as a utility infielder in 2020.
Jed Lowrie now dealing with a right calf injury
Jed Lowrie is now dealing with a right calf injury.
Fantasy Impact
Lowrie has dealt with a plethora of lower body injuries this season, including his hip, knee, hamstring, and calf. It's unclear when he'll make his Mets debut this year. He can be left on every waiver wire right now.
Jed Lowrie (hamstring) "not close" to rehab assignment
Mets manager Mickey Callaway confirmed Wednesday that Lowrie is "not close" to going on a rehab assignment as he recovers from a Grade 1 hamstring strain.
Fantasy Impact
It's bad news for Lowrie's fantasy owners, especially considering that Callaway referred to Lowrie's injury as a "left side" issue, suggesting that he's suffering from more than an injured hamstring. Lowrie has yet to suit up for the Mets since signing with them in January, and doesn't appear anywhere close to doing so.