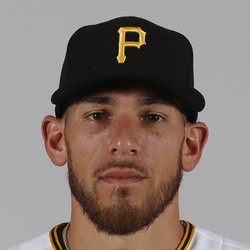 Joe Musgrove
SP - PIT
Age: 26Bats: RThrows: R
Joe Musgrove shuts down Phillies Saturday
Joe Musgrove (7-8) allowed one unearned run on two hits, two walks and eight strikeouts across six innings to earn the win Saturday against the Phillies.
Fantasy Impact
This was Musgrove's best start since June 27, when he shut out the Astros through six innings. Unfortunately, Musgrove has struggled with consistency, and owns a 4.08 ERA, 1.20 WHIP, and 98 strikeouts in 110.1 innings this season. He'll take on the Cardinals next on Thursday.
Joe Musgrove takes eighth loss Monday
Joe Musgrove (6-8) took the loss against the Cardinals on Monday, allowing five runs (four earned) on five hits over 4.2 innings. He struck out seven and walked three.
Fantasy Impact
Musgrove was burned by Paul Goldschmidt (two-RBI double) and Tyler O'Neill (two-run home run). He was uncharacteristically wild in this one, needing 104 pitches to get through 4.2 innings. He's rebounded a bit after struggling in May and June, but still owns a 4.31 ERA and 1.23 WHIP in 104.1 innings. He'll take on the Phillies at home next on Sunday.
Joe Musgrove allows two home runs in no-decision Sunday
Joe Musgrove allowed three runs on five hits with one walk and five strikeouts across six innings in a no-decision against the Brewers on Sunday.
Fantasy Impact
Musgrove surrendered two homers to Jesus Aguilar, and that prevented Musgrove from earning the win. The second home run tied the game in the seventh, and Musgrove was removed immediately after. Musgrove will enter the All-Star break with solid numbers, allowing four runs in his last 22 innings. On the season, he has a 4.13 ERA, 1.22 WHIP, and 78 strikeouts in 93.2 innings.
Joe Musgrove: no-decision in rain-shortened start
Joe Musgrove allowed no runs on one hit with no walks and four strikeouts across three innings during a no-decision against the Cubs on Tuesday.
Fantasy Impact
Musgrove was dominating through three frames, but a lengthy rain delay forced the Pirates to turn to their bullpen. He is 6-7 with a 4.13 ERA, 1.22 WHIP, and 78 strikeouts in 93.2 innings this season. Musgrove will likely take the hill next on Sunday, at home against the Brewers.
Joe Musgrove fires six scoreless in win Thursday
Joe Musgrove pitched six scoreless innings and improved to 6-7 in the Pirates' 10-0 win over the Astros on Thursday. He allowed nine hits, walked none, and struck out five.
Fantasy Impact
Musgrove has been on fire over his last two starts, allowing one combined run and striking out 17 over 13 innings. With increased slider usage Musgrove is on the right track to becoming a reliable starter once again.