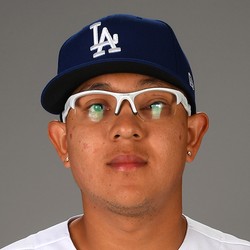 Julio Urias
SP - LAD
Age: 22Bats: LThrows: L
Julio Urias strikes out nine in dominant start
Julio Urias picked up his first win of the year on Thursday in Milwaukee, throwing six innings of one-hit baseball while striking out nine.
Fantasy Impact
Urias also walked two as the Dodgers went on to win this one 3-1. The 22-year-old southpaw had gotten rocked by the Brewers in his last start so it was exciting to see him make an adjustment tonight. Unfortunately for Urias owners it sounds as if he's going back to the bullpen for now with Hyun-Jin Ryu slated to return from the IL this weekend. Urias should get another chance to start this year, though the Dodgers want to be careful with his innings.
Julio Urias struggles versus Brewers
Julio Urias took the loss on Friday versus Milwaukee, allowing six runs (five earned) on six hits over five innings.
Fantasy Impact
Urias struck out four and walked one as the Brewers went on to win 8-5. The 22-year-old was brilliant in his first start of the year but has posted mixed results since then. Hyun-Jin Ryu's injury could give him a longer leash in the rotation, however, and Urias has enough talent to keep holding onto.
Julio Urias not as sharp in Coors Field on Sunday
Julio Urias allowed three runs on four hits over 3 2/3 innings on Sunday night in Colorado, receiving a no-decision as the Dodgers beat the Rockies 12-6.
Fantasy Impact
Urias struck out two and walked four. It's a tough place for any pitcher to succeed in, much less a young hurler like Urias. This was a step back from his impressive seven-strikeout performance versus the Giants, but Urias should more good outings than bad ones this year. He's lined up to next face the Brewers on Friday.
Julio Urias shines in season debut on Monday
Julio Urias received a no-decision on Monday versus the Giants, allowing just three hits over five shutout innings.
Fantasy Impact
Urias struck out seven and walked none. The Dodgers bullpen wound up giving up the lead after his departure, but the biggest takeaway from this game was how good the young lefty looked. Urias hit 96.7 mph with his fastball in this one, which was as fast as any pitch he threw in his rookie season (2016). It's been a long road back from the major shoulder surgery he underwent in 2017, but it finally looks as if Urias is ready for a big role this season. His next start is a tough one as he's lined up to face the Rockies in Coors.
Julio Urias will officially begin the year in the rotation
Dodgers president of baseball operations Andrew Friedman confirmed Julio Urias will open the season in the starting rotation.
Fantasy Impact
Manager Dave Roberts hinted at this earlier today. Friedman mentioned this will only be short-term, however, as Rich Hill isn't expected to be sidelined for too long. The Dodgers will undoubtedly be careful with Urias' innings this year but he'll be an exciting fantasy option whenever he's actually pitching.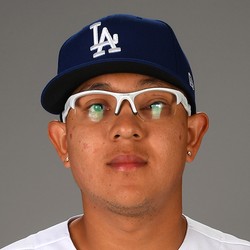 Availability
---
---