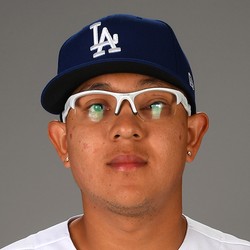 Julio Urias
SP - LAD
Age: 22Bats: LThrows: L
Julio Urias could receive a spot start soon
Dodgers manager Dave Roberts says the team is currently considering giving Julio Urias a spot start in the near future.
Fantasy Impact
Urias was starting games for the Dodgers earlier this year but the team has been very careful when managing his innings. LA is also fortunate to not have to rely on Urias, as they have a plethora of capable starters in the organization. With the team set to play 18 straight games, however, Urias could get a start mixed in. The 22-year-old has a 3.12 ERA in 40 1/3 innings this year and would be an interesting streaming candidate.
Julio Urias reinstated from administrative leave
Julio Urias has been reinstated from administrative leave.
Fantasy Impact
Urias was placed on leave by MLB after being arrested last Monday for suspicion of domestic battery. The young lefty is eligible to pitch beginning tonight, though MLB is still conducting their investigation.
Julio Urias to be activated on Tuesday
Julio Urias is expected to be reinstated from administrative leave and activated on Tuesday.
Fantasy Impact
Urias was placed on administrative leave on May 14 after reports surfaced that he allegedly shoved his girlfriend. It is unknown whether the MLB or LAPD investigations of the incident are complete, but for now Urias will apparently rejoin the Dodgers' bullpen. He's picked up a win and two saves since being moved into a relief role in Los Angeles.
Julio Urias placed on 7-day administrative leave
Major League Baseball has placed Julio Urias on 7-day administrative leave.
Fantasy Impact
Urias was arrested Monday night for reportedly committing domestic battery. He then posted $20,000 bail. MLB is set to begin an investigation. The leave can extend past the seven-day window if MLB finds it necessary.
Julio Urias arrested for domestic violence
Los Angeles Dodgers pitcher and former top prospect Julio Urias was arrested for a domestic violence incident on Monday night, according to a report from TMZ that has since been confirmed by the LAPD. According to the report, "a witness called cops claiming Urias was in the parking lot arguing with a female companion and shoved her to the ground." While the alleged victim apparently denied a physical incident took place to police, "witnesses were adamant they saw Urias push the woman and video from the scene appeared to back up the witness accounts."
Fantasy Impact
Urias made his major league debut at just 19 years old but has dealt with a series of injuries over the last few years. While still a very promising prospect at just 22 years old, he has made nine appearances (four starts) this season with the Dodgers, going 2-2 with two saves to go with a 3.18 ERA and 32 strikeouts over 28 1/3 innings. It sounds like there are multiple witnesses and video evidence to corroborate the incident, and a suspension imposed by either the Dodgers organization or Major League Baseball is likely the next step. More information should become available in the coming days.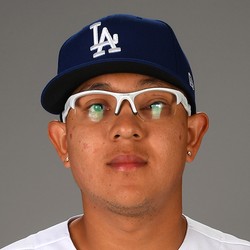 Availability
---
---