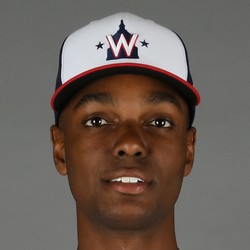 Michael A. Taylor
CF - WSH
Age: 29Bats: RThrows: R
Michael Taylor to miss 'significant amount of time' with knee/hip sprains
Michael Taylor has a sprained left knee and hip. Davey Martinez told reporters that he's going to miss "a significant amount of time."
Fantasy Impact
For most fantasy owners, this news has little impact, as Taylor was expected to be a bench player behind Victor Robles, Juan Soto, and Adam Eaton. But through an injury, Taylor often found his way into the lineup one way or another and was usually a cheap source of speed when he did. Expect the Nationals to sign another defensive outfielder, but for fantasy purposes, other than in deep NL-only leagues, Taylor's injury should have only a minimal impact.
Michael Taylor plays in both games of doubleheader Tuesday
Michael Taylor played in Adam Eaton's place Tuesday as the Nats chose to give Eaton the day off. Taylor was 1-for-7 at the plate with no strikeouts through both games.
Fantasy Impact
Taylor is hitting for a .240 average when he's playing. It's not great but it's not nearly as dismal as what he was doing earlier in the season. The fact that the Nationals can give Eaton a few extra days off here and there since they have Taylor is great since he has a storied history with injuries. Look for Taylor to continue getting some starts but not enough to be fantasy relevant.
Michael Taylor triples in the Nats slaughter of the Mets Tuesday
Michael Taylor was 3-for-4 at the plate with a triple, three runs scored, two walks and a strikeout.
Fantasy Impact
Taylor was great in this one. He played in Eaton's place as he had the day off. Taylor played in 18 games in July and performs his best when the whole team is performing their best.
Michael Taylor doubles in the Nationals win over the Marlins
Michael Taylor came on as a pinch-hitter in the 7th inning. He ended up playing the rest of the game in centerfield as the Nats chose to remove Eaton from the contest. Taylor was 2-for-3 at the plate with the double, a run scored and an RBI.
Fantasy Impact
Taylor hasn't had much impact in fantasy circles this season as he struggled in the beginning and then everyone in the outfield got healthy and pushed him out. If he can continue to perform well at the plate, the Nats could give Eaton more rest as he's one of their most injury prone players.
Michael Taylor scores a run in Tuesday's loss to the Brewers
Michael Taylor got the start with Bryce Harper sitting with an illness Tuesday. He was 0-for-4 at the plate with a run scored and two strikeouts.
Fantasy Impact
Taylor hasn't seen much playing time as of late. The Nats have their outfield set with Adam Eaton, Juan Soto and Harper so there hasn't been much need for him on the field. If any of their outfielders do go down with an injury, he would fill in but hopefully, that can be avoided as he's struggled at the dish for most of 2018.